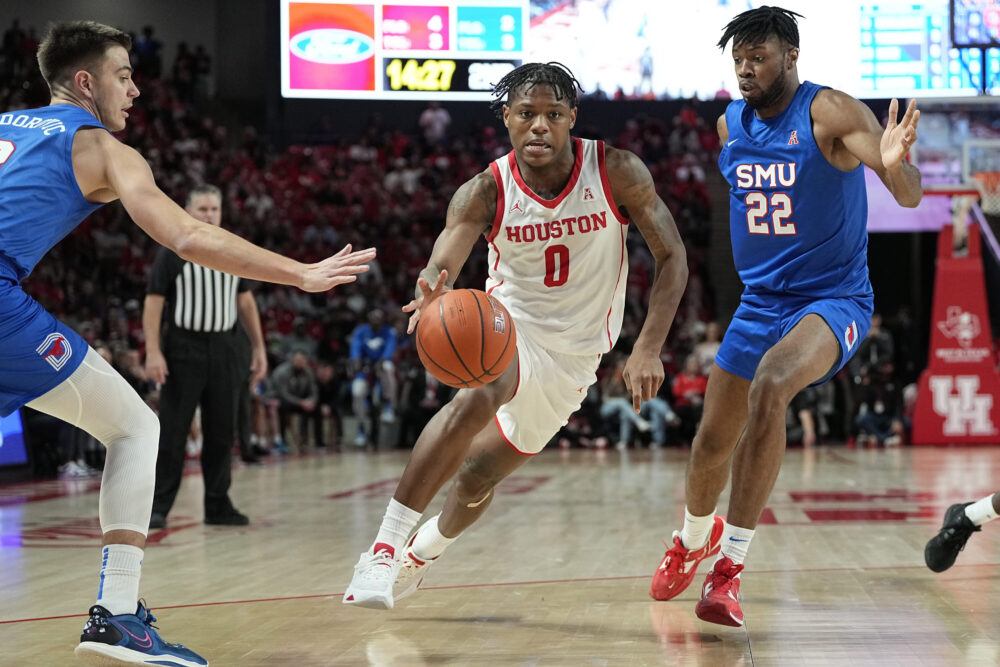 HOUSTON — Thursday night's game at the Fertitta Center was a vivid reminder of just how far the Cougars have come under Kelvin Sampson and how far SMU has to go with new coach Rob Lanier.
The Houston head coach, in his ninth season, had zero to worry about as the Mustangs (6-9, 1-1) were clobbered 87-53 by the No. 2 team in the nation. At one point, Houston (15-1, 3-0) went on a 24-0 run during the first half.
It's a far cry from Sampson's first season at Houston, when he and the Cougars won just 13 games and finished tenth in the American.
"When I got here, they didn't care about the basketball program. We started winning, they started caring. They didn't care then," he said.
Nearly a decade later, Sampson said that tough year helped him shape the Houston basketball program into the efficient and successful machine it has become.
"We got our brains beat in our first year," Sampson said, adding that at the time SMU and Cincinnati were the top teams in the AAC. "They were so far ahead of us. But we just got better and better and better. We had a plan."
Sampson said recruiting his first year was hamstrung by a late start and that if the transfer portal existed then it would've been easier to build a team.
He also pointed to the construction of the Guy V. Lewis Development Facility and subsequent renovation of Hofheinz Pavilion, now known as the Fertitta Center, as signs that the administration was supporting what he was trying to put together at UH.
"I can't thank our administration enough for what they did to help us get this thing going. Because had they not, it would've been where it was," he said.
Sampson said UH leadership stepped up for him in ways it had not for previous basketball coaches.
"That's why players and coaches win games, but administrations win championships," he said.
Sampson said Lanier already has the facilities in place at SMU to be successful, calling the Mustangs' practice facility "tremendous" and its renovated arena "beautiful."
"He's got what I did not have," Sampson said, comparing their first seasons.
Despite the uneven start to Lanier's tenure at SMU, Sampson believes he will ultimately be successful. He pointed to recent wins by the Mustangs over Iona and Utah State at a Christmas tournament in Hawaii.
"Rob Lanier is going to have them back at the top of the league shortly. That guy can coach. He's got a great staff," he said.
But Sampson and the Cougars won't be around to witness any such renaissance. Thursday's game was the last between the two on the UH campus as conference mates. Houston departs for the Big XII in a matter of months, while SMU will remain the AAC.
When asked if the Mustangs could be a part of future non-conference schedules, Sampson was noncommittal but seemingly left the door open.
"I don't know. I have no idea," he said, before delving into potential non-conference matchups moving forward. "I'll look at it."