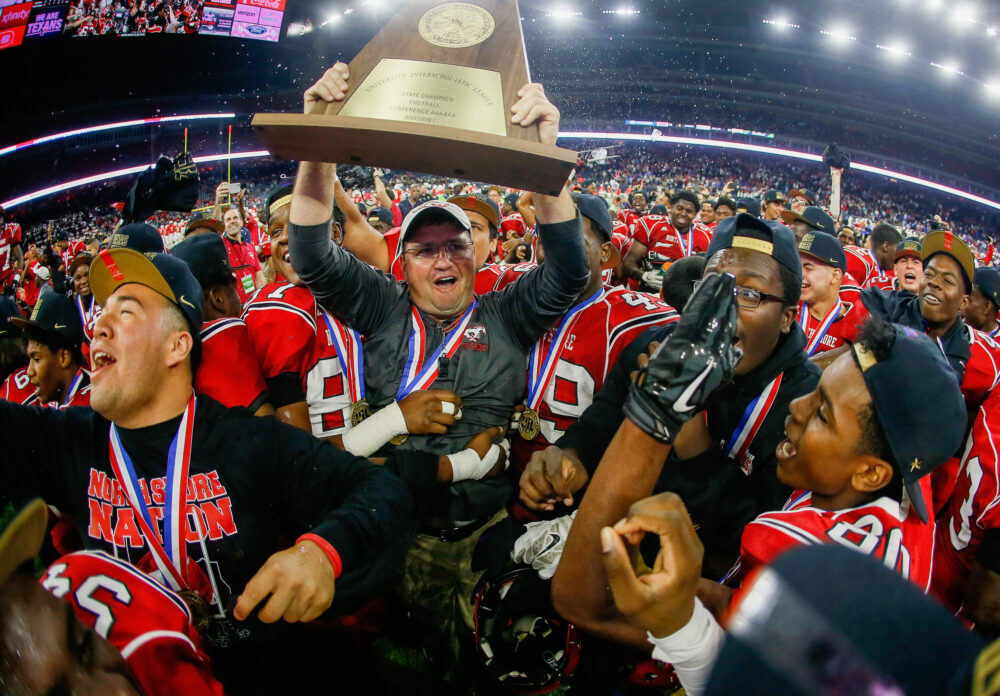 Life away from the football field can be a struggle for some of the players at Galena Park North Shore High School, which is situated in a blue-collar, industrial community on the east side of Houston.
The meals provided for the Mustangs at school and after games might be the only meals some of them get, according to Pete Badie, a lifelong resident of the area. He played for North Shore in the 1990s, had sons suit up for the team and remains a supporter of the program as it tries to win a second consecutive state championship this weekend.
Badie said he also has seen instances in which players' families could not afford the clothing they needed to buy or the electric bills they had to pay, sometimes because of a job loss in the petrochemical business. He said some North Shore families also were displaced by Hurricane Harvey in 2017 – when this year's high school seniors were eighth-graders.
"Football is kind of like a lifeline for them," Badie said. "That brotherhood and camaraderie the program offers helps to overcome the obstacles of maybe their everyday lives."
Conversely, the talent and determination displayed by its teenagers has become a source of pride and inspiration for the North Shore community. The Mustangs have established themselves as one of the elite high school football programs in Texas, having won three state titles in the last four years and five overall since the start of this century.
This year's team has a chance to add to that legacy as North Shore, with a 15-0 record, faces Duncanville (14-0) in the Class 6A Division I state championship game at 7 p.m. Saturday at AT&T Stadium in Arlington. The Mustangs are trying to win back-to-back titles for the second time in a five-year span, and winning a sixth championship overall would tie them with Odessa Permian of "Friday Nights Lights" fame.
Only 10 Texas high schools have won more than six state championships, with Dallas-area power Aledo holding the record with 10.
"We were always good, but where we are right now is kind of an unprecedented run," Badie said. "Definitely in the last 10 years we've been on an elite level as far as Texas high school football. I believe if they win another state championship this year, that elite status can stretch out beyond just the last decade and start to get us into the talk of the all-time great programs."
Jon Kay, who became North Shore's head coach in 2015 and led the Mustangs to state titles that year as well as in 2018, 2019 and 2021, was hesitant to speak about the historical implications of his program's sustained success. Focusing on the task and opponent ahead as opposed to the big picture, he said, is one of the reasons North Shore has gotten to this level.
He also credited Duncanville for a similarly impressive run – the Panthers also are playing in the state final for the fourth time in five years, having lost to the Mustangs each of the previous three times – and with the same types of players from the same sort of community.
According to the latest school demographic data compiled by the Texas Tribune, based on the 2020-21 academic year, 83.7 percent of North Shore's student population is considered economically disadvantaged. Its student body is 70.3 percent Hispanic, 23.8 percent African American and 3.7 white.
The demographics at Duncanville, which is southwest of Dallas, are similar as 79.2 percent of its students are economically disadvantaged. Among its nearly 4,500 students, 54.1 percent are Hispanic, 42.8 percent are Black and 2.1 percent are white.
"I think you're kidding yourself if you don't feel like these kids in both of these communities are faced with some challenges that not every community is faced with," Kay said. "I think sometimes that's used as an excuse for these kids not to reach their fullest potential, whether you're talking about athletics or in life. I think you've got two groups of kids that have proven otherwise, and I think that's pretty special and I hope that people realize that."
Just like at Duncanville, which boasts one of the state's most talented running backs in Caden Durham, natural athletic ability also been a key ingredient for North Shore. Kay said his quarterback David Amador, who moved from wide receiver after a midseason injury to Kaleb Bailey, also is among the best players in Texas.
The Mustangs also rely on several players who have maximized their physical capabilities, according to their coach, and have plenty of other unsung heroes. He said players such as defensive tackles Ryan Nichols and Cortney Brooks, along with offensive linemen Zach Chavanne and Omarion Dudley, do not get as much credit from outsiders as they deserve.
"Those are two kids that can't break 6-foot (tall)," Kay said of Chavanne and Dudley. "But they've been blocking some of the best defensive tackles the state has to offer. It's a tribute to the work they've put in in the weight room and their work in speed and agility training and, more than anything, just their want-to (attitude)."
Badie said Kay, because he's detail-oriented and has instilled his players with senses of discipline and accountability, can take lots of credit for North Shore's successful run. Kay said he's merely following the blueprint established by his predecessor, David Aymond, who guided the Mustangs to their first state title in 2003 and retired in 2014 after 20 seasons with the team.
Also benefitting North Shore, according to Kay, is an alignment in values between the players and their families and the coaches who lead them on the football field. Kay said they all share an understanding that it takes hard work and commitment to succeed, adding that his players are taught to "turn your back on entitlement."
As a result, the Galena Park community has their backs. Badie and Kay both said they expect a significant number of North Shore fans to make the trip to Arlington for Saturday's game, much like they have in previous years.
The Mustangs might also draw some fans from other parts of the Houston area, since they're the only team from the region that qualified for this year's state-title games, which are played on the home field of the Dallas Cowboys.
"You understand when you get to this point, you're not only playing for your community, you're playing for your city," Badie said. "You want your city to be known as a top dog when it comes to the sport. I believe the city is behind us."