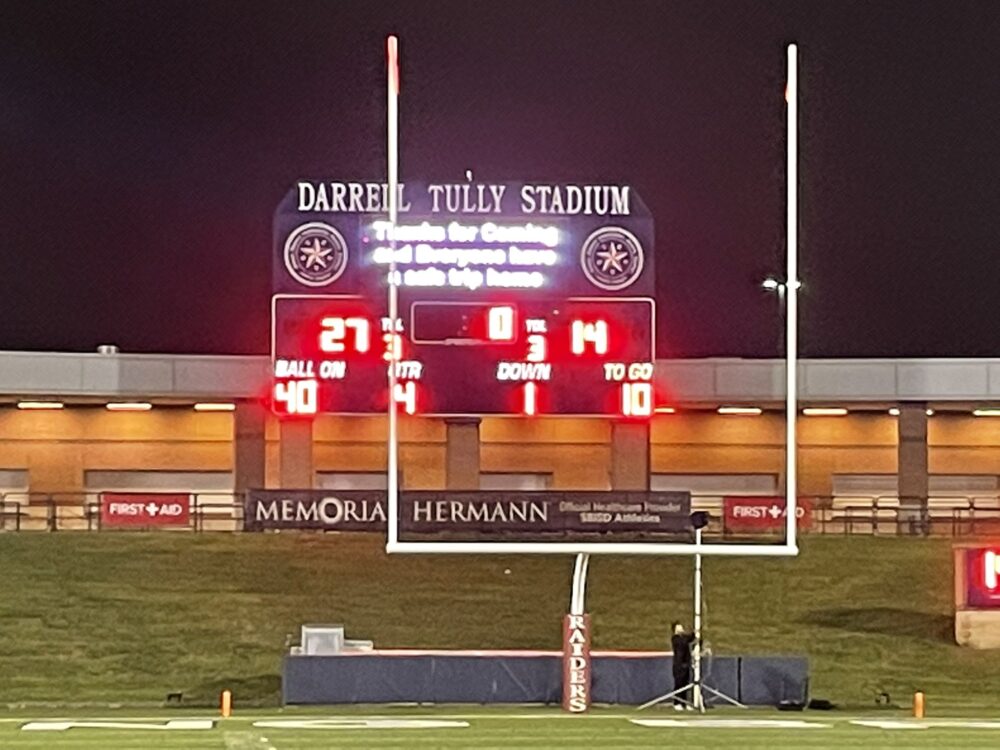 A small piece of paper with a date printed on it – Nov. 3, 2017 – had become a fixture in Andres Gomez's office. The third-year Northbrook High School football coach hung it right above the dry-erase board where he draws up plays and makes notes to himself, allowing it to serve both as a reminder as well as motivation.
The date represented the last time the Raiders won a game, 34-12 against Spring Woods.
The note came down earlier this week, because it now is obsolete. Houston Northbrook jumped out to a big early lead against Aldine and coasted to a 27-14 win on Saturday, snapping what was the longest active losing streak among Texas high schools at 42 games, according to Dave Campbell's Texas Football.
"It was sitting right there staring at me," Gomez said Tuesday, when the Spring Branch ISD school resumed after a long Labor Day weekend. "Yesterday during practice I took it out, showed it to the kids and said, 'Let's go build a winning streak.' "
The Raiders (1-1) will try for two in a row this Friday night at undefeated Brazoswood (2-0). But first, Northbrook players of both the present and past may spend a little more time relishing in their long-awaited feat.
Gomez said the Raiders, who have never qualified for the state playoffs and last enjoyed a winning season in 1993, had been caught in a "viscous cycle." He said lackluster results led to a lack of interest in the team among the student body, which resulted in low participation in football, which made it even harder to remain competitive in Class 6A, the state's classification for its largest public schools.
The 2020 season was especially difficult, according to Gomez, who said the Raiders lost each of their games by at least 17 points. Northbrook was more competitive last year, even though it still could not crack the win column, and finally broke through in the second game of this season.
Among those who celebrated with the Raiders were some of their former players who did not experience a win themselves. Tears of joy were shed, Gomez said.
Shoutout @Gomezican @CoachKarre24 @CoachReese56 @DavidAKuti1 @CoachRomero9 @Coach_Howard06 and the rest of RAIDER NATION!!!You all made this happen for us throughout your hard work, dedication, and determination. After 5 years we've achieved what everyone thought impossible R4L⛓ pic.twitter.com/J0P5te12gG

— shiestyyy.7 (@MarquellHannah) September 4, 2022
"It was just the sense of validation that our kids could look at the progress that we made and see something tangible from it," he said.
Speedy senior Marquell Hannah paced the Northbrook offense, scoring touchdowns on all three of his rushing attempts while finishing with 120 yards on the ground. Gomez said the defense was led by senior middle linebacker Angel Reyes and junior defensive lineman Brian Fernandez, who the coach described as his top two tacklers.
The win was tarnished somewhat by a series of penalties in the second half, at which point Northbrook was well on its way to a long-awaited win. Gomez said one of his players was ejected following a skirmish with an Aldine player, and two more Northbrook players were subsequently ejected because of comments made within earshot of the officials, according to Gomez.
The coach took responsibility for his players' behavior and said he and his assistants are addressing it. It could end up being a learning experience for the Raiders, who are new to winning after a years-long string of losses.
Also fresh is the experience of returning to school after a win and being recognized during the morning announcements, which was the case for the Raiders on Tuesday. Reyes said he and his teammates plan to get used to that sort of treatment.
"It makes us hungrier for more," Reyes said.