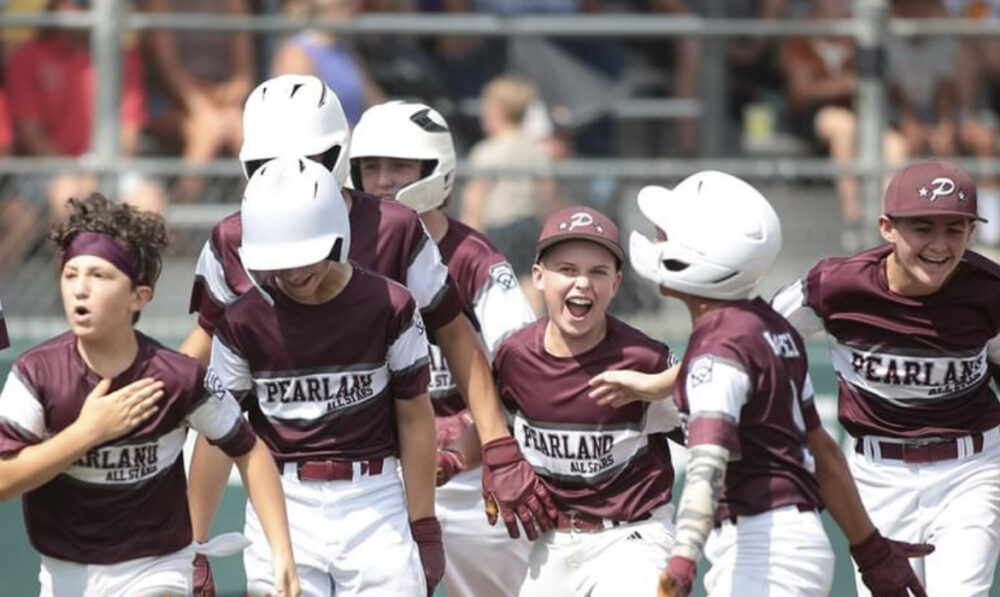 On Tuesday the Pearland Little League baseball team won the Southwest Region Championship, and now are headed to the Little League World Series. After a successful game that also showed a moment of sportsmanship, Coach Aaron Cummings spoke with Houston Public Media about the team.
This interview has been edited for length and clarity.
How do you make sure the kids relax and just play on a big stage like that?
You know, they've got nerves like everybody else. I think what we did Sunday, which was kind of not planned at all, I could tell they had a lot of nerves, and they were not relaxed and the stadium played the Jump Around song that they do for college games. And the boys started kind of jumping around the dugout and dancing around. And it really loosened them up. I mean, it's just like any other athletics, you know, they love the warm-up music or the hype music. We, as coaches were talking about it, and we could talk until we're blue in the face, but I think what really settled them down was… that song. They had a little fun, they got back to being kids. And then yesterday we played it on our cell phone, and they jumped around a little more. And so yeah, I mean, they're kids, right, so they just got to have some kind of outlet to release some energy.
Are they use to the big moments?
Well, if any of them are I'm unaware of it. This being on ESPN, national television, is quite a moment for a 12-year-old. Kind of goes from never being on TV to all this kind of stuff, and your coaches mic'd up, and you can see cameras everywhere. And so no, they're not used to it. But I think our boys really, really handled it well.
What has your experience been with this Pearland program?
I've been around the league for 15 years and coached. I have three sons, and this is my third ... But we've been coaching in the league a long time and we've got we've had some really good teams but this team is special.
How would you describe the personality of this team?
We definitely have a mix of humble quiet guys and we've got some really spirited guys. I would say from a personality standpoint, it's the most fun-loving team I've ever had, especially on the All-Star level. I've done quite a few teams and these guys, they truly have fun. Even the quiet ones, some of them have broken out of their shells. And I think it's a big part of their success is that they have been able to know it's a game. They're 12, they need to have fun. If they're not having fun, what are we doing here? And so I think these boys have they mastered the art of having fun, and so it's been a joy to watch them grow closer and develop new friendships and its a great team personality.
Is it back to reality for a minute, before you all head out Friday?
I have a job, so I'm going to go try to work. I'm going to try to work for the rest of the day. If you want me to be honest with you, I'm getting a haircut right now because I mentioned to a couple of them in Waco that I needed a haircut, but they said, 'You can't do it until after the tournament.' Yeah, I'm not really that superstitious. We leave Friday. And so we're definitely not going to do anything today. And tomorrow night, we have a send-off at the high school stadium, where there's going to be a bunch of local folks and high school baseball team and all that stuff. And so I don't think we're going to get the practice until we get to Pennsylvania.
What's the community support been like?
I knew it was a big deal, but you don't know it's a big deal until it happens. I mean, you really can't prepare yourself. I mean, of course, you know, my boys have had dreams of making it. And, you know, I didn't know that one day I'd be the manager when we do it. The community support is just, it's overwhelming, right? I'm a big kid, too. I mean, I'm just a 46-year-old kid that loves baseball. And so to see all those Astros and all the well wishes is when the boys get a kick out of that and it's just the community has gone above and beyond what I could have ever dreamed of. And it's just realized how much people love it and how much people are genuinely excited for you. And it's really fun to be a part of, surely a once in a lifetime opportunity.