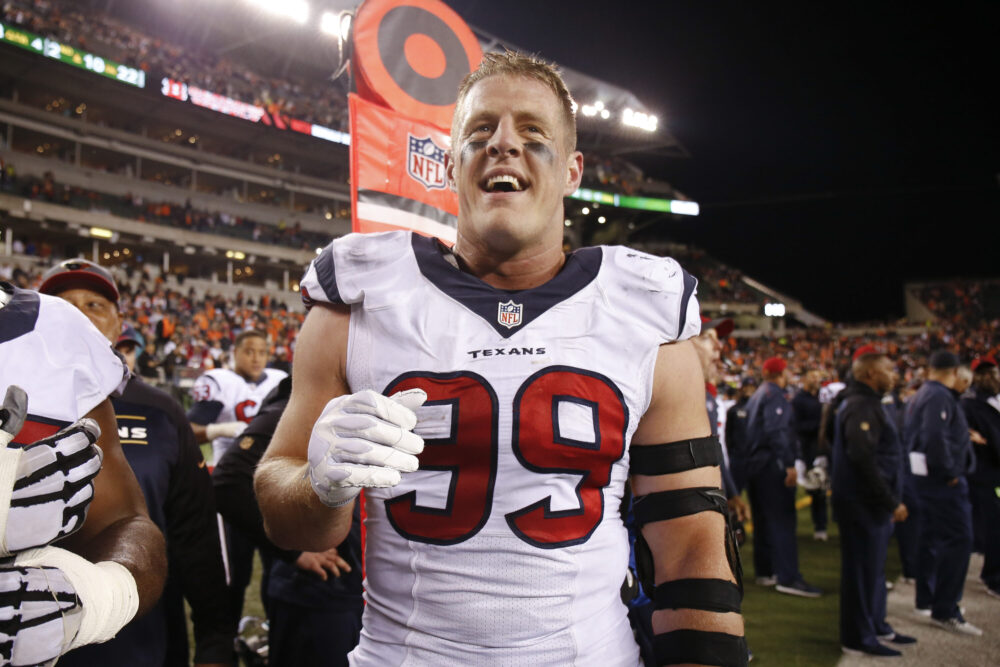 The family of Jerry Roderick Sr. has spent the last month trying to raise money for his funeral expenses.
Now, thanks to some unexpected support from a well-known former Houston resident, Roderick might soon be laid to rest.
Former Houston Texans star JJ Watt wrote Wednesday night on Twitter that he would help cover funeral costs after Roderick's granddaughter, Freeport resident Jennifer Simpson, made a post saying the family needed money and she was willing to sell her Watt jersey and a pair of shoes from Watt's product line with Reebok. Watt responded minutes later, offering his condolences, offering to help and telling Simpson not to sell her merchandise.
"That was beyond mind-blowing," Roderick's daughter, Katy resident Tara Roderick, said Thursday. "I am beyond grateful. ... It brought peace knowing we're a whole lot closer to laying him to rest."
Don't sell your shoes and jersey, we'll help with the funeral.

I'm sorry for your loss.

— JJ Watt (@JJWatt) July 21, 2022
Tara Roderick said her father, who had seven children, 21 grandchildren and nine great-grandchildren, had a series of health issues beginning with a stroke in 2008 and died June 20 at age 73. He had been staying at an assisted living facility in Houston and died from cardiac arrest, his daughter said.
Roderick said her father's body has been at Brookside Funeral Home & Memorial Park, where she said the family had an initial balance of more than $16,000. After receiving about $4,000 through various fundraisers, including bake sales and plate sales – and with Watt's contribution – she said the family still owes more than $7,000 to the funeral home.
A spokesperson for Dignity Memorial, the company that operates the Brookside facility, confirmed Thursday that Jerry Roderick's body is at the funeral home and the family must pay its remaining balance before it can schedule memorial services. The spokesperson also said a few people have contacted the Brookside location to make direct donations on behalf of the Roderick family, since Watt's involvement put their case in the public eye.
Tara Roderick declined to reveal the specific amount donated by Watt but confirmed it is in the $5,000 range.
"Even with embalming, the body will still deteriorate, and they're not giving me just a straight deadline (to pay the remaining balance)," she said of the funeral home. "We would like to have his service, open casket, before he starts deteriorating."
A GoFundMe account has been set up at https://www.gofundme.com/f/cab77a-jerry-roderick-funeral-services to help cover the remaining funeral expenses, Tara Roderick said.
Watt, an All-Pro defensive end who spent the first 10 years of his professional career with the Texans before joining the Arizona Cardinals last year, has long had a reputation for helping the Houston community. He received the NFL's Walter Payton Man of the Year Award in 2017, after raising millions of dollars for Hurricane Harvey relief efforts.
Tara Roderick said her niece Simpson, who works as a teacher at Brazosport High School, is especially grateful for Watt's latest charitable effort. After Watt offered to help with her grandfather's funeral expenses, she responded on Twitter by saying, "I freaking love you man. It's been a hard year for me, and this last month has been hard since the death."
Roderick said her father was a pro wrestling fan and might not have even known about Watt. Simpson, on the other hand, is a big fan of Watt and the Texans and now plans to keep the items she initially offered up for sale, according to her aunt.
As for Tara Roderick, she said she's always rooted for the Philadelphia Eagles and now considers herself a Watt fan as well – as long as his team isn't playing against the Eagles.
"That money is very helpful," she said. "I can't believe that he even responded. He doesn't even play for the Texans no more.
"That man has done more than anybody," Roderick added.