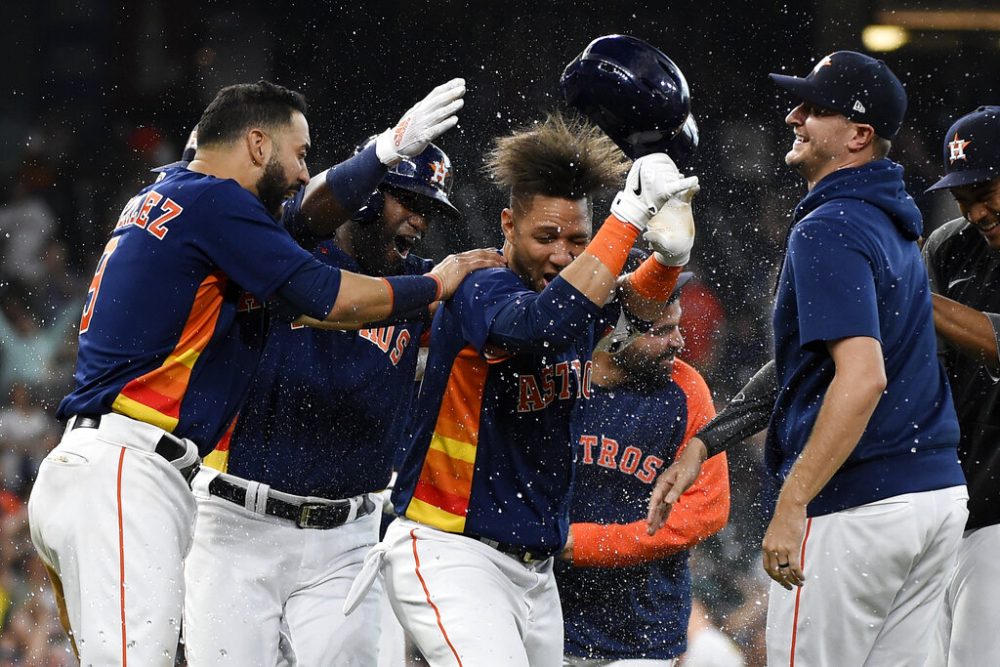 The Houston Astros clinched home-field advantage for the first round of the playoffs on Saturday, and their schedule for the American League Division Series is now set.
The team is set to play Games 1 and 2 at home Thursday and Friday, before flying out to Chicago for Game 3 of the best-of-five series against the AL Central champion White Sox on Sunday.
If necessary, the teams will play again at Guaranteed Rate Field on Chicago's south side on Monday for Game 4, and should a fifth game be required, they'll fly back to Houston to play on Wednesday.
Times for the games have not yet been announced.
The Astros clinched home-field advantage Saturday night on the strength of a three-run homer from Yordan Alvarez and a late-inning two-run homer from Kyle Tucker in a 10-4 win over the Oakland Athletics. Jason Castro hit a solo homer, and AL batting champion Yuli Gurriel hit a solo solo shot in the third inning originally ruled a double before being overturned on review.
The Tampa Bay Rays, who also clinched their spot in the ALDS, will follow the same schedule. They'll play the winner of Tuesday's Wild Card game between the New York Yankees and Boston Red Sox.
In the National League, the Atlanta Braves and Milwaukee Brewers will face off Friday and Saturday in Milwaukee, before heading back to Atlanta for Game 3 on Monday. They'll play Games 4 and 5 on Tuesday and Thursday if necessary.
The Los Angeles Dodgers and St. Louis Cardinals will face off for the Wild Card on Wednesday. The winner will play the Giants on the same NLCS schedule.