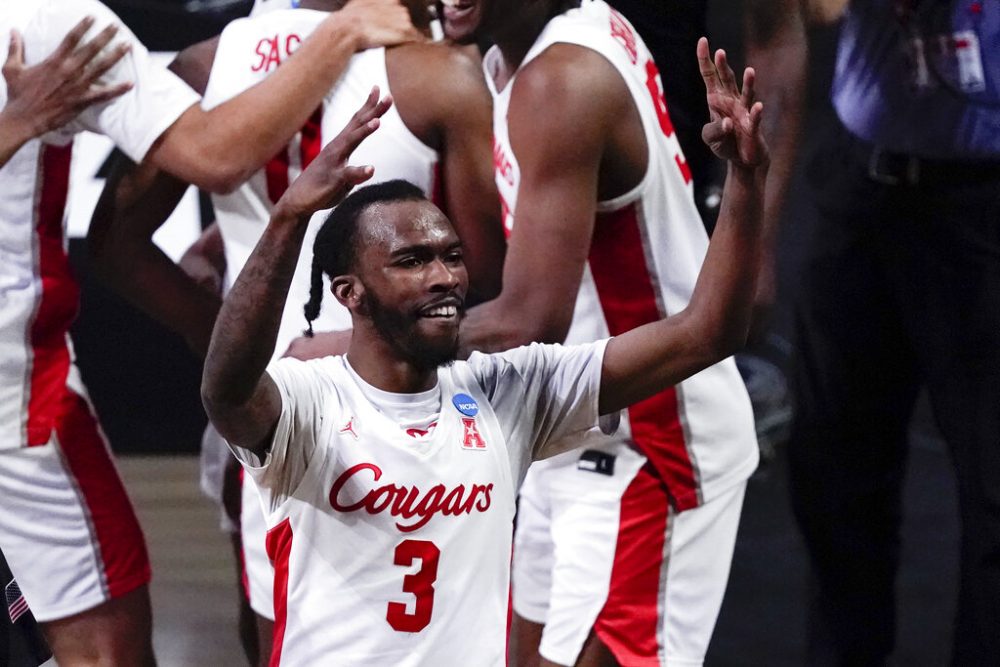 It's been a long journey for Kelvin Sampson.
At a press conference Friday, the University of Houston men's basketball coach talked about growing up during a racially segregated time period. He recalled separate bathrooms and water fountains.
The coach remembered going to high school basketball games, where Black and brown coaches had to sit further away in metal folding chairs, while white coaches got to sit in a balcony area in theater chairs.
"Didn't think much of it, that's just the way it was back then in the mid-60's," he said.
Sampson grew up admiring his father, John W. "Ned" Sampson, a basketball coach he said the community looked up to. He described his father as a "role model" and "hero." In 1957, the elder Sampson and his friends helped break up a Ku Klux Klan rally in North Carolina.
"It was very divided, very racist, but we survived, and we achieved," the coach said of that period.
Decades later, Sampson is still achieving. On Friday afternoon, College Insider named him the top college head coach in the nation, making him their John McLendon Award winner.
And now he once again leads the Cougars to the NCAA Final Four, where the team will take on the Baylor University Bears on Saturday. It's the Cougars' first NCAA Final Four appearance in 37 years, and Sampson's second time advancing to the Final Four since leading Oklahoma in 2001.
To create a successful team, Sampson said he looks for a coachable player, and someone willing to be better on the court. Intangibility, humbleness, toughness, and someone able to take coaching direction are all characteristics Sampson said he searches for while recruiting.
"My eyes are my eyes," he said. "What I see through my lens, is based on what's best for the team."
Sampson said guard Marcus Sasser is an example of what that looks like. Sasser's performance in the Rutgers game consisted of two defensive plays and two critical free throws that helped advance the team.
"We don't base our kids' play on whether their shot goes in," Sampson said. "We base their play on their contribution to the team winning, and that's what every kid that comes in this program has to learn; how to help us win games."
With the Bears coming into the Final Four with an overall 26-2 record, the competition against Baylor will be a matchup of solid guards and consistent shooters who can switch up defensively or offensively, Houston guard DeJon Jarreau said.
Forward Brison Gresham has been playing alongside Jarreau since the beginning of their collegiate basketball career together. The two are key players going into the weekend against the Bears. Gresham was one of four players who competed in all 31 games in the 2019 season, with 11 starts.
"To have my brother with me is an amazing feeling," Jarreau said.
Guard Quentin Grimes, born and raised in Houston, said he knew from the start the Cougars had potential to make it all the way to the Final Four based on their performance in the summer and pre-season practices.
The strong team chemistry in the pre-season translated to excitement for in-season practices.
"That's when I knew we had a special team and the chance to do something special this year," Grimes said.
Houston boasts the nation's best 3-point field-goal defense and second-best scoring defense. The Cougars have yet to allow an opponent to score more than 61 points in their first four tourney games.
But this Baylor team is the fourth-best shooting team in school history, and the best from beyond the arc, where the Bears make more than four out of every 10 shots. They've scored at least 75 points in three of their four NCAA Tournament wins.
If the Cougars work to prepare against these obstacles, "everything will take care of itself," Grimes said.
Additional reporting from the Associated Press.