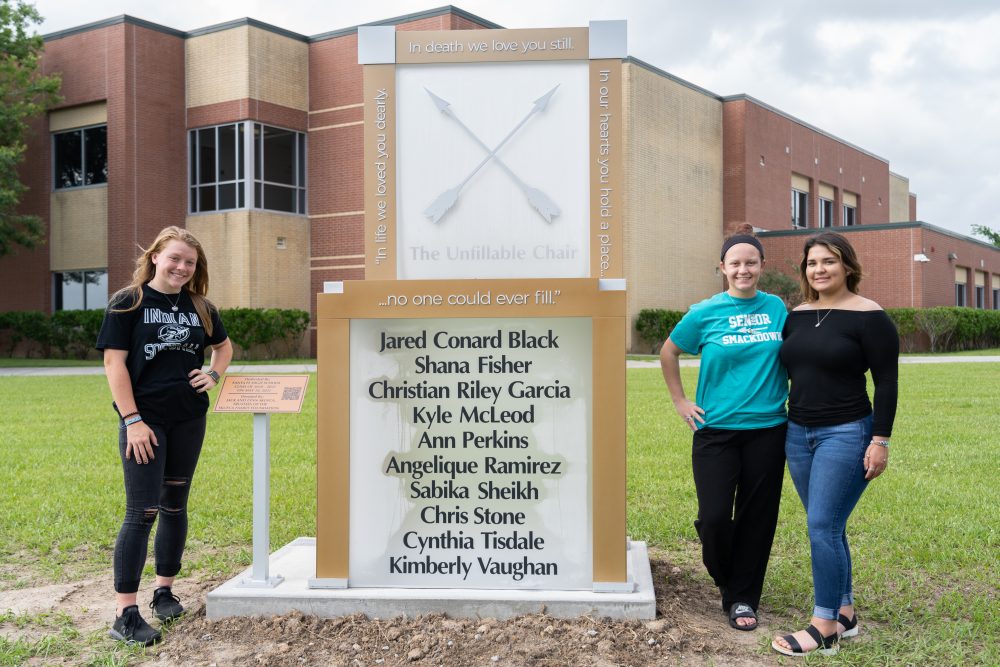 Chailyn Gillespie and Morgan Wilson stood outside of Santa Fe High School Monday and spoke about their friend, Angelique Ramirez. The seniors knew Angelique for years as a close friend.
The three began high school together in 2018. Only two will graduate this year.
Angelique was among the 10 students and teachers who were killed after police say a 17-year-old student entered the high school with a revolver and a shotgun on the morning of May 18, 2018, killing 10 people — eight students and two teachers — while wounding 13 others.
Three years later, the Santa Fe community is still reeling from that traumatic day.
Gillespie and Wilson, both freshmen at the time of the shooting, said losing their friend so suddenly affected them deeply.
"(Angelique) being taken from me hit hard. Really, really hard," Wilson said. "I feel like I lost my rock. I didn't have my person anymore."
The two seniors were joined by Reagan Gaona, who was a sophomore when the shooting occurred. She was dating 17 year-old Chris Stone, who died after using his own body to shield his classmates from gunfire, saving their lives.
Stone was posthumously awarded the Congressional Medal of Honor "Young Hero" award earlier this year, joining 15-year-old Christian Riley Garcia, who was awarded the same commendation in 2020 after sacrificing his life to help his fellow classmates.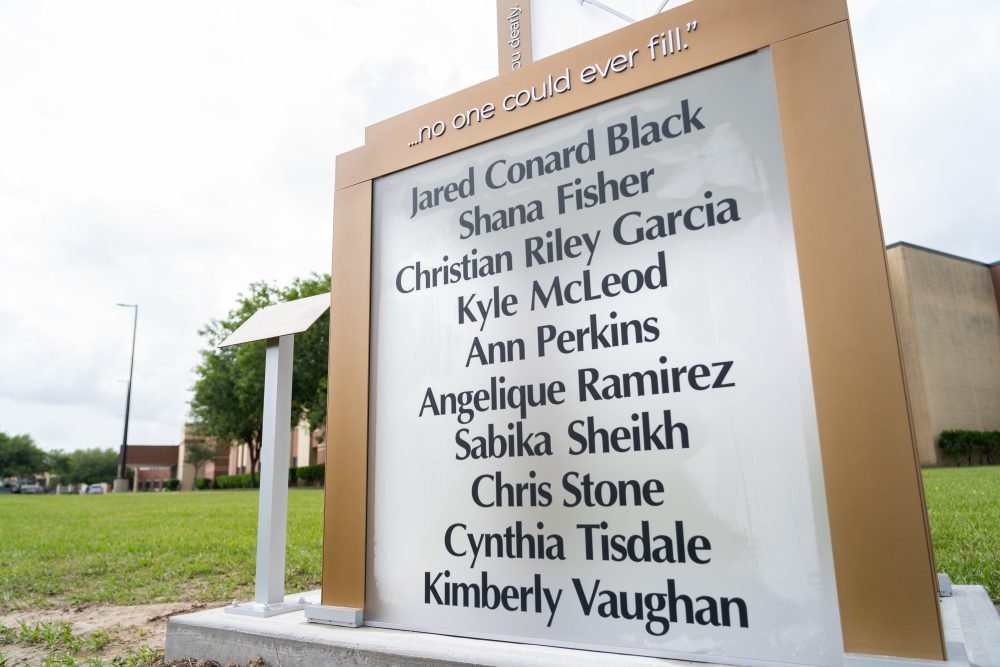 "I'm very proud of him for being one of the people to block the doors and really put his life at risk for everybody," she said. "It's hard to think about, but you get through it as you go on."
Gillespie, Wilson, and Gaona — along with two other Santa Fe students — helped design a memorial after responding to a flyer from the Santa Fe Ten Memorial Foundation.
The five students designed what would later become the Unfillable Chair.
The memorial stands more than 8 feet tall, displays the names of those who were killed during the shooting, and symbolizes the absence of 10 fallen students and teachers. The memorial was unveiled Tuesday.
When Gail McLeod saw the memorial in person for the first time, she cried. She lost her son, 15-year-old Kyle McLeod, during the shooting.
"We live every day, getting up knowing that that person is never gonna be there," she said. "The three-year anniversary is the day it happened, and that's an extra sad day, but it's just another sad day."
McLeod, along with other parents, joined the foundation to help contribute to the project. She said she's grateful to have found others who share the same experience as her.
"It's been very helpful to get together with all these people and make something," she said. "You always have a chair in your life that this person that we lost, my son, is never gonna be in ever again."
The Unfillable Chair is only the first step in a much bigger project. The Santa Fe Ten Foundation is currently raising funds for the remainder of the memorial, which would consist of two main pieces: "The Meditative Grove" and the "Sacred Space."
Megan Grove, the chair of the foundation, said the grove is designed using consecutive infinity loops to symbolize timelessness, while the Sacred Space will hold 10 feather monoliths, each representative of a specific person who died during the incident.
"We want this memorial to outlast all of us. We want this memorial to be here in 50 years, 100 years," she said. "We want it to be a space that's healing, that inspires resilience, and hope through remembrance, and provides a place for the students as well."
The three girls said contributing to the project helped give them closure as they begin to move on from what they described as a tragic period in their lives.
"The past four years, we really haven't had much good in our high school experience," Gillespie said "We're ready for new experiences, to take a step back and take a breather."
"I definitely think that we're just ready for a fresh slate, ready for a chance to just be ourselves," Wilson said.
The Unfillable Chair was officially unveiled Tuesday afternoon, just in time for the upcoming graduation of the 2021 class — the last class of students that attended the high school during the shooting.
"The following classes that are moving up into high school and that are already here will know the names," Gillespie said. "They're never going to be forgotten, this piece is going to be here forever."