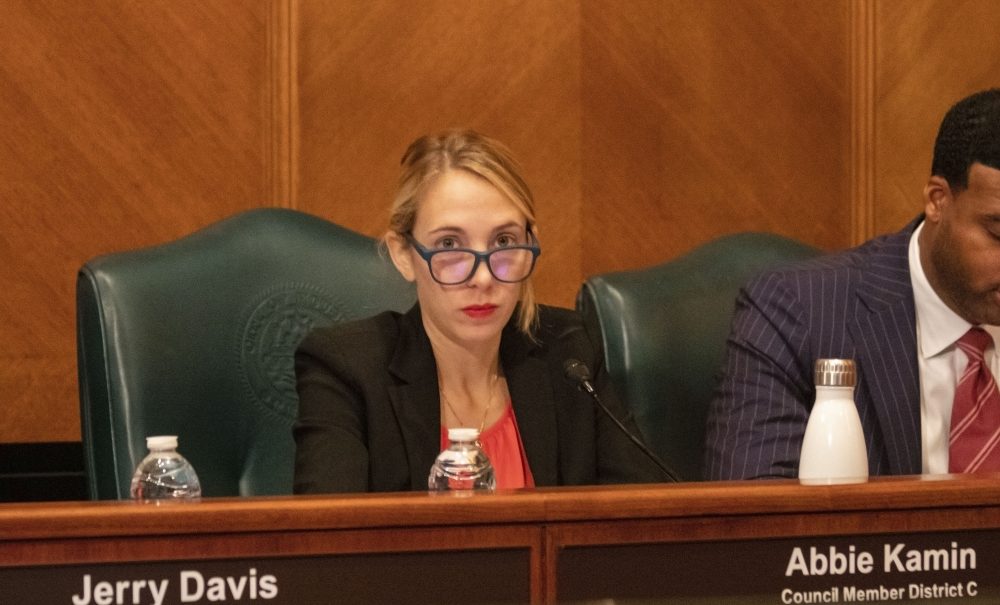 Houston leaders are seeking creative alternatives to tackle gun violence in the city. A new dashboard that tracks key data could be the answer – according to officials, making it the first of its kind.
Houston City Council member Abbie Kamin is proposing a new dashboard that would compile data on firearm injuries and deaths in one place. That option is not currently available, officials say, especially for trauma centers in Houston.
The dashboard was unveiled Thursday during the city's Public Health and Homeland Security Committee Meeting.
"The problem is we have a public health crisis," Kamin said Friday on Houston Matters with Craig Cohen. "In order to have data-driven approaches for those interventions, you have to have baseline data that can form health-based prevention efforts. It comes as a surprise to me we actually don't have that intervention."
MORE: Council Member Kamin discusses the proposal on Houston Matters
Kamin first presented the proposed dashboard as an amendment to the city's Fiscal Year 2024 Budget Hearing in June, when she received little support from colleagues, sending the item to committee. Other council members questioned the purpose and effectiveness of it.
"How does this detail into what (the Houston Police Department) does when reporting suspects that've been stabbed or shot? What is this going to give us that HPD didn't already have, that's what I'm trying to figure out," at-large council member Michael Kubosh said during a June 7 budget hearing.
Trauma centers, medical examiners and law enforcement would be able to access the information pulled from each agency, including 911 calls and police records, to develop possible preventative strategies. The dashboard would include data on victim demographics, shooting intent, location and more information that is not collected by each source.
Houston officials said they have seen an increase in firearm injury victims since the start of the pandemic. Dr. Loren Hopkins, the chief environmental science officer for the Houston Health Department, said the issue isn't improving.
"Since 2020, deaths from firearm is now the leading cause of death in children, and more than from motor vehicle crashes or illness," she said. "Firearm suicide and homicide has increased for both adults and children. This has just been steadily rising since 2018 – regardless of all the efforts that people are putting into it."
The Houston Health Department would lead the dashboard efforts, a similar approach used during the COVID-19 pandemic to collect wastewater, vaccine, positivity rate and hospitalization data to determine areas of need to prevent the spread of COVID.
Assistant Chief Wyatt Martin with the Houston Police Department said in order to get injury data from the trauma centers, it involves homicide investigators having to speak with medical examiners to get certain information.
"We have only one piece of the data. We have what people tell us when they call 911," he said. "We have what victims tell us when they're able to or willing to speak to us, but having this information from all these different sources, especially the trauma centers and areas where we can show the impact of the injuries from these types of crimes is going to be invaluable."
Dr. Shiree Berry, a trauma medical director and surgeon at Houston Northwest Medical Center, said her location has one of the highest percentages of gun-related injuries and oftentimes the police is not aware of many incidents.
"We can get information that as physicians that you're not going to be able to get from law enforcement, because they're understaffed and there's no way they know about every gun violence victim," she said. "Patients love to tell me all the details and with our partnership with the violence and prevention program, we gather that information. It's anonymous, but the goal is for us to collaborate with all of the stakeholders so that we can come up with some solution to the root cause of this problem."
Kamin said although the city is already working to reduce gun violence, comprehensive data as stated by health officials and police is still missing, which is why a dashboard needs to be implemented.
"Until we can really identify a lot of those layering factors, we can't do successful intervention," she said.
The dashboard would cost more than $200,000 over two years to get the program started. The city plans to apply for grants to keep the program moving forward. There's no word yet on when the proposal will end up on the city council's agenda.