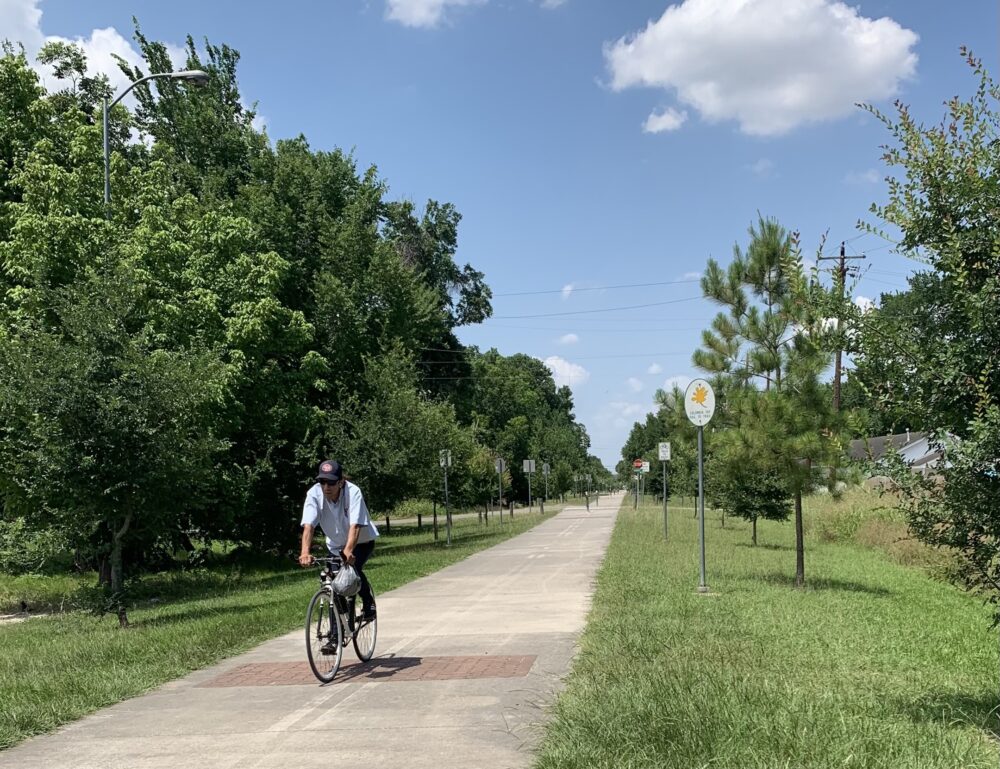 Since moving to a home near the Columbia Tap Trail more than a decade ago, Ed Pettitt said he has utilized it on an almost daily basis. He takes his bicycle or scooter on the trail to run errands and commute to nearby Texas Southern University, where he is a doctoral student and also works as a graduate research assistant.
Lately, though, Pettitt has been hesitant to use the well-worn hike-and-bike trail that cuts through Houston's Third Ward neighborhood. It has been the site of five violent attacks against cyclists during the last two weeks, with four people having been robbed and another having been shot during an apparent attempted robbery, according to Assistant Chief Larry Satterwhite of the Houston Police Department.
"The past few days, I've been careful to avoid it for long stretches," Pettitt said Tuesday. "I've kind of zig-zagged across it to see if there's anything suspicious. I never saw any police patrols."
There was a police presence Tuesday afternoon at the trail's intersection with Anita Street, where Satterwhite and other HPD officers gathered for an impromptu news conference with Houston City Council member Carolyn Evans-Shabazz, who represents the Third Ward as part of District D. And there will continue to be a police presence along that part of the 4-mile trail, according to Satterwhite, who said his department is devoting additional resources to the area, including the deployment of undercover officers.
Evans-Shabazz also vowed to help combat crime along the Columbia Tap Trail, where she and the Houston Housing Authority announced last fall they were spending a combined $150,000 on improvements to the trail, which runs along a former railway. Those upgrades include security features such as surveillance cameras, emergency call boxes and better lighting, but Shabazz said Tuesday there is no exact timeline for when they might be implemented, adding that she hoped such a project could begin within the next few months.
"I am steering this ship, and I'm going to try to propel it to go as fast as we can," she said.
Pettitt, the vice president of the Third Ward Super Neighborhood Council and a founder of the Friends of Columbia Tap, said the latter organization was formed partly in response to a string of violent incidents along the trail in 2013. He said the problem at that time was resolved when those responsible were apprehended by law enforcement, and that there had only been isolated incidents in the years that followed.
A new wave of crime along the trail emerged on May 16, according to Satterwhite, who said many of the five recent attacks on cyclists have involved a group of between three to six young men or boys who are Black. In each of the last two incidents, on Saturday afternoon and Monday night, the victims were hospitalized, he said.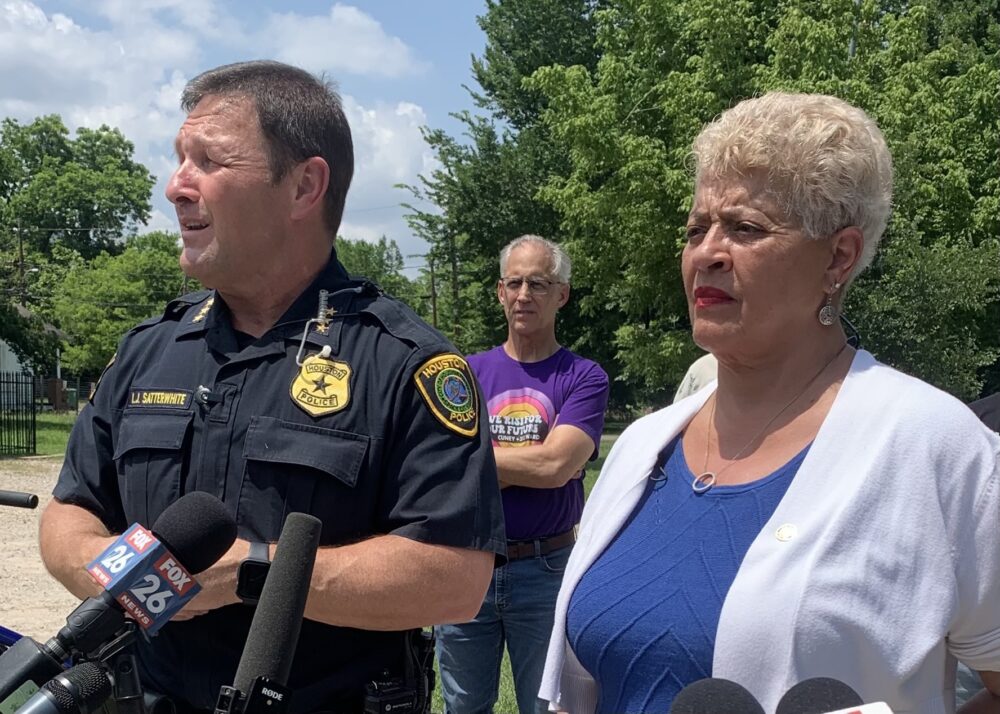 Satterwhite said HPD is investigating the attacks and has some leads, although no arrests had been made as of Tuesday. Deploying officers with all-terrain vehicles is part of the department's strategy for patrolling the trail, he said.
"We believe it's probably the same very small group of individuals," Satterwhite said. "That's our goal is to try to identify them. If we can get them identified and charged, then maybe that will bring some peace back to this trail for everyone to use it with the confidence they want."
BikeHouston executive director Joe Cutrufo, whose nonprofit advocates for local cyclists and cycling infrastructure, called it "devastating" to see a string of crimes on the Columbia Tap Trail, which he described as an asset in terms of Houston's infrastructure for cyclists and pedestrians. Several people on bikes, on scooters or on foot were using the trail in the Third Ward area on Tuesday afternoon.
Cutrufo said BikeHouston advises cyclists to "choose the route that you feel safest on," adding that some might avoid the trail because of the recent attacks. The incidents speak to the need for on-street bike paths, in addition to off-street trails, according to Cutrufo.
"Some people may feel less safe using protected bike lanes and safer using dedicated off-street bike paths," he said. "But as we've seen in the last week, some people are taking advantage of the isolation on these trails. People are going to avoid the trail now because they heard about this crime, and that makes it even more isolated."
Pettitt said he recently began "sounding the alarm" about unsafe conditions on the Columbia Tap Trail, speaking about the issue during the city council meeting on May 16 – the same day the recent crime spree started. Pettitt said he also reached out to HPD last week and asked for patrols along the trail.
The two subsequent attacks over the holiday weekend escalated the issue, which is now being addressed, according to Evans-Shabazz and Satterwhite.
"I love this trail," said Bonnie Nelson, a cyclist and Third Ward resident. "I will always love this trail, and I want everyone to be able to feel safe, welcome and able to use this trail. The people and the places that this trail connects is not a luxury. It's a necessity."