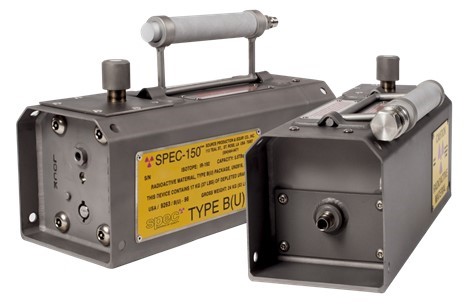 More than two months after it went missing from the parking lot of a Houston Whataburger, an industrial camera containing radioactive material was found intact and returned to its owner, according to the Texas Department of State Health Services (DSHS).
The SPEC-150 radiographic camera, owned by Houston-based Statewide Maintenance Company, had been considered a potential public health risk if it was damaged or taken apart. It contains radioactive material that is sealed inside a capsule, which is in turn sealed inside the camera with protective shielding and other safety features, according to DSHS, which said in March that radiation levels outside the camera are not dangerous.
"The radioactive material was still sealed in its protective shielding," DSHS said in a statement posted to its website this week. "Since the radiographic camera was not tampered with, there was no danger to the public."
Lara Anton, a spokesperson for DSHS, did not immediately respond to a message Friday seeking additional information about how and where in Houston the camera was found. She said in March that it was believed to have been stolen from a truck at 4040 Little York Rd., where workers for Statewide Maintenance Company had gone inside a Whataburger to eat and returned to find the camera missing.
The company had offered a $3,000 reward for the 53-pound radiographic camera. It was not immediately clear whether anyone claimed that reward, with Statewide Maintenance Company deferring comment to DSHS.
According to the Environmental Protection Agency, industrial radiography cameras use X-ray and gamma radiation to check for flaws that cannot be seen with the naked eye. They are used to inspect metal welding, oil-and-gas pipelines, boilers and aircraft and vehicle parts, among other materials.