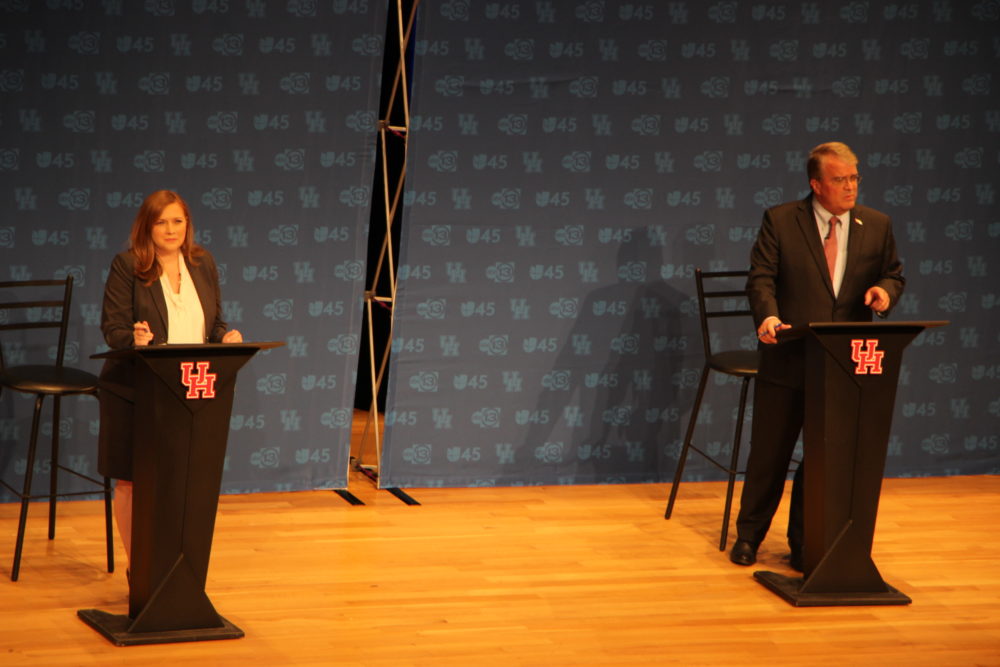 The contest in Texas' 7th Congressional District is one of the closest in the country. Nine-term Republican Congressman John Culberson faces Democratic challenger Lizzie Pannill Fletcher. The west Houston district voted narrowly for Hillary Clinton in 2016. From the start of this cycle, it looked like an ideal test case for Democrats to win over a traditionally Republican demographic: suburban white women.
"At the end of the day, women are going to be critical in ensuring Republican victories up and down the ballot November 6," Belinda Culberson says, while campaigning for her husband at a "Women for Culberson" event. "And what's the easiest way to accomplish that? Vote straight Republican ticket!"
Attendees packed the Harris County Republican Party headquarters for the event, including Ileene Robinson. "I've been involved for a long time," Robinson says.
She's lived in the district since George H.W. Bush represented it, and her GOP roots go deeper still. "When I was six years old," she says, "I came home from school in El Campo, Texas, in Wharton County, and I told my grandfather, 'I like Ike. I like Ike.' And he said, 'Ileene, we're Democrats. We like Stevenson.' And I said, 'No! I like Ike!'
Robinson's raised tens of thousands dollars for the state party's Victory 2018 campaign. "That's what I did when I was taking chemotherapy for leukemia," she says. "I would just sit there and call people and try to raise money."
In fact, Robinson came to the Culberson event just hours after her latest round of chemotherapy. That sort of dedication is hard to overcome.
Political analyst Nancy Sims originally expected the backlash against President Trump to hurt Culberson with women. But now?
"The Republican women who always loved and adored him have since, they've seen him, they've touched him again, they feel his presence in the district, and they've become reengaged," Sims says.
Harvey, Healthcare & Immigration
Culberson is running on a simple message: He got Congress to approve more than $140 billion for Harvey relief and flood control.
But Harvey is far from the only issue driving voters. Take healthcare. Fletcher is hammering Culberson over his votes to repeal the Affordable Care Act. That's why Michael Sternesky, another registered Republican, showed up to campaign for Fletcher in west Harris County.
"Actually, my first vote was for Richard Nixon. So, that's how far back I go," Sternesky says.
Sternesky says he confronted Culberson about it. "I said, 'John, I can't support you when you want to get rid of the ACA without a replacement. You have nothing to replace it with.' 'Oh, yes we do.' And I said, 'Well, where is it?' And he said, 'Well, look on our website. It's about allowing healthcare providers in different states to compete.' I said, 'John, that's not going to do it. People with preexisting conditions are going to get killed.'"
Then there's immigration and border security. Cries of "Build the Wall" and Trump's "zero tolerance" policy toward undocumented immigrants are powerful vote-getters in many GOP districts.
But here, "some of those things might appeal to a small minority of those affluent, white voters," says Renée Cross, senior director of the University of Houston's Hobby School of Public Affairs. "It surely won't appeal to the very diverse constituencies that are to the northeast and to the south of the district."
Latinos and African-Americans now make up nearly half of CD 7's population. If Fletcher can convince enough of them to vote and peel off enough suburban Republicans, she might become the district's first Democratic representative in more than 50 years.
Republican Ileene Robinson's lived here most of that time and thinks it's a real possibility. "I'm real concerned about it," she says, "and we can't take one thing for granted."
Robinson voted early by mail. Next Tuesday, she's volunteering at the polls.