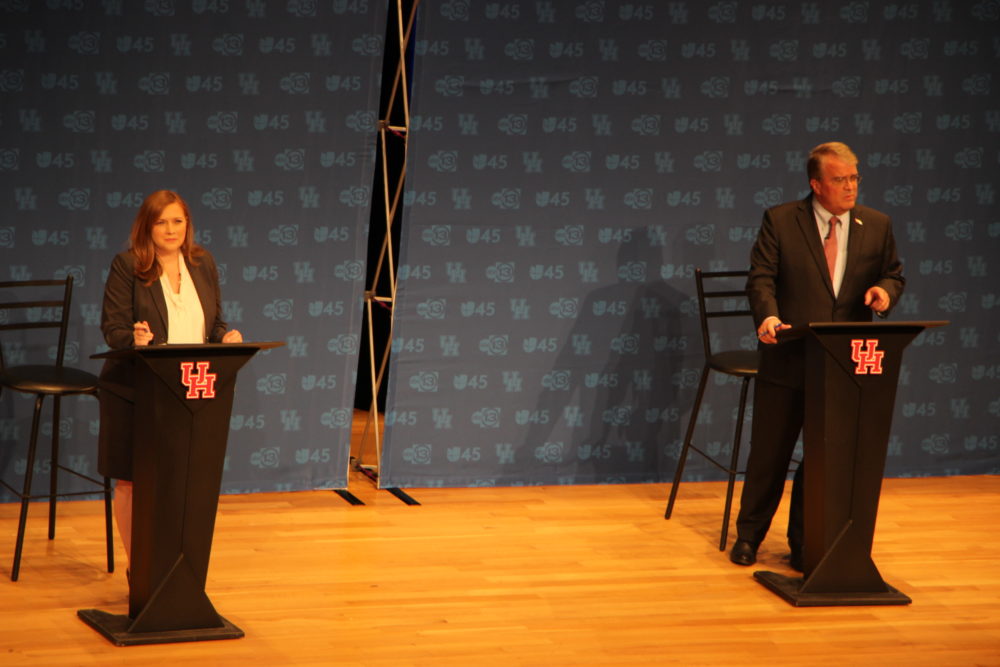 Republican Congressman John Culberson and Democratic challenger Lizzie Pannill Fletcher met Sunday evening at the University of Houston for their sole debate before November's election.
Harvey topped the agenda, with questions on how to protect West Houston from a repeat of last year's flooding. Culberson pointed to his work getting disaster aid through the House Appropriations Committee, "$141 billion in three separate bills, which includes enough money to finish every federally authorized flood control project in Harris County at full federal expense."
Fletcher countered the district has suffered multiple floods on Culberson's watch, dating back to Tropical Storm Allison.
"And the projects that the Army Corps of Engineers has identified for this community have gone unfunded for 18 years," Fletcher said. "It shouldn't take a Hurricane Harvey to get our member of Congress to act."
Healthcare questions dominated much of the debate. Culberson pressed for a full repeal of the Affordable Care Act and argued the Republican replacement would protect pre-existing conditions. "This is very personal to me," he said. "My brother is just recovering from Stage 4 throat cancer. I want to be sure that my brother's got access to insurance, that all of us do."
Fletcher said Republicans' last attempt to replace Obamacare, in 2017, provided few such protections, particularly with regard to cost. "So if your insurance can charge you 20 times more for insurance that you can't afford, it's not really available to you," she said.
Most analysts put Culberson and Fletcher in a dead heat as the contest enters its final two weeks.