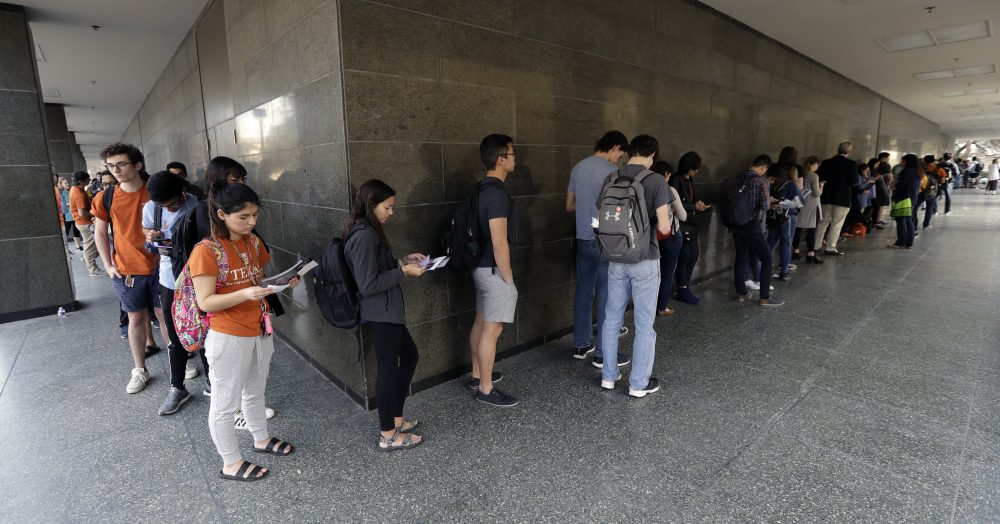 The May 22nd primary runoff election decides, among other races, who will be the Democratic candidate for Texas governor in the mid-term elections.
Following is a list of what you need to know if you are going voting on Tuesday. Polling locations will be open until 7 p.m.
THE RACES
The stellar race in the Democratic ballot is between Lupe Valdez, former Sheriff of Dallas County, and Andrew White, a Houston businessman son of late Texas Governor Mark White, for candidate for Texas Governor.
Harris County voters will also have to decide in three Democratic races for the United States House of Representatives.
Lizzie Pannill Fletcher and Laura Moser are competing to represent District 7. The other two U.S. House races in the Democratic ballot are between Tawana Walter-Cadien and Mike Siegel for District 10, and between Sri Preston Kulkarni and Letitia Plummer for District 22.
The Democratic ballot also includes a race for District 133 of the Texas House of Representatives , between Sandra G. Moore and Marty Schexnayder.
There are other seven races in the Democratic ballot for several county and local positions, including District Clerk and County Clerk.
Click here to see the Democratic ballot.
In Harris County, the Republican ballot only has four races.
Dan Crenshaw and Kevin Roberts are competing to represent District 2 in the U.S. House of Representatives, while Phillip Aronoff and Carmen Maria Montiel are competing to represent District 29.
Michelle Fraga and Richard Risinger are the two Republicans competing to run in November for the position of District Judge in the 295th Judicial District, while Jeff Williams and Mike Wolfe are competing to be the Republican candidate to be Justice of the Peace for Precinct 5, Place 2.
Click here to see the Republican ballot.
VOTER ID
Currently, there are seven acceptable forms of ID to participate in the election:
United States citizenship certificate containing your photograph
United States Passport (Book or card)
United States Military Identification Card containing your photograph
Texas Driver License issued by the Texas Department of Public Safety (DPS)
Texas Election Identification Certificate issued by DPS
Texas Handgun License issued by DPS
Texas Personal Identification Card issued by DPS
Voters who currently do not have an approved form of photo ID may apply for an Election Identification Certificate (EIC) at no charge with the Department of Public Safety.
With the exception of the U.S. citizenship certificate, the identification must be current or, for voters aged 18-69, must have expired no more than four years before being presented for voter qualification at the polling place.
A person 70 years of age or older may use one of the seven acceptable forms of identification that has expired if the identification is otherwise valid.
VOTING LOCATIONS
There are 10 inside Loop 610; 11 outside Loop 610; and 25 outside Beltway 8.
Click here to see the complete list of early voting locations in Harris County.
The voting locations are open from 7 a.m. to 7 p.m. and the early voting period will end on Friday, May 18th, at 7 p.m.
For complete information on the May 22nd runoff election visit HarrisVotes.com.