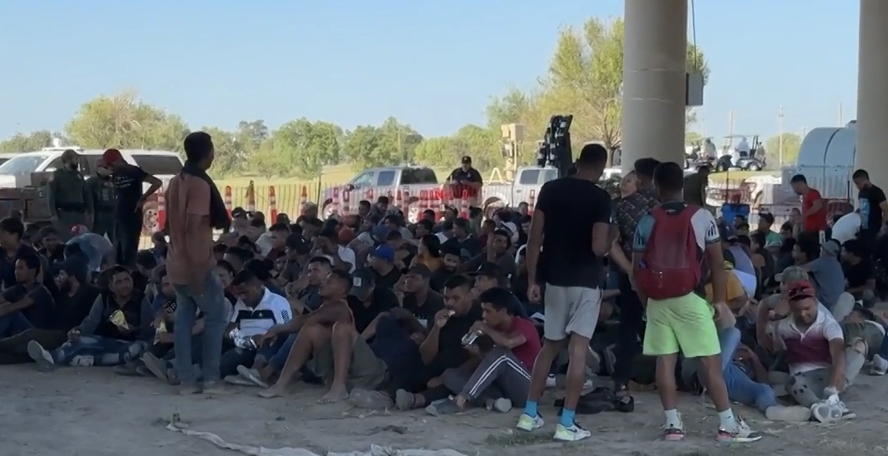 The mayor of Eagle Pass, Texas, signed an emergency declaration after thousands of migrants crossed into the border town.
Eagle Pass is accustomed to regular migration since the city of under 30,000 became one of the most heavily-crossed areas along the U.S.-Mexico border in recent years.
However, the number of people crossing over the last couple of days — which the Texas Department of Public Safety places at more than 4,000 — has overwhelmed the city's local police and fire departments, according to Mayor Rolando Salinas Jr.
"The emergency declaration grants us the ability to request financial resources to provide additional services caused by the influx of undocumented immigrants," Salinas wrote in Wednesday's emergency declaration.
In a rare move, U.S. Customs and Border Protection redirected its agents from processing vehicles and the railway along the busy trade port between Piedras Negras, Mexico, and Eagle Pass in order to assist Border Patrol with taking migrants into custody.
On Wednesday evening, hundreds of migrants — many from Venezuela — could be seen under the Eagle Pass–Piedras Negras International Bridge waiting to be processed.
"In response to this influx in encounters, we will continue to surge all available resources to expeditiously and safely process migrants," CBP said in a statement. "We will maximize consequences against those without a legal basis to remain in the United States. CBP will continue to prioritize our border security mission as necessary in response to this evolving situation."
The city's only shelter has been unable to accommodate all of the asylum seekers being released, leading many migrants to walk along the city's streets Wednesday.
Eagle Pass is at the center of Gov. Greg Abbott's Operation Lone Star border security program that calls on Texas Department of Public Safety and National Guard troopers to arrest migrants on state trespassing charges.
The multi-billion program has been criticized for violating the rights of asylum seekers and for usurping authority from the federal government to enforce immigration laws.
Abbott and the Biden administration are currently in a legal battle over a 1,000-foot string of spiked buoys Texas installed near Eagle pass to deter crossings along with miles of razor wire.
In a social media post Wednesday, Abbott claimed that Border Patrol agents cut some of the razor wire DPS installed on the Rio Grande at his direction. The Republican governor said he "immediately deployed more Texas National Guard to the area to repel illegal crossings & install more razor wire."
Despite attempts by the state of Texas, the U.S., and Mexico to deter illegal migration, a growing number of migrants are arriving at the border as conditions continue to deteriorate in Central America and Venezuela.
On Wednesday, the Biden administration announced that it is expanding Temporary Protected Status (TPS) to nearly half a million Venezuelans already in the U.S. Homeland Security Secretary Alejandro Mayorkas said in a statement that TPS would not apply to more recent arrivals.
This kind of migration surge at a remote port of entry has not been seen since 2021, when more than 16,000 Haitians amassed at the Del Rio Port of Entry about 50 miles up the Rio Grande.
The Biden administration announced it would deploy up to 800 new active-duty personnel to the southwest border to allow CBP agents to return to their duties.
In northern Mexico, train services were briefly suspended this week due to an increase in migrants hopping on top of cargo trains en route to the U.S.-Mexico border.
Ferromex, the largest Mexican railroad operator, briefly suspended 60 of its train routes after a series of accidents the company said resulted in "half a dozen deaths or injuries of migrants."
The company, owned by Grupo Mexico, expressed its concern for the "significant" presence of migrants on their railcars growing to more than 4,000 in several cities along their routes — including Eagle Pass.
Copyright 2023 Texas Public Radio. To see more, visit
Texas Public Radio
.