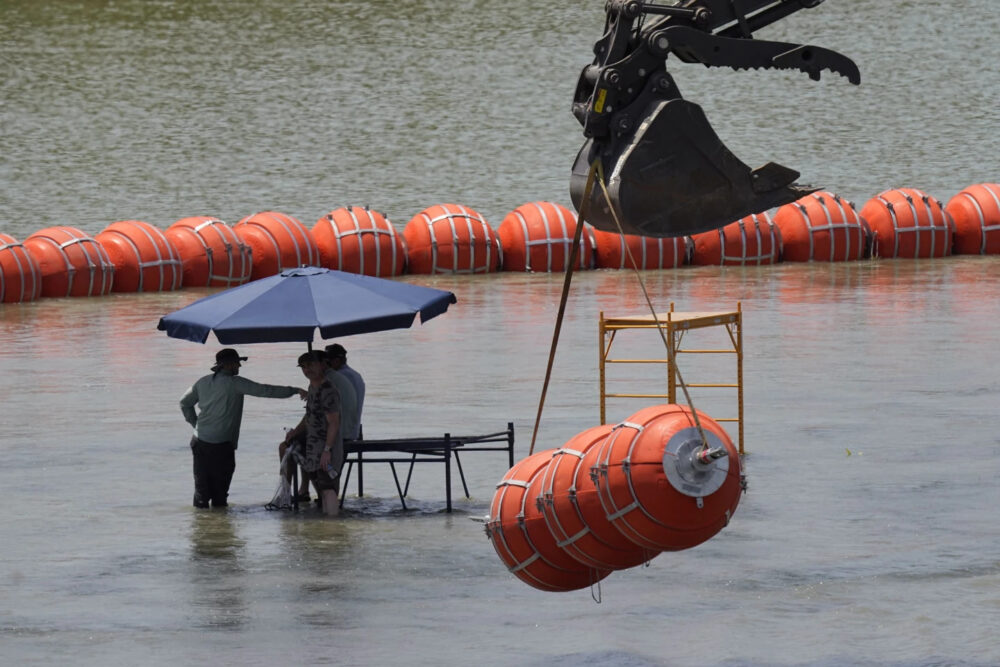 Gov. Greg Abbott on Monday told the Biden administration Texas will continue its state-led border mission that includes using a floating barrier in the Rio Grande. Abbott said Texas will see the White House in court.
The Biden administration responded by filing a civil suit against Texas just hours later.
The U.S. Department of Justice said in a statement it is seeking to halt further construction of the barrier and to force the state to remove what it's constructed so far.
The lawsuit was expected after Abbott, just hours before a deadline the U.S. Department of Justice set late last week, said he wouldn't budge on the matter. The Biden administration warned Abbott that the barrier in the Rio Grande, at Eagle Pass, violates federal law, raises humanitarian concerns, and could interfere with the federal government's duties, Texas Public Radio reported.
But Abbott clapped back Monday and said it's within his right to secure the state's border because the federal government refuses to.
"Texas will see you in court, Mr. President," Abbott wrote, citing previous federal rulings he said gives him the authority. "I have asserted Texas's 'sovereign interest in protecting [her] borders'...Your ongoing violation of ... the U.S. Constitution has left me no other choice."
The Justice Department said the state would violate the federal River Harbors Act, which prohibits building "any wharf, pier, dolphin, boom, weir, breakwater, bulkhead, jetty, or other structures" and that Texas didn't apply for or receive the proper permits. Abbott also rejected that claim.
Instead, Abbott repeatedly blamed the federal government's lax border-enforcement policies for causing migrant deaths on the border and allowing for record levels of fentanyl to enter the country.
U.S. Attorney Jaime Esparza of the Western District of Texas, where the lawsuit was filed, said in the statement that federal laws cannot be ignored.
"The Rio Grande is a significant stretch of the southern border of our country," said Esparza. "We must all recognize that there are laws and policies in place – both domestic and international – to ensure the safety and security of everyone working, living and traveling along the river. These laws cannot be ignored, and my office will take and support the appropriate legal action to uphold them."
Earlier Monday the White House called Abbott's actions "cruel" and illegal, according to report by CNN.
"Governor Abbott's dangerous and unlawful actions are undermining that effective plan and making it hard for the men and women of Border Patrol to do their jobs of securing the border," White House spokesman Abdullah Hasan told the news outlet. "The governor's actions are cruel and putting both migrants and border agents in danger."
The dispute over the barrier comes as the federal government is separately assessing the state's border mission, called Operation Lone Star, which began in 2021, over recent reports that members of the Texas Department of Public Safety allegedly told other troopers in Eagle Pass to push a group of migrants — which included small children and nursing babies — back into the Rio Grande earlier this month after the migrants attempted to cross into the United States.
The reports prompted Texas Democrats, immigration advocates and civil rights organizations to urge the Biden administration to do more to curb Abbott's actions.
Abbott said in a joint statement with DPS Director Steve McCraw, Texas Border Czar Mike Banks, and Texas Adjutant General Maj. Gen. Thomas Suelzer that no orders have been given to deliberately mistreat migrants.
Democrats continued to sound alarm bells over the reports as the Mexican American Legislative Caucus asked Texas House Speaker Dade Phelan to order an investigation of Operation Lone Star in light of the recent reports and allegations that migrants have been mistreated.
"We have numerous questions regarding these actions and the measures of accountability for violating immigrant's human and constitutional rights. One in four Texas families are mixed-status; when migrants are under attack, Texas families are under attack," state Rep. Victoria Neave Criado, D-Dallas, the chair of MALC, wrote. "As leaders of this State it is our responsibility to ensure we have a safe community for all; these actions do not reflect our State."