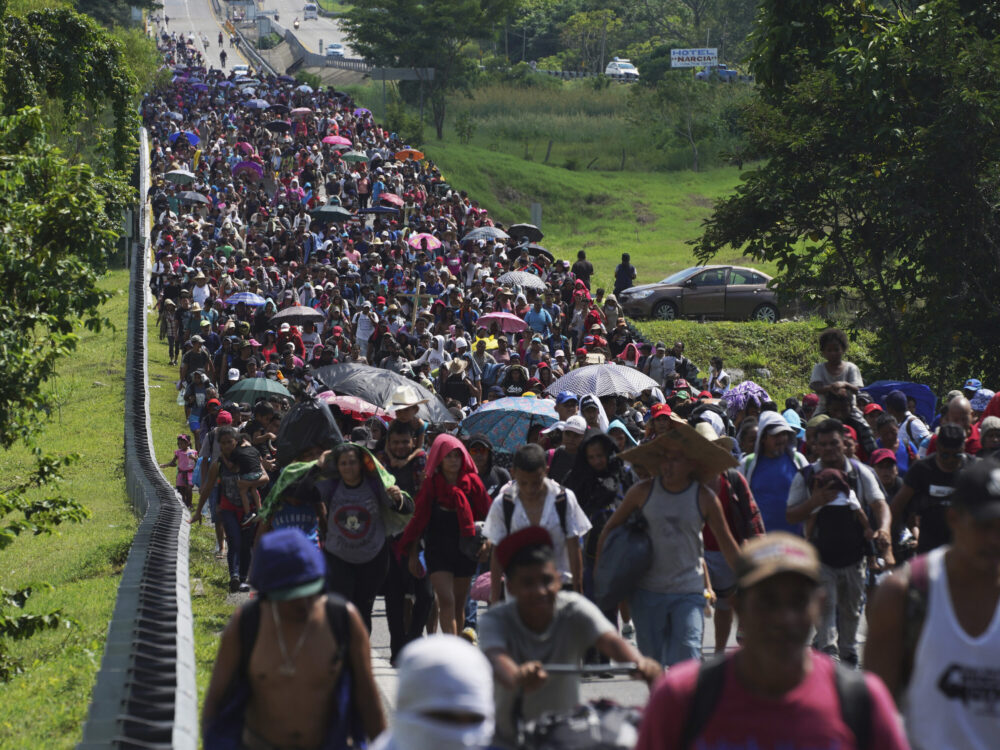 Advocates for asylum seekers are calling for a federal investigation into the Houston Asylum Office for allegedly mishandling critical interviews.
The complaint, filed Wednesday with the Department of Homeland Security Office of Civil Rights and Civil Liberties, alleges that the office is severely violating "due process and statutory obligations" when conducting interviews used to gauge an asylum seeker's risk of danger if they return to their country. The complaint details more than two dozen instances of asylum officers mishandling screenings known as credible fear interviews.
A credible fear interview is a first step for those seeking asylum. Failing the interview could lead to a person's removal from the U.S., but if a person passes, they'll be allowed to stay in the country and continue their case in immigration court.
"The Houston Asylum Office in particular has failed to apply the proper legal standard in conducting (credible fear interviews), denying bona fide asylum seekers the opportunity to present their cases in full hearings, and endangering their lives by returning them to harm's way without due process," the complaint read.
The allegations include:
scheduling credible fear interviews without informing the asylum seeker's attorney;

forcing asylum seekers to be interviewed in languages in which they are not fluent;

applying incorrect standards in evaluating asylum seekers' claims;

using adversarial interview techniques on vulnerable people, including children and survivors of persecution and torture.
In one instance outlined in the complaint, a Houston Asylum Officer denied a credible fear interview to a person — identified as Mr. A.G. in the complaint — after he provided detailed testimony of him being attacked in Senegal after being perceived as gay.
"The officer then incorrectly summarized Mr. A.G.'s testimony, omitted significant events, and denied his (credible fear interview)," the complaint read.
The Houston Asylum Office did not immediately respond to requests for comment.
The complaint was jointly filed by 10 state and national immigrant rights groups, including the National Immigration Project, the Southern Poverty Law Center, the University of San Francisco School of Law, Immigration Equality, and the Texas A&M University School of Law, among others.
Vickie Neilson, an attorney with the National Immigration Project, said asylum officers have been needlessly adversarial while conducting interviews.
"What we've been seeing out of the Houston Asylum Office, which does a high percentage of the credible fear interviews, is that they've been applying an impossibly high standard for asylum seekers," she said.
The complaint also includes a series of recommendations, including:
new training for asylum officers involving trauma-informed interviewing techniques and interviewing vulnerable populations;

ensuring that interviews are conducted in the asylum seeker's native language when possible;

giving at least 48 hours notice to attorneys ahead of credible fear interviews so they can be present;

for interviews to be conducted within 14 days from the date of apprehension, and two days after an asylum seeker's arrival in the U.S.;

the implementation of a robust procedure for investigating complaints.
"Most of what we want the Asylum Officers to do is what they are actually supposed to be doing," Neilson said. "A lot of it is training, but then there's also a real need for accountability for officers who are not following the (U.S. Citizenship and Immigration Services) guidance."