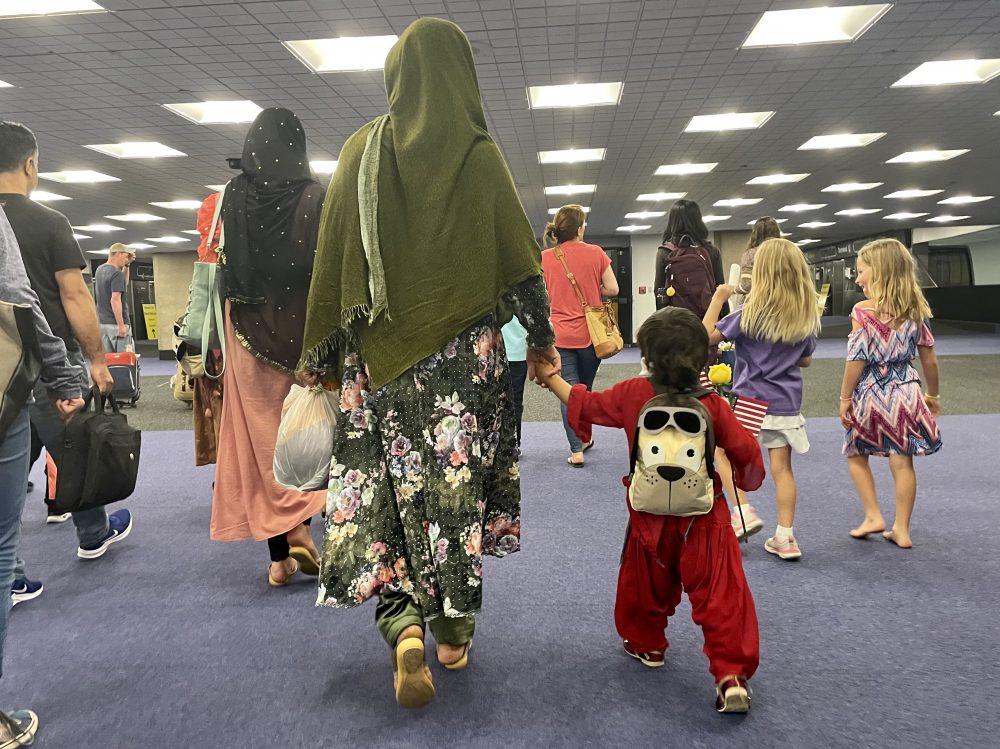 More than 2,300 Afghans have been resettled in the Houston area in recent weeks after the collapse of the Afghan government, with dozens more arriving every day.
While they may be safe from the Taliban, they still face challenges as they adjust to their new lives.
Khalil Arab served as an Afghan military interpreter between 2005 and 2010, finishing his time working for the Guardia di Finanza, an Italian law enforcement agency that combats smuggling and the illegal drug trade. Arab didn't leave the job by choice.
"I received a threatening letter, and that basically forced me to leave," Arab said.
Initially, Arab fled to Poland. In 2013, he applied for a Special Immigrant Visa (SIV), which provides a path to citizenship in the United States for Afghans and Iraqis who worked for the U.S. Government during the wars in their countries. In 2019, his visa was finally approved.
Today, Arab manages the SIV and Allies Program at the Houston-based veterans group Combined Arms. It's his job to help the massive influx of Afghan refugees who are being settled in the Houston area adjust to their new lives.
"In the past couple of weeks, we have received, at least, over 1,000 families here in the Houston area," Arab said. "Most of them came through the military bases where they were actually processed."
Once granted an SIV following arrival in the U.S., an SIV recipient is given a Green Card, and after five years of residency, the SIV recipient will be eligible to apply for U.S. citizenship.
But for anyone evacuated by U.S. Forces after the fall of Kabul, the situation is more complicated. They are instead considered refugees and are granted humanitarian parole. That means, upon arrival, they are processed by the U.S. Government and may receive employment authorization documents and Social Security Numbers. The majority of them are then given two years to apply for a change of immigration status in order to be allowed to reside in the U.S.
In the meantime, the new arrivals have to navigate multiple problems, such as language barriers and schooling. The biggest hurdle at the moment: finding permanent housing.
"The resettlement agencies are actually struggling to house them," Arab said. "Some are housed in hotels, in temporary residence. I know even some agencies actually have to reach out to Airbnb."
After that, the next biggest challenge is finding employment.
"All these individuals actually want to work, but because of their status, not every one of them have their employment authorization paperwork," Arab said.
But there's currently a backlog at the Social Security Administration. Without that number and employment authorization paperwork, the new arrivals can't get jobs.
That's the situation facing Khan, a recent arrival who asked not to be identified by his full name to protect loved ones still living in Afghanistan. Khan worked as a construction supervisor and carpenter at Forward Operating Base Fenty in Jalalabad for 12 years.
"Now I no have job with me here. Now I am in the home," Khan said.
When the Biden administration began withdrawing troops from Afghanistan in August, thousands of Afghan civilians rushed to evacuate the country as the Taliban moved in to gain control. Khan was on one of the last flights out of the country before the Taliban banned emigration.
Now, he's dealing with another major problem facing new arrivals: fear for those they left behind.
"I have more than 95 people from my base," Khan said. "They all work with us. They're still in Afghanistan. They keep everyday calling me. One of them...somebody killed him. I don't know, Taliban, ISIS, I don't know who."
Khan said his family members contact him regularly to ask for help, which he is unable to provide, but also to warn him that the Taliban are still hunting him.
This past week, Human Rights Watch issued a report identifying dozens of former members of the Afghan Security Forces known to have been killed by the Taliban or to have disappeared since the Taliban takeover.
"If you managed to save yourself, and you still have family members – immediate family, spouses and children, or your parents, siblings – you'll be very concerned, because they would be in danger, regardless of what the Taliban says," said Khalil Arab. "That (Human Rights Watch) report confirms every bit of concern those individuals have."