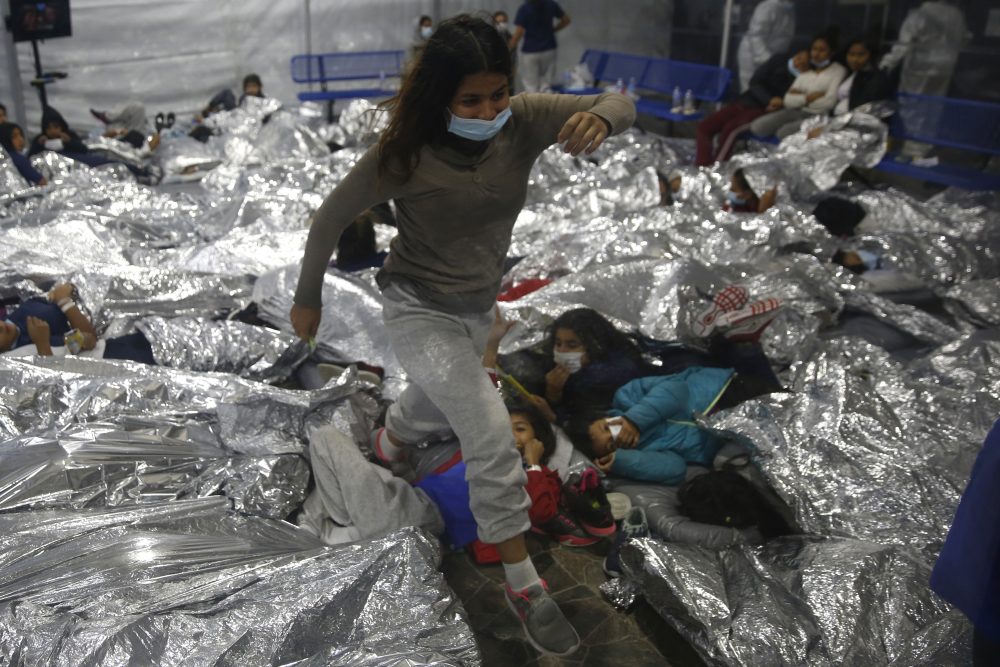 Democrats and Republicans alike have called the conditions at overcrowded U.S. Border Patrol facilities holding migrant youth unacceptable.
On Fox News, Sen. Ted Cruz blamed Democrats for conditions inside the facility in Donna, Texas.
"Many Democrats like to pretend their open border policies are somehow humane," Cruz said. "There is nothing humane about what Joe Biden and Kamala Harris are doing at the border."
The network showed footage of kids wrapped in Mylar blankets that looked like tinfoil.
"They're endangering their lives in a pandemic by keeping them locked up in cages right on top of each other," said Cruz.
Most migrant children and teens are starting their immigration process in these overcrowded Border Patrol facilities, which have received widespread condemnation and raise legitimate concerns about the children's safety, especially during the pandemic.
But there's also much more to the story, according to multiple immigration attorneys who spoke with Houston Public Media. Here are three things they say you should know about what's happening at the border.
Overcrowded Border Patrol facilities are 'unacceptable.' But denying access to the U.S. would be worse
Attorney Dick Horstman said while conditions at border facilities are bad, the alternative — sending kids back into life-threatening circumstances — is worse.
"I know it doesn't look good to have them under whatever those blankets are called," Horstman said. "But to send them back to Mexico is not the answer."
That was the policy under former President Donald Trump. During COVID-19, the Trump administration turned away kids and teens at the border citing a health code known as Title 42. Instead of being processed in these facilities and given access to seek asylum or other immigration claims, they were turned away at the border and back to their home countries or to Mexico, where they were fleeing danger or even death.
Border officials also revealed to The Atlantic that under previous administrations these facilities have intentionally not been fitted to better deal with the children and teens, who arrive at the border year-round.
1/I wrote about what I've learned from gov't officials in covering repeated "surges" at the border: It's not that the US can't safely process kids, but that it's been unwilling to do so because of a concern that it would encourage even more migration.https://t.co/gwqXXlIJ67

— Caitlin Dickerson (@itscaitlinhd) March 29, 2021
The U.S.-Mexico border is not 'open'
Horstman said what Biden's doing by letting in minors travel in alone is far from "open borders" — especially since about half of families and adults, many asylum seekers, are still being turned away, and some are even flown to other parts of Mexico.
As previously mentioned, former president Trump turned away a lot of these kids during the pandemic citing health code. That's still happening to many families and adults seeking asylum.
"(Biden) is doing what the law requires," Horstman said. "What he has decided is that, at least for the kids, 'I'm not going to use COVID as an excuse for keeping them outside of the United States. I'm not going to send them back to Mexico and let them fend for themselves.'"
In fact, refusing to previously allow kids is one reason why so many minors are showing up now. That's in addition to seasonal increases and limited capacity that have overwhelmed border officials and the federal Office of Refugee Resettlement, known as ORR.
Migrant kids who arrive alone spend a relatively short amount of time in federal custody
"I wouldn't say that the process is perfect, but the intention behind the ORR process is to release children as quickly as possible," said Dalia Castillo-Granados who runs the Children's Immigration Law Academy.
Kids and teens typically spend about 40 days inside the shelters, though some advocates have said that could be a lot shorter if there were more staff working to connect kids with their family members.
Castillo-Granados said the public may not understand there's a longstanding process in place to get migrant children quickly connected to family members.
Concerns about quality of care in shelters are valid — but ultimately, she said, this housing is temporary.
"Being detained is not ideal for any child, but it is typically a very short period of their life here in the U.S.," said Castillo-Granados.
The process a child must go through to legally live in the U.S. is complicated, Castillo-Granados said. Once kids get into communities, they have to figure out how to live with their estranged family member and how to integrate in school. They also have a pending legal case. That's why in her view what these kids need most is legal support and social services.
Minors without an attorney are far less likely to win their immigration case. And even young people with lawyers don't have an easy time.
Attorney Brandon Roche said that's because asylum is one major avenue to legal status and that's gotten much harder to pursue, thanks in part to Trump-era policies.
Whether it's an asylum case or a special visa for juveniles, the legal journey can take years. And at the end of it, tens of thousands of kids will likely end up either deported or undocumented.
"The biggest issue is the broken asylum system, or broken immigration law system, and how long it's going to take them to go through any process," Roche said, "and then the odds being stacked against them because of the bad immigration laws and policies."