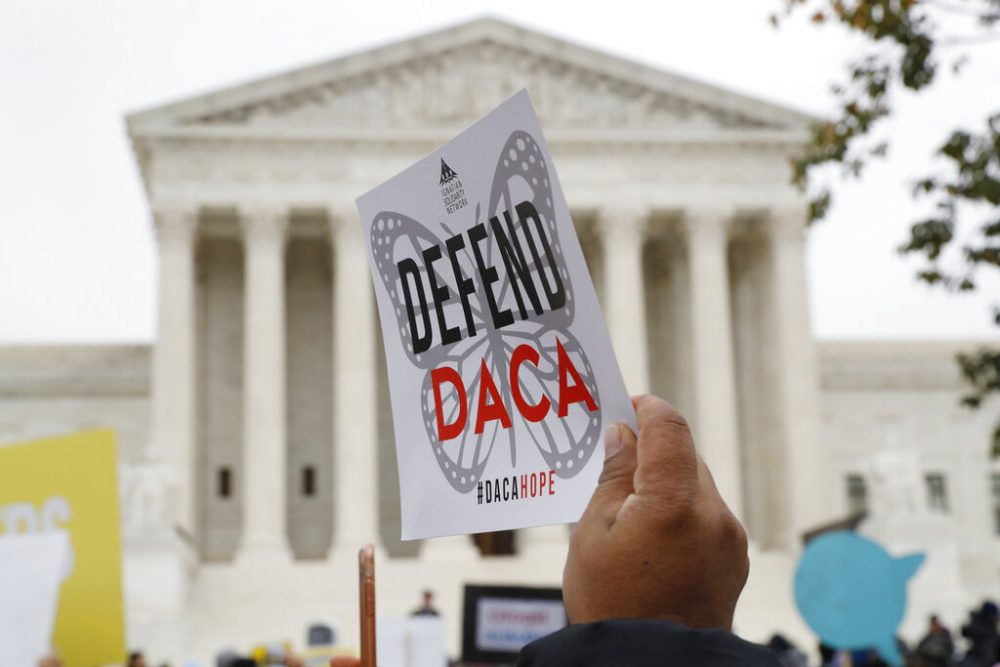 Updated 2:33 p.m. CT – Houston Public Media's Elizabeth Trovall and Lucio Vasquez contributed to this report.
A Tuesday court hearing over a U.S. program shielding immigrants brought to the country illegally as children highlights the peril the program still faces even under an incoming Democratic president who has pledged to protect it.
A federal judge in Houston heard arguments from Texas and eight other states seeking to end the Deferred Action for Childhood Arrivals program, or DACA, which provides limited protections to about 650,000 people, including some 100,000 Texans. Defending the program is a group of DACA recipients represented by the Mexican American Legal Defense and Educational Fund.
Lawyers for the states argued that President Barack Obama overstepped his executive powers by creating the DACA program, and that he violated the Administrative Procedure Act.
Attorneys with MALDEF argued that Obama did act within his powers and followed proper procedure — especially because DACA does not give permanent immigration status to undocumented immigrants, it only prevents their deportation.
They also argued that the states in the case lack standing and the case should be dismissed.
"We are optimistic because we've raised so many strong arguments as to why, first of all, the case should be dismissed entirely, and second of all, why the merits issues should be resolved in favor of DACA recipients," Nina Perales, vice president of litigation for Maldef, said after the hearing.
The nine states in the case — Texas, Alabama, Arkansas, Kansas, Louisiana, Mississippi, Nebraska, South Carolina, and West Virginia — claim that they are facing irreparable harm in the form of extra costs due to expenses to provide services like education to DACA recipients.
"Our lawsuit is about the rule of law, not about the wisdom of any particular immigration policy," read a statement from Texas Attorney General Ken Paxton. "In a lawless exercise of executive power, the Obama administration attempted to bypass our elected representatives and put DACA in place by executive action. The debate over DACA as policy is a question for lawmakers, and any solution must come from Congress, as the Constitution requires."
U.S. District Judge Andrew Hanen, who is hearing the case, did not issue a ruling Tuesday.
The U.S. Supreme Court previously ruled President Donald Trump's attempt to end DACA in 2017 was unlawful. A New York judge in December ordered the Trump administration to restore the program as enacted by former President Obama in 2012.
But the Houston case directly targets DACA's original terms, as Texas and the other states argue it violated the Constitution by going around Congress' authority on immigration laws.
President-elect Joe Biden has pledged to protect DACA. But a ruling against DACA could limit Biden's ability to keep the program or something similar in place.
"DACA has to be replaced by a legislative approach," said MALDEF President Thomas Saenz.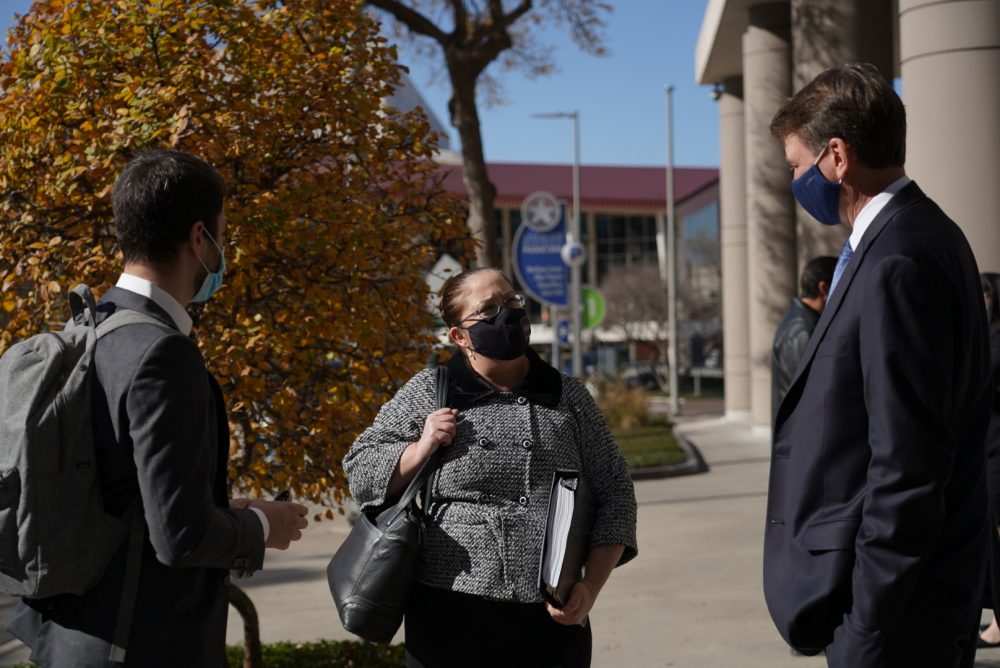 Yazmin Medrano, 18, is undocumented and studying to be a nurse at Lone Star College. Her parents brought her to the U.S. from Mexico before she turned 4, and she just applied for the DACA program after applications opened back up.
Medrano said not having legal immigration status is "scary," and said she just wants to contribute to a city — Houston — where she grew up and lived her whole life.
"Hopefully next semester I start my nursing classes and I get a job and I can help my parents out more and just not be fearful every day," Medrano said. "Driving, doing simple stuff, going to the grocery store, anywhere, you're always scared something's going to happen."
While DACA is often described as a program for young immigrants, many recipients have lived in the U.S. for a decade or longer after being brought into the country without permission or overstaying visas. The liberal Center for American Progress says roughly 254,000 children have at least one parent relying on DACA. Some recipients are grandparents.
In a court filing, the states suing to end DACA said the program represents a "limitless notion of executive power that, if left unchecked, could allow future Presidents to dismantle other duly enacted laws."
Judge Hanen rejected Texas' request in 2018 to stop the program through a preliminary injunction.
But Hanen has said he believes DACA as enacted by Obama is unconstitutional.
Hanen in 2015 ruled Obama could not expand DACA protections or institute a program shielding their parents.
"If the nation truly wants to have a DACA program, it is up to Congress to say so," Hanen wrote in 2018.
Congress has not acted since, with proposals falling short amid disputes between the Democratic-controlled House and Republican-controlled Senate.
But Saenz, of MALDEF, said the U.S. Supreme Court's June ruling stopping Trump from ending the program should provide guidance.
"If I were any judge, I would look at the Supreme Court and say to myself, 'If this were an unlawful program in the view of the Supreme Court majority, why would they have simply not said that?'" Saenz said.
Associated Press writer Nomaan Merchant in Houston contributed to this report.
Follow Juan A. Lozano on Twitter: https://twitter.com/juanlozano70