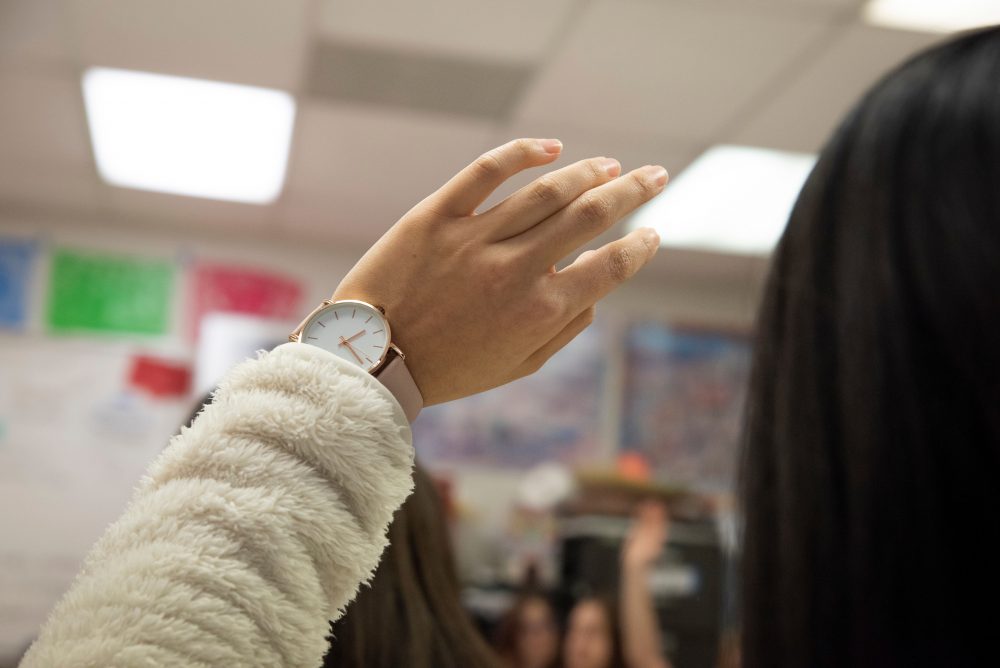 Two-thirds of surveyed Harris County students said they fear someone they know being arrested or deported, according to a new report on Latino high schoolers.
The study by the University of Houston and Migration Policy Institute, released Tuesday morning, surveyed 306 foreign-born and U.S.-born Latino students at 11 schools in Harris County and Rhode Island.
Just over half of students surveyed said they knew someone who had already been deported, according to the study.
A third of high school kids feared being deported themselves, which includes some students who are U.S. citizens and cannot be deported. Another third of students also said immigration fears caused them to change their behavior, like avoiding the doctor or church.
University of Houston social work professor Jodi Berger Cardoso, who worked on the report, said she found that the students who changed their behaviors generally experience greater fear and anxiety.
"Kids who scored higher on immigration enforcement fear reported higher symptoms of depression, higher symptoms of anxiety and higher symptoms of post-traumatic stress disorder," said Berger Cardoso.
She also said two-thirds of the students surveyed met the clinical threshold for anxiety and nearly 60% scored high for signs of PTSD. Another 55% reported signs of depression.
The research may suggest the psychological impact of national anti-immigrant rhetoric, Berger Cardoso said. Forty-four percent of children in the Houston metro area have at least one immigrant parent, according to data from the Urban Institute.
Though Harris County is a hot spot for immigration law enforcement, Rhode Island does not cooperate with U.S. Immigration and Customs Enforcement.
Even so, students there still reported high rates of deportation fears, similar to students in Harris County.
Research was done prior to the COVID-19 pandemic, which has also taken a toll on mental health in Houston's Latino communities. Berger Cardoso said many students may be suffering more, since they'll be learning from home, limiting their access to wraparound school resources.
Among mental health organizations, Texas scores low nationwide in its ability to provide mental health resources.
The study also found students reported stress related to trauma and violence, economic pressures like providing for family members, and discrimination.
While facing these obstacles, students reported high levels of personal strengths like spirituality, resilience, family support and school engagement. Ninety percent of Latino youth reported they were determined to meet their personal goals, for example.
"Their school engagement was fairly high and it was higher for immigrant kids in some ways and that bodes well," said Berger Cardoso.
She said kids who are more engaged have a better chance at graduating — but it can also have long-term health effects.
"If you can get kids past high school and even a few years of community college, you increase their lifespan by significant amounts," she said.