Houston is one of the most ozone-polluted cities in the country. But studies show that in the city's Manchester neighborhood, the air quality is even worse. The community in Southeast Houston is surrounded by two major highways, the ship channel and a Valero Refinery. As some residents grapple with health problems, they're looking for someone to hold accountable.
Meanwhile, environmental justice advocates see improving air quality in Manchester as an uphill battle for this majority Latino, low-income community, especially considering many residents are Spanish-speaking immigrants.
At Peiser Park, college student Marissa Rivera reminisces about her high school days. She used to run cross country at the park, across the street from her old high school in Manchester.
"One time I ran 12 times around it, in the middle of the summer heat, with the refineries in the background," said Rivera.
She said her friends often wondered how harmful the chemicals and heat really were.
"It would be like a joke that we were killing ourselves by being out here," she said.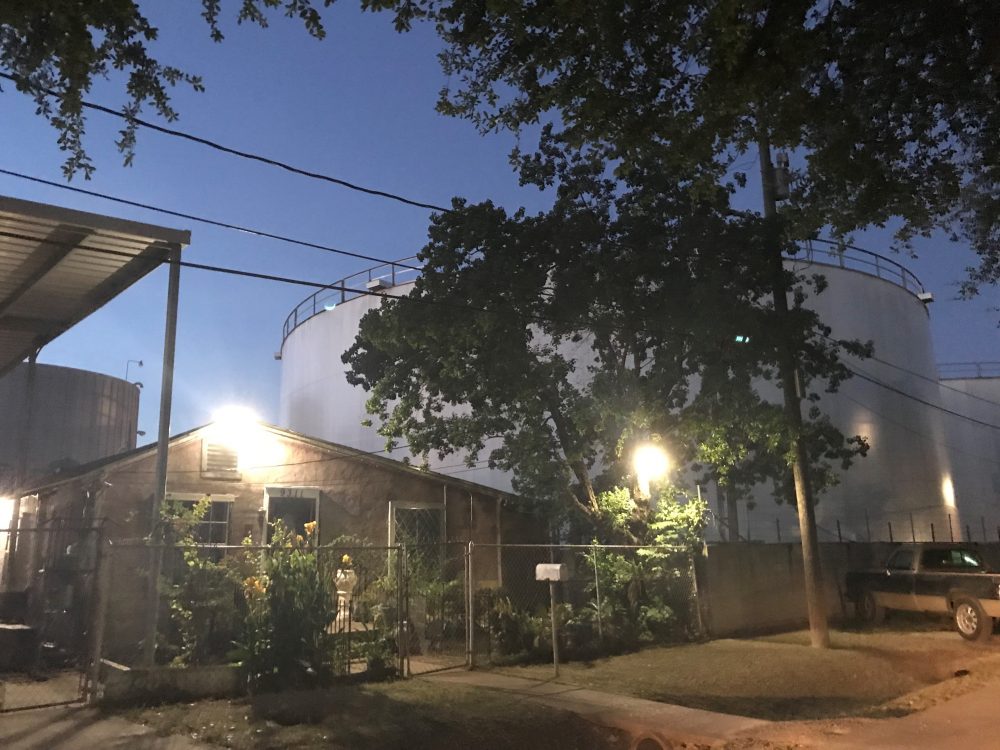 But, longtime Manchester resident Edgar Flores said he isn't too concerned about the refineries close by.
"From my point of view it doesn't really affect the community in a bad way that I know of," said Flores.
"It's good for the community. There are jobs here and stuff."
Marissa Rivera said that's how she thinks a lot of the community feels, or that they can't really do anything to make the air quality better.
Rivera said she's just starting to understand the extent of Manchester's environmental issues. After attending a public meeting at a Manchester community center, she said she learned a lot more.
At the June meeting, representatives from Valero Energy and the Texas Commission on Environmental Quality (TCEQ) opened the floor to a public discussion on a permit amendment. Valero is requesting to amend a permit that would allow small amounts of hydrogen cyanide, a poisonous chemical compound, to be released at the Valero refinery. The refinery is located adjacent to Manchester.
Valero and TCEQ representatives sat in front of a group of around 50 community members and activists. The TCEQ said the levels of hydrogen cyanide that would be released are low enough that it won't put resident's health at risk.
But the crowd here tonight isn't convinced. They argue the damage has already been done. The TCEQ said Valero has been releasing this chemical for years and now they're trying to regulate these emissions.
"It's kinda like shoplifting and then like when you get outside if you get caught just going oh I'll just pay for it now," said Stacey Davidson from Pleasantville, "Isn't it?"
"Well, it's a close analogy," said Tony Ionescu, the TCEQ permit reviewer for Valero's permit amendment. "It'd be like if you didn't know you were shoplifting and then you got outside and found out," said Ionescu.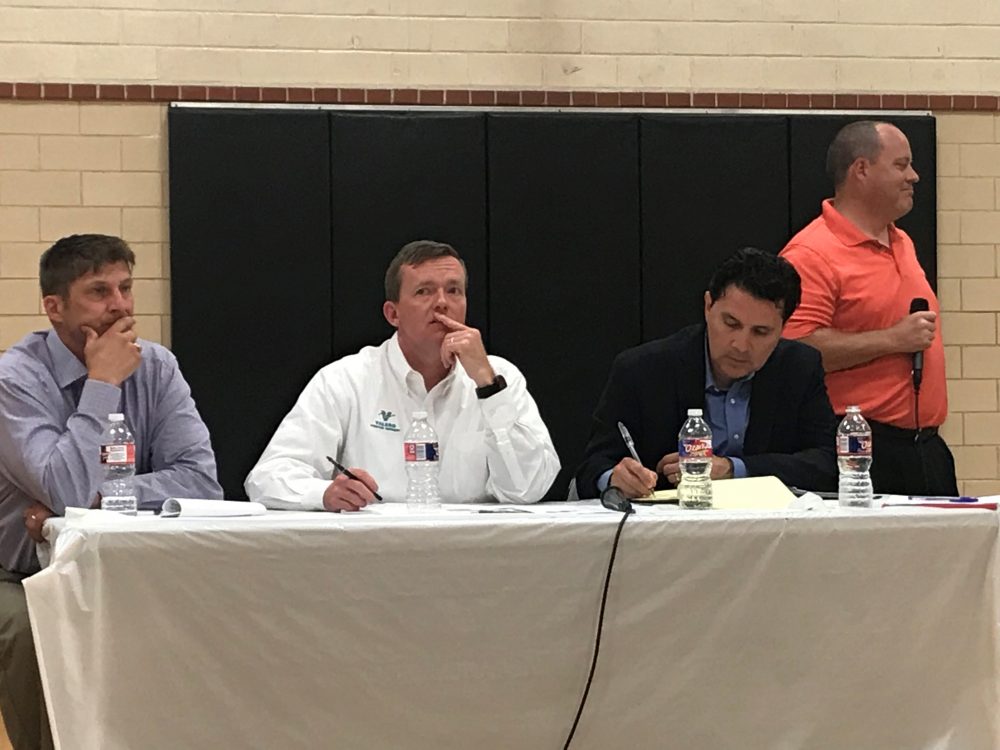 This isn't the first time Valero has been criticized in recent months. After Hurricane Harvey, residents complained about a stench that lingered throughout the neighborhood. The refinery was emitting high levels of the carcinogen Benzene.
Yenny Ramirez has lived in Manchester over a decade and said she smells chemicals in the air on a regular basis. At the meeting, she asked the TCEQ to stop Valero from releasing more chemicals into the air. In Spanish, she said her 10-year-old son suffers from red eyes, which her doctor hasn't been able to explain.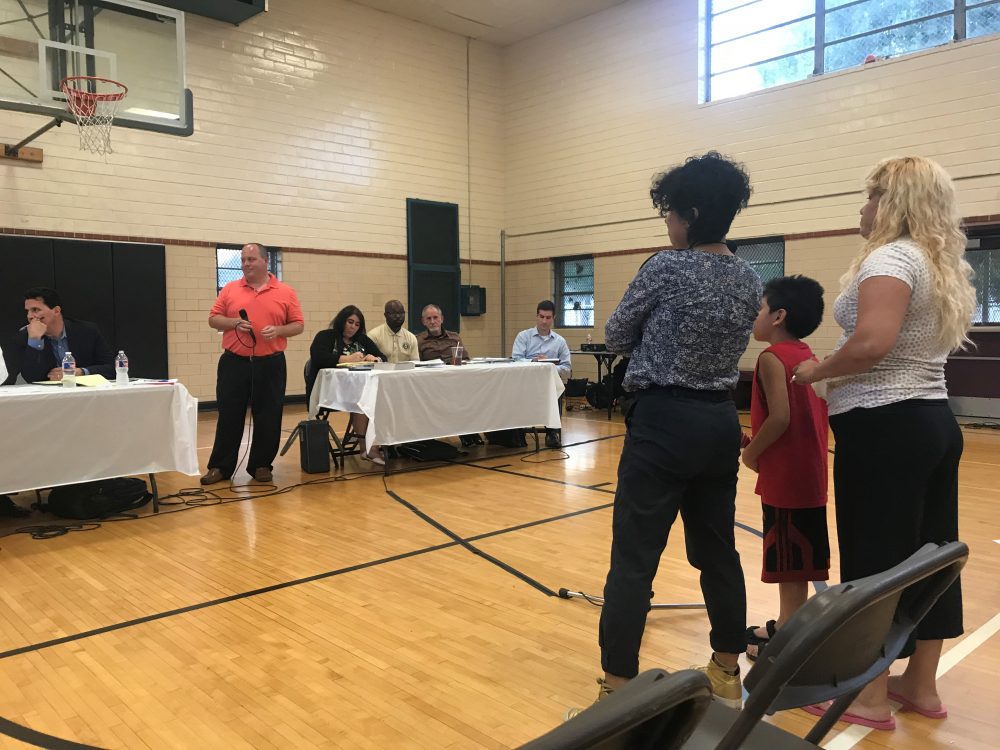 Though many health complaints are anecdotal, research indicates that Manchester's residents experience a higher proportion of illness compared to other areas in Houston.
A study by the environmental justice group t.e.j.a.s. and the Center for Science and Democracy found community members in Manchester are more likely to get cancer than more affluent neighborhoods in Houston.
Experts said Valero's refinery isn't the only one contributing to the poor air quality in Manchester. Other facilities along the nearby ship channel are also known polluters.
"We know that children that grow up within two miles of the ship channel have an elevated risk of developing leukemia," said Dr. Bakeyah Nelson, Executive Director of the nonprofit Air Alliance Houston, which advocates for cleaner air.
A study by the University of Texas School of Public Health found children living by the ship channel as having a 56% higher chance of developing acute lymphocytic leukemia than children living ten miles away.
Nelson said while Houston in general has air quality problems, in Manchester a number of environmental factors are coming together. A 2006 study commissioned by former Houston Mayor Bill White found Manchester and Harrisburg as having the highest number of definite risk pollutants in Houston.
Dr. Nelson said to protect communities like Manchester, more needs to be done by state regulators to penalize Texas polluters.
"You're living in a state and operating in a context where it's very lax on the enforcement side of things," said Nelson.
A 2017 study by the Environmental Integrity Project and Environment Texas revealed that the state imposed penalties on 3% of infractions by Texas polluters.
In the meantime, activists and residents are fighting to prevent Valero's updated permit from being approved.
Valero and the TCEQ say community members will have another chance to voice their concerns at second meeting. The date and time were pending when this article was published, though a list of the TCEQ's public meetings can be viewed on their website.