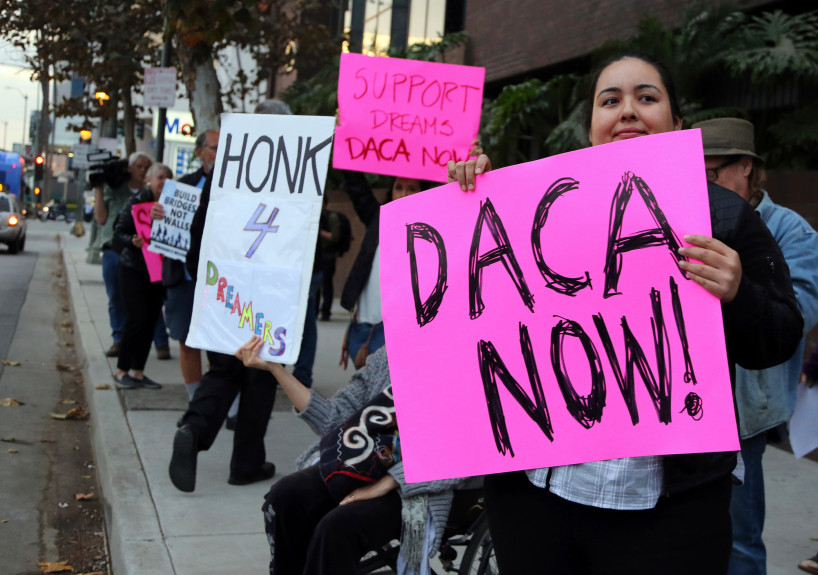 June 15th marks the sixth anniversary of the establishment of the Deferred Action for Childhood Arrivals (DACA) program. The anniversary coincides with ongoing negotiations in Congress so that the U.S. House of Representatives debates immigration legislation –which would possibly include protections for DACA beneficiaries— next week and some Houston "dreamers" feel a mixture of hope and skepticism about their future.
Former President Barack Obama established DACA in June 2012 to protect from deportation participating "dreamers" by providing them with temporary permission to stay in the country, as well as employment authorization.
The Trump Administration announced in September 2017 it would terminate DACA. However, the program is now the subject of ongoing litigation.
According to data compiled by the Migration Policy Institute, there were approximately 111,600 DACA recipients in Texas as of January 2018.
Michelle Avendaño is one of them. She is 26 years-old and lives in Houston.
Avendaño was born in Puebla (Mexico), came to the United States when she was 8 years-old and has always lived in Houston.
She completed her Bachelor of Arts degree in psychology and philosophy at the University of Houston in 2014 and is currently working in that field.
Avendaño's DACA permit expires next year.
When asked about what goals she has been able to accomplish thanks to the protections afforded by DACA, Avendaño highlights getting a driver's license, getting a job in her field of expertise and getting a credit card, which is helping her to start building a credit history.
"I kind of became an adult a lot later than most people in the United States," said Avendaño. She said DACA has been very important for that adulthood to become a reality.
Avendaño is married to a U.S. citizen and he has filed a petition for her so, in theory, she might eventually be able to legalize her immigration status regardless of what happens to DACA.
At the same time, that petition hasn't made much progress yet and Avendaño said she still thinks of herself as a DACA recipient.
'Fifty, fifty'
Avendaño is aware of the negotiation taking place on Capitol Hill and said she feels "fifty, fifty" in terms of hope and skepticism. "I haven't lost the hope or the idea, you know, that change will come and can come," she explains.
However, Avendaño also notes that, to a certain extent, she is tuning out. "I almost half expect nothing to come of it because of our current political system and just, just, everything that's come of that, nothing has really moved," she laments regarding immigration legislation.
Avendaño also explains that, rather than focusing her attention on what happens in Washington D.C., at this moment she prefers to focus on "what happens here in my hometown, in Houston, in Texas, and what can we do to change very small things that maybe may not mean a lot to some people like, for example, driving without a license, something as simple as that."
César Espinosa, founder and executive director of Houston-based Immigrant Families and Students in the Struggle (commonly known as FIEL by its acronym in Spanish), also has a mixture of hope and concern about the future of "dreamers".
Espinosa, who is a DACA recipient himself, points at a rare legislative maneuver that was recently attempted in the U.S. House to force a vote on four immigration bills. Some of them had protections for DACA recipients, even including a path to citizenship.
The maneuver, which had to do with the so called 'Queen of The Hill' rule, ultimately failed but received the support of more than 200 Representatives and Espinosa thinks that's a good sign.
Silver lining
For the activist, the silver lining is that the support of specifically 216 members of the House signals that "the majority of Congress would vote and would move forward on a DACA bill or on an immigration bill."
In that sense, Espinosa thinks it's crucial that "folks continue to engage their elected officials, that we continue to make those calls."
Then again, the activist keeps in mind that the "window of opportunity" for a potential legislative agreement on immigration gets smaller as the November mid-term elections get closer. "We all know that immigration is a very controversial topic, so it could hinder their willingness to be more open about it or to be more progressive on the issue," Espinosa concludes referring to the effect the upcoming election could have on the political negotiation.