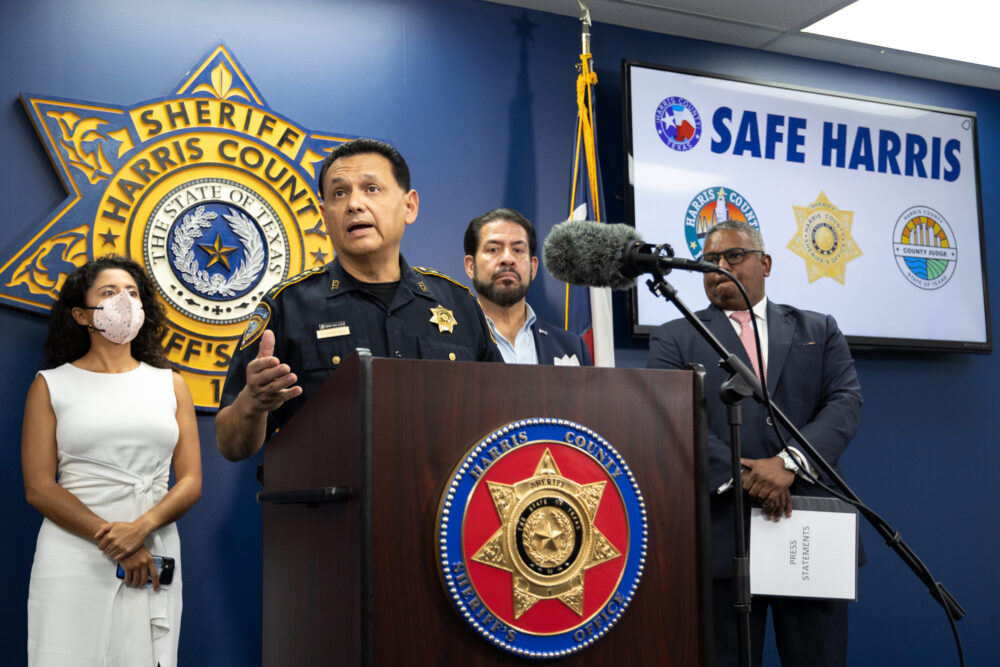 Six weeks after a gun buyback event in Houston yielded nearly 850 weapons, Harris County plans to hold several more in an attempt to reduce gun violence, suicides and accidental deaths caused by firearms.
County commissioners voted Tuesday to provide nearly $1.1 million in funding for up to eight gun buyback events hosted by either the Harris County Sheriff's Office or any of the county's four precincts, potentially in conjunction with the City of Houston or other governmental entities. The events will be structured similarly to the gun buyback held July 30 at a church in the Third Ward – with participants receiving gift cards in exchange for their weapons, which will be destroyed after they are processed and screened for having potentially been stolen or used as part of a crime.
"We ought to do as many of these as we can and stretch this $1.096 million as far as we can," said Precinct 1 Commissioner Rodney Ellis, who co-hosted the July event along with the City of Houston. "The one I did with the city was tremendously successful, and I look forward to these as well."
Jason Spencer, the chief of staff for Harris County Sheriff Ed Gonzalez, who requested the funding, said the county's first gun buyback event is tentatively scheduled for November. The buybacks will target underserved communities and those with high rates of gun violence and gun-related deaths compared to the rest of the county, according to a report prepared by the sheriff's office as part of its request.
There also will be some key differences from the city-sponsored event held in August, in which some "ghost guns" were collected and participants turned in their weapons anonymously. Those exchanging guns for gift cards – $50 for a non-functioning firearm, $100 for a rifle or shotgun, $150 for a handgun and $200 for an assault rifle – must be Harris County residents and must present a valid form of photo identification. And ghost guns, which are privately made, cannot be traced to a manufacturer and are often produced at a low cost, will not be accepted.
"We learned some lessons from the first one," Ellis said.
The event held by the city drew criticism from the Harris County District Attorney's Office, which said collecting guns anonymously might prevent gun-related crimes from being solved. Assistant District Attorney David Mitcham also said at the time that the distribution of gift cards could be problematic if a gun is tied to a crime, because the person who turns in the firearm may be considered a witness to the crime and accepting something of value from law enforcement could cause problems for prosecutors down the line.
There also has been debate about the effectiveness of gun buyback programs in reducing violent crime. A 2021 study released by the National Bureau of Economic Research, which examined crime data from 1991-2015 and the effects of gun buyback programs in more than 100 U.S. cities during the last decade, found such programs "have been ineffective at deterring gun crime, firearm-related homicides, or firearm-related suicides in the short- or long run."
David Cuevas, the president of the Harris County Deputies' Organization, which he said represents about 3,200 officers, called it "disingenuous and a facade" to claim that gun buyback events help to reduce crime.
"I think using Harris County tax dollars to try to eliminate firearms from the streets in the form of a gun buyback program is a failure," Cuevas said. "I think we should have used these dollars to give to deputies to continue to fight crimes on the streets."
Spencer acknowledged there's no evidence showing that gun buyback programs reduce violent crime, but said they can be considered successful in other ways. They can spark conversations about gun safety and the place of weapons in a home, he said, while lowering the number of firearms in the community.
The report from the sheriff's office, citing research conducted by the Graduate Institute of International and Development Studies in Geneva, Switzerland, said there are about 121 guns for every 100 civilians in the United States, with Americans accounting for nearly 46 percent of all civilian-held firearms in the world. There also were nationwide upticks in gun violence and gun purchases after the onset of the COVID-19 pandemic, according to the report.
Precinct 2 Commissioner Adrian Garcia, a former Harris County sheriff who voted to approve the buyback funding along with fellow Democrats Ellis and Harris County Judge Lina Hidalgo, said he's heard criticism that buyback events tend to yield guns from law-abiding citizens as opposed to criminals. But, citing the possibility of gun thefts from residences and vehicles, he said, "Any gun that gets into the wrong hand is a gun worth taking off the street."
"You're making a bet that by removing scores of firearms from our community that you're reducing the odds that they'll be used to hurt somebody or someone would use it to hurt themselves," Spencer said. "Gun violence takes all kinds of forms. They could be used in a homicide, an assault, a suicide or in accidental shootings. Our hope is that we're reducing the odds of that happening, either in the next few months or 10 years from now."