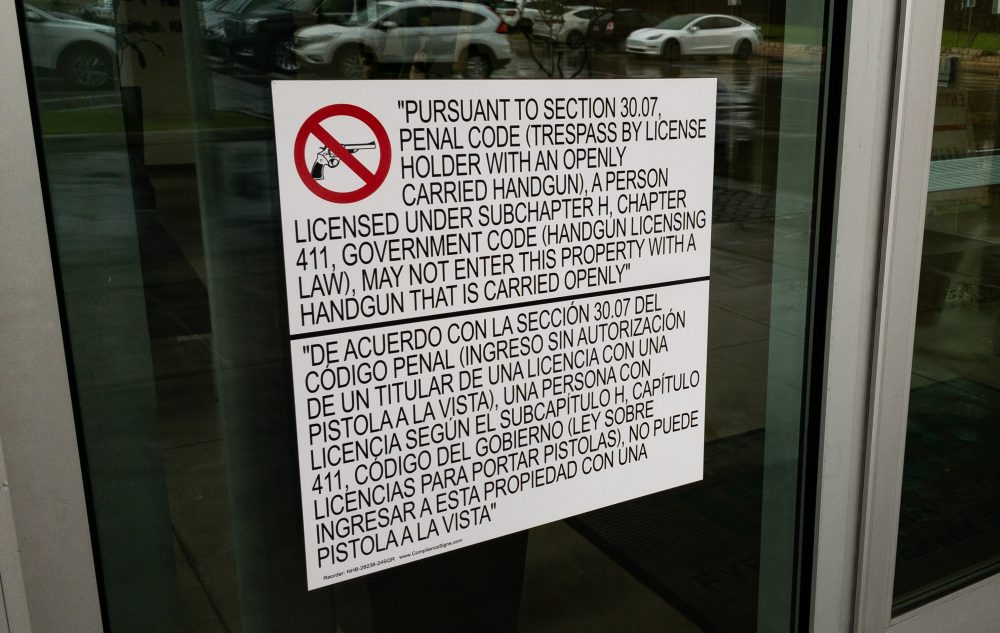 A church in Clear Lake and a coffeeshop in the Heights are challenging a Texas law that dictates how no-gun signs are displayed.
Bay Area Unitarian Universalist Church and Antidote Coffee allege the signs private properties need to display are meant to make it harder for them to keep out guns and to mark them as anti-gun establishments.
They are represented by gun safety group Everytown Law and Houston law firm Jones Day.
Alla Lefkowitz, director of affirmative litigation at Everytown Law, said property owners who don't want handguns on their premises have to put up at least two different signs: one prohibiting concealed carry and one for openly carried guns.
And if they don't want rifles to be carried, which is legal in Texas without a gun license, they need a sign for that too, the suit states.
Notices to exclude concealed carry must use the following language in both English and Spanish and with letters at least one inch in height: "Pursuant to Section 30.06, Penal Code (trespass by license holder with a concealed handgun), a person licensed under Subchapter H, Chapter 411, Government Code (handgun licensing law), may not enter this property with a concealed handgun."
The size requirement makes it hard to impossible to print the signs at home and takes up space that could be used for other messages to patrons, the plaintiffs allege.
"Most states just have a simple requirement for a picture that is a simple pictogram and that says something along the lines of 'no firearms' or 'no weapons,'" Lefkowitz said. "And there's no evidence that that's not understood."
The plaintiffs want the court to declare the sign requirements unconstitutional and that property owners can decide how they want to indicate that they don't allow guns and that they "need only follow the notice requirements under the General Trespass Law."
The lawsuit lists as defendants different law enforcement agencies that have jurisdiction over the plaintiffs – including Houston police Chief Art Acevedo, Harris County District Attorney Kim Ogg and Texas Attorney General Ken Paxton.
Paxton's office did not respond to an email request for comment. A spokesperson for Ogg declined comment on pending litigation.
Former Texas Land Commissioner Jerry Patterson, who authored the state's concealed handgun law when he was a state senator in the 1990s, called the lawsuit's premise "bogus."
The lawsuit references comments Patterson made previously to the Austin American-Statesman that he "intentionally made the sign's language cumbersome so as to discourage businesses from curbing the right to bear arms."
"They're complaining that the sign is too prominent essentially," Patterson told Houston Public Media. "But if it's that important to them, would they feel good with a two-inch-by-two-inch sign that had a handgun with a red circle around it and a red diagonal bar across it that nobody's going to see?"
He also pointed out that the signs are not actually required. Gun carriers must leave a property if the owner tells them verbally that firearms are not welcome.
The lawsuit addresses this by saying that it would be impractical to advise each person who enters and would require hiring an employee just to do that.
"Decisions about how to protect worshippers and create a welcome environment are important to any congregation, and the requirements we're challenging make those decisions far more complicated," Bruce Beisner, minister of Bay Area Unitarian Universalist Church, said in a statement. "Our hope is to make it easier for houses of worship across the state to put in place the practices around firearms that make sense for them."
Michael Cavanaugh, a criminal justice professor at the University of Houston-Downtown, said arguing the case as constitutional rights violations is a tough sell.
"If the court views the hanging of regulatory signs as a first amendment issue, then the coffee shop and church will win," he said in an email. "However, I think they will see the issue as a simple regulation in which case Texas will win."