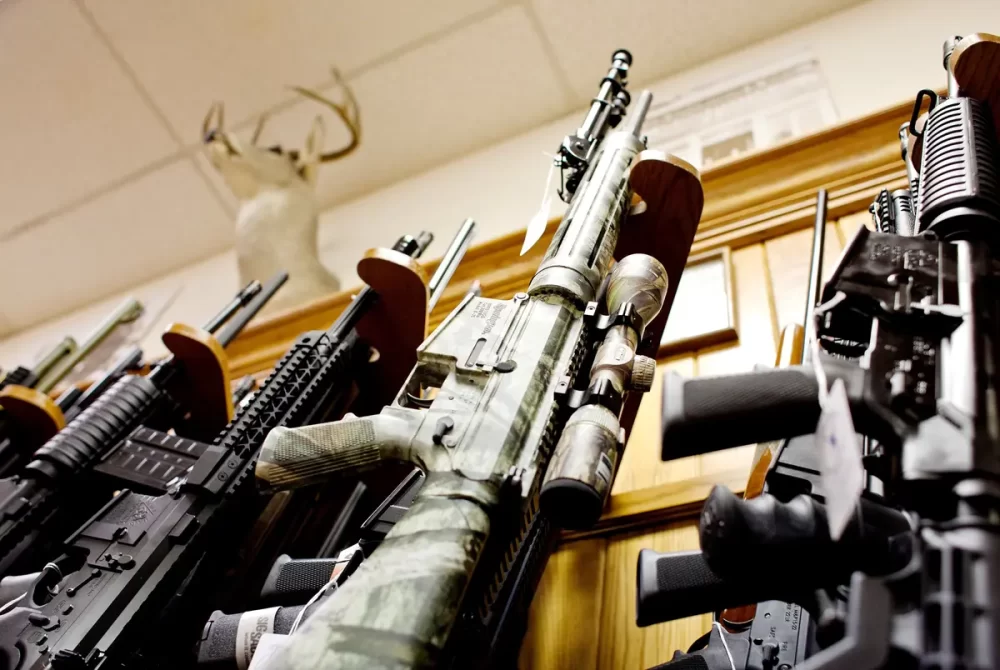 According to a new report from Rice University's Baker Institute for Public Policy, policy measures like mandatory gun safety training and waiting periods may help reduce firearm deaths, especially among young people.
There have been nearly 2,800 mass shootings in the U.S. since 2018, and according to the Gun Violence Archive, a nonprofit research organization, 130 of those have taken place this year alone.
Meanwhile, gun regulations have gotten increasingly lax in Texas in the last five years.
The May 2018 school shooting that at Santa Fe High School about 35 miles southeast of downtown Houston and 2019 shooting at a Walmart in El Paso sparked a series of roundtable discussions at the state capitol. Gov. Abbott, along with the newly formed Texas Safety Commission, discussed measures such as increasing background checks and instituting "red flag" laws that would allow for the seizure of guns from people deemed in court to be "dangerous to themselves or others."
MORE: A discussion of the Rice report on youth gun violence on Houston Matters
However, Abbott abandoned the ideas after pushback from Lt. Gov. Dan Patrick and other gun rights activists. Instead, state lawmakers placed emphasis on increasing law enforcement's ability to respond to active shooter situations.
Later, in 2021, Texas lawmakers passed a law allowing individuals age 21 and older to carry a handgun in public without the need for a permit or training. Meanwhile, 55% of Texans opposed the legislation, according to a survey from the University of Texas.
Currently, Texas law does not require background checks for private gun sales, waiting periods, permits for concealed carry nor mandatory training in order to purchase a gun.
Among school shootings, perpetrators are disproportionately individuals under the age of 21. Over 80% of the shooters involved in school shootings between 1970 and June 2020 were between the ages of 5 and 20, with 65% percent being between ages 14 and 18.
In general, perpetrators of mass shootings have been getting younger. Two thirds of shooters involved in the deadliest mass shootings in the U.S. since 2018 have been at or below the age of 21. Young people also are the age demographic most impacted by gun-related homicide, with firearms being the leading cause of death in children in the United States.
Dr. Sandra McKay, associate professor of pediatrics at UTHealth's McGovern Medical School and Huffington Fellow in Child Health Policy at Rice University's Baker Institute, said there is broad support across party lines for measures like mandatory waiting periods and gun safety training for individuals under the age of 21.
"The general belief is 'Of course, you should be doing some kind of safety training when you're young," she said. "Implementing a waiting period for a young person, again, feels like a commonsense kind of solution."
McKay said waiting periods have shown efficacy in other states for decreasing gun violence and suicide rates. "When we look at waiting periods, they have a lot of evidence behind them," she said. "Even short waiting periods of as little as 24 hours help decrease incidences of things like intimate partner violence by as much as 40-50% in some cases."
According to the brief, firearm safety courses also have a positive impact. Only 61% of gun owners reported having received some sort of safety training prior to owning a firearm. However, among those who did receive training, more than half reported that it influenced their storage and safety practices.
McKay said there are a number of ways to increase gun safety, in addition to waiting periods and safety training, such as investing in community violence intervention programs as well as creating temporary out-of-home storage options. The full report is accessible here.