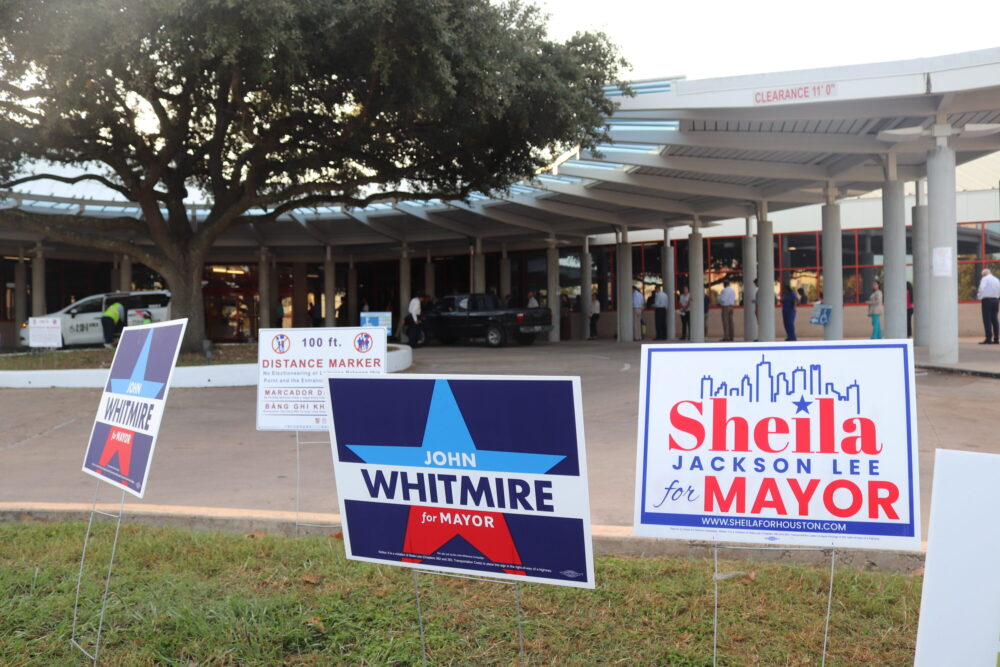 Texas Sen. John Whitmire and U.S. Rep. Sheila Jackson Lee, a pair of longtime Democratic politicians in their 70s, are headed to a runoff in the race for Houston mayor.
Whitmire, 74, received about 43 percent of the vote in Harris, Fort Bend and Montgomery counties, all of which include Houston. He held about an 8 percentage-point lead over the 73-year-old Jackson Lee, with former METRO board chair Gilbert Garcia placing a distance third.
Because neither Whitmire nor Jackson Lee received more than 50 percent of the vote in the 17-candidate race, they will compete in a Dec. 9 runoff to determine who succeeds Mayor Sylvester Turner. He completes his second and final four-year term at the end of this year.
Nearly 211,000 people voted Tuesday in Harris County, the largest in Texas, after 239,325 cast ballots during the early voting period. Harris County has about 2.6 million registered voters.
RELATED: Harris County live election results 2023
Tuesday's election was administered by the Harris County Clerk's Office, which resumed those duties after the Harris County Election Administrator's Office – created in 2020 – was abolished this year by Texas lawmakers following some Election Day issues in 2022. Some locations in the Houston area ran out of ballot paper last November and some opened late because of technical problems.
Voting in Harris County on Tuesday appeared to go much more smoothly, with voters experiencing short wait times at many polling places and few technical glitches that resulted in delays.
"I really haven't heard anything," Houston City Council member Sallie Alcorn, who is running for re-election in at-large position No. 5, said late Tuesday afternoon while visiting the polling place at the Metropolitan Multi-Service Center. "One of my volunteers said there was some of the scanners down at one location, but that's really and truly the only thing I've heard all day. So I haven't heard a lot of complaints about the process."
Based on early voting totals, Alcorn held a sizable lead over two challengers by receiving 63 percent of the vote. In some other notable city council races, Melanie Miles, Julian Ramirez and Conchita Reyes each received between 21 and 27 percent of the vote for at-large position No. 1, and no candidate received more than 22 percent of the early vote in the nine-candidate race for at-large position No. 3. The race for at-large position No. 2 also appeared headed to a runoff.
Houston attorney Tony Buzbee, the mayoral runner-up in 2019, received 41.3 percent of the early vote in his bid to unseat District G council member Mary Nan Huffman. The incumbent representative of the River Oaks area received 50.6 percent of the early vote.
Chris Hollins, who dropped out of the mayoral race after Jackson Lee announced her candidacy, led the race for city controller by receiving 47.8 percent of the Harris County vote during the early voting period. Orlando Sanchez, a former city council member and Harris County treasurer, was second at 25.9 percent.
Houston voters also weighed in on a pair of proposed amendments to the city charter, passing both. Nearly 64 percent of voters supported Proposition B, which aims to give Houston more proportional representation on the Houston-Galveston Area Council (H-GAC), an association of local governments and elected officials that allocates federal, state and local funding to the 13-county Gulf Coast region.
Proponents of Prop B argue that because Houston has by far the largest population in the region, it should hold more than two of the 37 seats on the H-GAC board of directors. The measure will compel the city to negotiate for more proportional representation on the council, and if that does not to happen within 60 days after the law takes effect, the city will be required to remove itself from the council and potentially create a new one.
More than 83 percent of early voters in Houston voted for Proposition A, which gives individual city council members more authority by allowing at least three of them to place an item on the council's agenda, which is otherwise determined by the mayor.
Another local proposition on Harris County ballots asked voters to approve a $2.5 billion bond for the county's safety-net public healthcare system. The measure received support from about 73 percent of voters, authorizing renovations and expansions at Lyndon B. Johnson (LBJ) Hospital and Ben Taub Hospital, along with creating three new community clinics in areas where they are needed.
Overall turnout in Harris County eclipses 400,000 – 5:25 p.m.
With two hours left to vote on Election Day in the Houston area, overall voter turnout for this election cycle has surpassed the 400,000 mark in Harris County.
The Harris County Clerk's Office announced that as of 5 p.m., which is two hours before polls close, more than 161,000 people had cast ballots Tuesday. A total of 239,325 votes were cast in person or by mail during the early voting period, meaning total turnout has eclipsed 400,000.
A little more than 241,000 voted in 2019, the last time there was a Houston mayoral election.
There are about 2.6 million registered voters in Harris County, which includes Houston.
Voters report quick and easy experiences, criticize 'vague' language on ballot – 4:20 p.m.
Houston voters at both the BakerRipley Ripley House on Navigation Boulevard and the Metropolitan Multi-Service Center on West Gray Street, which is typically a popular polling place, said Tuesday afternoon they were able to get in and out within a matter of about 10 minutes.
"Overall I think voting in these past years has become so much easier and accessible," said Genesis Granados, who cast a ballot at Ripley House. "Really 5-10 minutes to get in there, vote, make your voice hard and it doesn't take a lot of your time."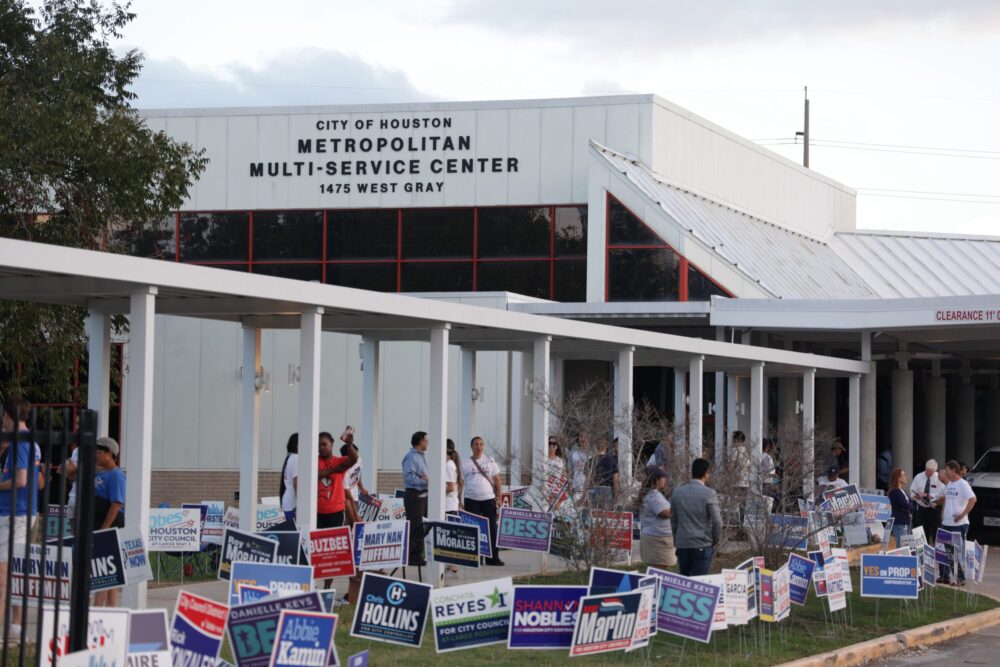 Harris County Precinct 2 Commissioner Adrian Garcia, who is not on the ballot, said he had visited about 15 polling locations Tuesday and did not encounter any long lines. He said he was made aware of scanning machines not working properly at River Oaks Elementary, but added that the problem was "resolved fairly quickly."
"All I've been hearing from the various election judges at the various polling sites is that it has been so far very smooth," Garcia said Tuesday afternoon while visiting the polling place on West Gray. "So we're excited about that."
Alejandro Sandoval, a 47-year-old Houston resident, shared a similar sentiment after voting at the West Gray polling location. He said it was "pretty straightforward" and "didn't take long at all" after he, his mother and a friend cast ballots there.
Voting was important to all three of them, according to Sandoval, who said he was "torn between two candidates" in the Houston mayor's race and ultimately voted for U.S. Rep. Sheila Jackson Lee.
"All three of us are naturalized (U.S.) citizens, right, so we kind of appreciate voting in this country a little bit more maybe than people that were already in this country," he said. "So we kind of fought hard to get here to this point, so we should do our civic duty."
John Gregg, who voted at Ripley House, said he wishes fulfilling his civic duty did not feel like he was taking an exam. He said it was difficult to decipher some of the language on his ballot as it pertained to propositions.
Voters across Texas are weighing in on 14 statewide propositions. There are two additional propositions for Houston voters along with a county proposition as it relates to its hospital system.
"When it's vague, it's harder for people to, like, understand what they're doing," Gregg said. "It felt like I was in school again."
Hope Ellison, who voted at the Acres Homes Multi-Service Center, reported having a much easier time navigating her ballot.
"The ballot part was really chill, very easy, and it was very verbal," she said. "And I could also read it and I could understand who I was voting for and what some of the amendments were."
Countywide turnout surpasses 100,000 with several hours left to vote – 2:45 p.m.
More than 103,000 votes had been cast in Harris County as of 2 p.m., according to the county clerk's office.
Combined with totals from the early voting period, more than 342,000 ballots have been cast in the county for this election, which includes races for Houston mayor, city council and city controller, three City of Houston propositions, 14 statewide propositions and a $2.5 billion bond item for the Harris Health System. There are about 2.6 million registered voters in Harris County.
The total voter turnout is the most for a Houston mayoral election in at least 20 years as the 2003 race drew nearly 298,000 voters. The next-highest turnout for a mayoral election during the last two decades came in 2015, when more than 261,000 cast ballots in a cycle that saw Mayor Sylvester Turner win the first of his two terms.
There are 17 candidates on the ballot for the seat being vacated by Turner, with fellow Democrats U.S. Rep. Sheila Jackson Lee and Texas Sen. John Whitmire considered the favorites.
Whitmire visited the polling location at SPJST Lodge 88 in the Heights around lunchtime, when he also attended a 97th birthday party for a longtime supporter and friend. World War II veteran Kenneth Thompson has voted for Whitmire in every election since 1972, when Whitmire first was elected as a state lawmaker.
"Ask him what he wanted for his birthday. He said he wanted John to win," Whitmire said. "When I heard that, do you think I had any choice but to go to his birthday party? I wanted to."
Jackson Lee also has been out engaging with voters and apparently having some fun of her own. Her campaign posted a video on social media that shows her dancing outside of a polling location.
Feeling good on Election Day! Vote for Sheila Jackson Lee for Mayor of Houston! pic.twitter.com/C5qxcldWsb

— Sheila Jackson Lee (@SJacksonLee) November 7, 2023
87,000 voted by Tuesday afternoon, clerk says – 1:30 p.m.
A total of 87,000 ballots were cast by 1 p.m. Tuesday, according to the Harris County Clerk's Office.
Some malfunctioning machines and technical issues have been reported at polling locations around Houston, and County Clerk Teneshia Hudspeth said technicians will mitigate issues as they arise.
Elections are not flawless, and challenges occur during every election cycle, she said.
"We are continuing to work throughout the day as concerns come up," Hudspeth said. "We mitigate them in real time."
The elections department offers training, maintains equipment, orders of supplies and delivers voting equipment to all polling locations ahead of Election Day.
Unofficial election results will be posted at HarrisVotes.com as they come in on election night, starting after 7 p.m. with early voting and ballot-by-mail results being released first. The official results will be posted after the canvass is completed.
Voting lines build at west Houston church despite malfunctioning machines – 12 p.m.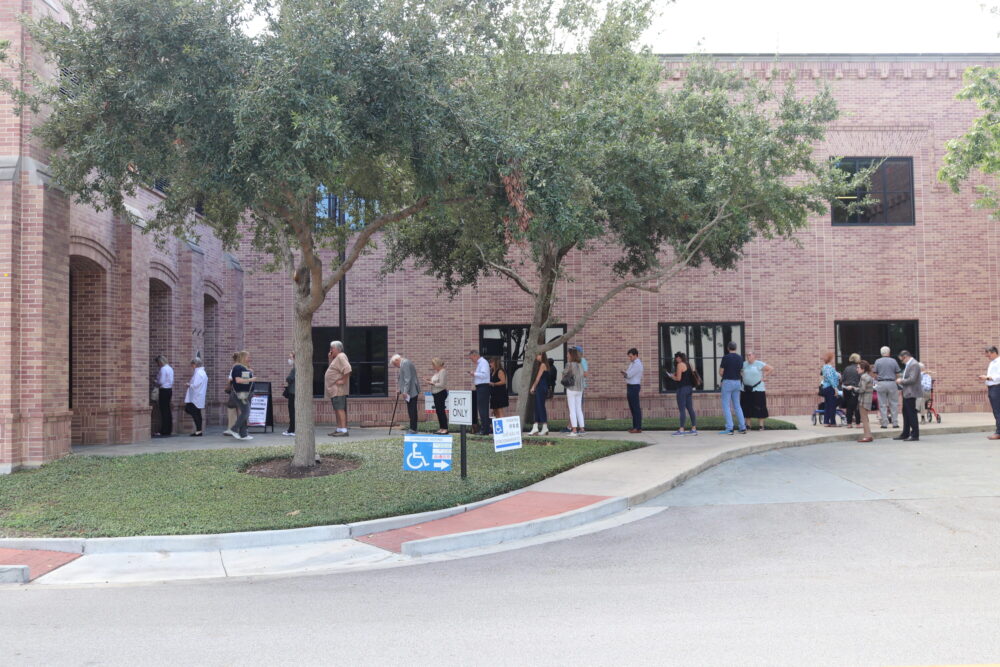 Lines built quickly at Saint Martins Episcopal Church in west Houston Tuesday morning despite some reports of malfunctioning voting machines.
Voters around 11:30 a.m. said they spent about 20 minutes waiting in line. There were 35 people in line around 11:55 a.m., according to Harris Votes.
County works to mitigate technical issues – 11 a.m.
Hudspeth said more than 45,000 ballots have been cast so far.
Hudspeth said that 93 percent of the polling locations around Houston opened on time Tuesday.
"We have a plan in place for these issues," she said. "There are techs assigned at every vote center. Additional staff is on standby. Additional equipment is on standby.
"Every election, we have to work through these kinks, and we do one step at a time to make sure voters are able to vote," Hudspeth added.
County clerk's office confirms some technical issues at northwest polling location Tuesday morning – 9 a.m.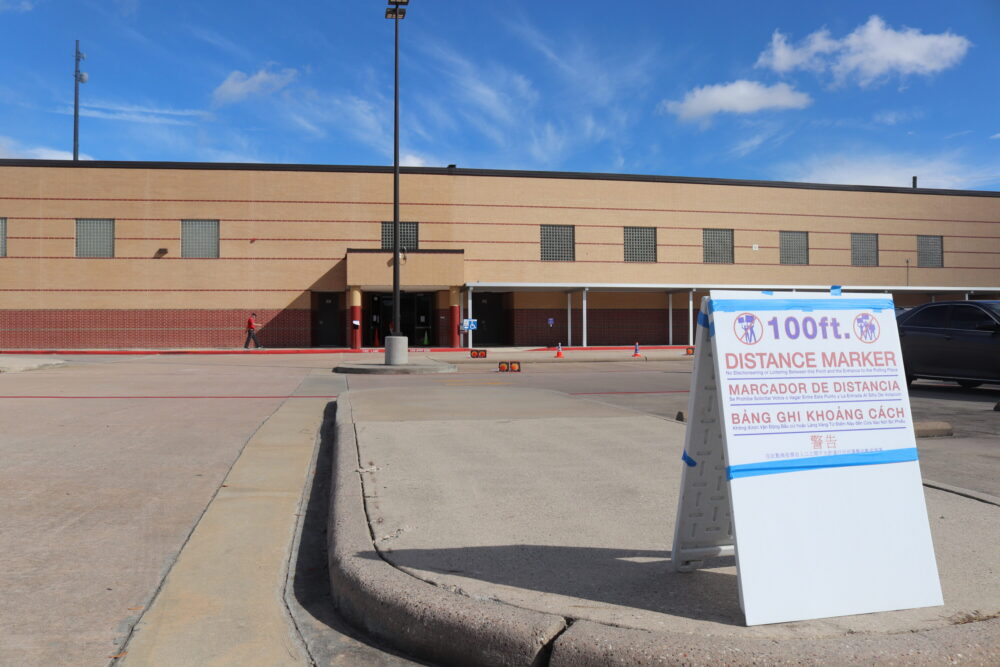 The Harris County Clerk's Office around 9 a.m. confirmed some technical issues at a northwest polling location Tuesday morning. No votes are able to be processed at the Hamilton Middle School polling location in Cypress because of scanner issues, officials said. Voters are given the option to wait in line or go to the nearest voting center less than a mile away at St. Mary's Episcopal Church, according to the clerk's office.
"The equipment is failing, the scanner won't work," Charlotte Lampe, a presiding judge at Hamilton Middle School in Cypress said Tuesday.
By 9:49 a.m., technicians were on site and still working to resolve issues, she said.
"So all of the systems that they said were in place have failed at every level," Lampe said. "So this is the first time in my 45 years that I have not had a fully operational polling location."
Voters can report issues to the clerk's office at 713-755-6965.
"So many people made sacrifices for me to be able to vote," said Angela Davis, who voted without any issues Tuesday at MacGregor Elementary. "So it means the world to me that I can now come and vote whenever it is. I don't care if it's off season, upside down season, whatever season."
County Judge Lina Hidalgo makes first polling place appearance – 8:30 a.m.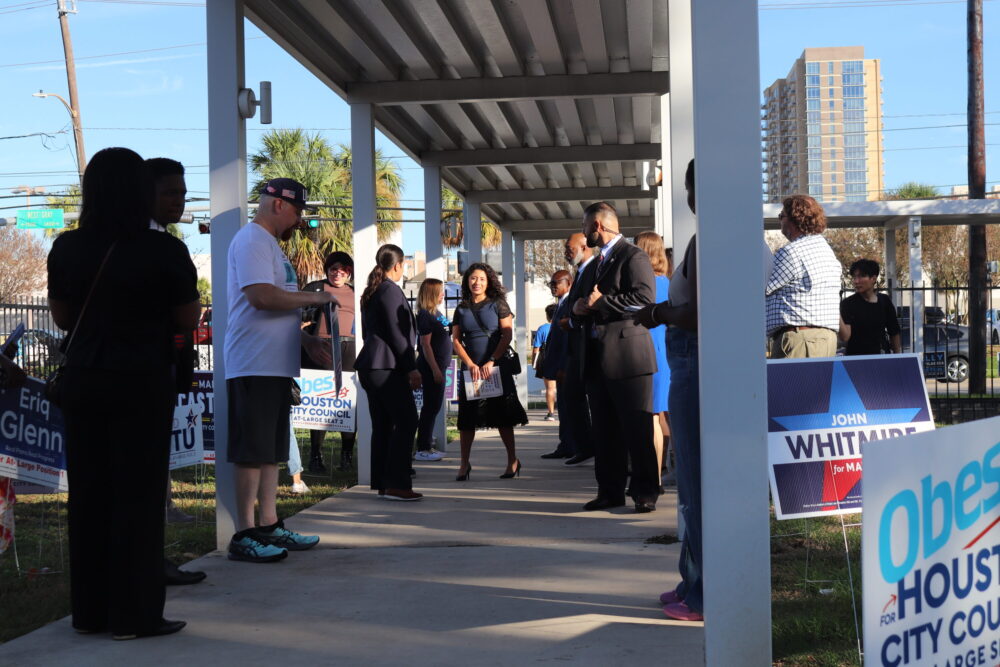 Quickly surrounded, Harris County Judge Lina Hidalgo arrived at the Metropolitan Multi-Service Center on West Gray Street around 8:30 a.m. to chat with voters and polling volunteers.
"It's a beautiful day," she said Tuesday morning. "The polls are open until 7 p.m., and you can check lines and other information at harrisvotes.org. There are over 700 polling locations so there's really no excuse not to vote so come out and join me. Come out and vote."
Hidalgo on social media endorsed U.S. Rep. Sheila Jackson Lee for Houston mayor.
"Whoever wins I'm going to work with and I am very excited for all of the candidates excited to put their hat in the ring," she said. "I think it's great for our democracy."
What's on the ballot?
Seventeen candidates are on the ballot for the Houston mayor's seat today. Texas Sen. John Whitmire and U.S. Rep. Sheila Jackson Lee are considered frontrunners in the race that has bolstered major endorsements and drawn national headlines.
Four candidates, Chris Hollins, Dave Martin, Orlando Sanchez and Shannon Nobles, are in the race for Houston city controller. All 16 city council positions are on the ballot as well.
Fourteen state propositions with topics ranging from property tax cuts to broadband internet access funding are on the ballot. A breakdown of those propositions can be found here.
Today is the last day for Houston voters to decide on a proposition to allow three or more council members to place items on city council agendas, which otherwise are determined by the mayor, and a proposition to give Houston more proportional voting, based on its population, on the Houston-Galveston Area Council.
Voters in Harris County will get a say on a proposition for the county to issue $2.5 billion in bonds to rebuild the Lyndon B. Johnson hospital campus and expand services at Ben Taub Hospital.
What should I know about voting today?
A total of 701 voting centers are open in Harris County from 7 a.m.-7 p.m. Ballots will begin being counted Tuesday evening. A map of polling places with wait times can be found here.
Sample ballots can be downloaded on the Harris County Clerk's Office website. Ballots are available in English, Spanish, Chinese and Vietnamese.
METRO will be offering free round-trip rides to polling locations around town today. Voters only need to inform bus operators or fare inspectors they are going to, or returning from, the polls, according to METRO.
Disabled voters can vote curbside outside of voting centers where buzzers are located near handicapped parking spots. More information about voting by curbside can be found on the county clerk's website.
Voters must present one of seven forms of personal identification when voting in person. Those forms include Texas driver licenses, Texas handgun licenses, U.S. citizenship certificates, Texas election identification certificates, U.S. passports, Texas personal identification cards and U.S. military identification cards.
In response to concerns about last year's election day dilemma, Hudspeth said the county will have "more than enough" paper ballots this year.
"One thing we should not be worried about this election cycle is paper," she said.
A state law passed earlier this year abolished Harris County's Elections Administrator's Office, which had managed elections and overseen voter registration since just after the 2020 general election.
The law was passed after Republican lawmakers alleged the county's elections administrator mismanaged last year's election, when some polling places were short on ballot paper and some opened later than scheduled because of technical issues.
Houston Public Media will update live election results starting at 7 p.m. and as ballots are being counted throughout evening.