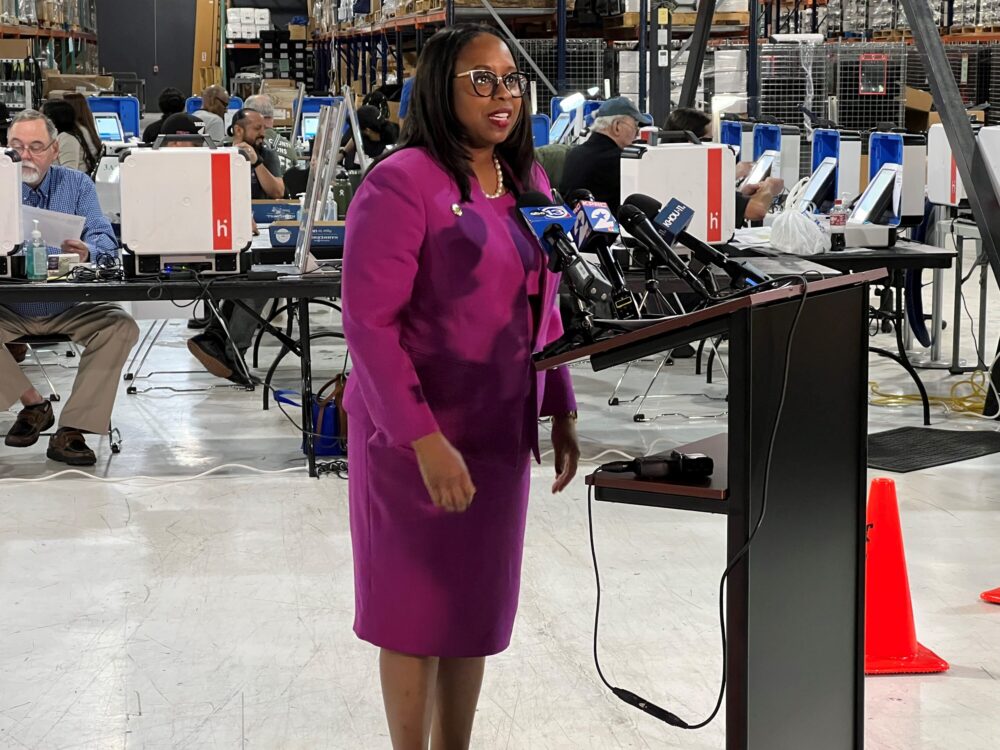 Harris County has begun conducting logic and accuracy tests on its voting equipment ahead of this November's elections. This will be the first major test for the county since a state law forced it to abolish its elections administration office and had responsibility for running elections back to the county clerk.
"There's a total of 43 entities that have contests on the ballot, which include 14 state constitutional amendments, and a countywide proposition," said Harris County Clerk Teneshia Hudspeth. "Security is our top priority, and our motto is always accuracy over speed."
As part of the logic and accuracy tests, full-time elections staff and appointed members from the Harris County Republican and Democratic Parties are checking the equipment for more than 2,000 possible ballot combinations.
"They are testing ballot styles by precinct, and they are going through and actually pretesting votes," Hudspeth said. "So, they have the pretested ballot. It will have several contests and races on there. And they're ensuring that each race and selection that they make...on the ballot is accurate, prints out correctly, and will be prepared for the polling location."
Hudspeth said the county was working closely with all interested parties, including the Texas Secretary of State's Office, to minimize the risk of any problems during early voting or on Election Day.
"We have a new process in place called Service Now that helps mitigate communicating from the Elections Office to the polls to our techs and everyone that's involved to make the election clean," Hudspeth said.
That reflects concerns about Harris County's election processes from 2022. The primaries that year saw long delays in reporting on election night and 10,000 ballots that initially went uncounted. Elections Administrator Isabel Longoria resigned soon afterward.
Longoria's replacement, Elections Administrator Clifford Tatum, oversaw a general election marked by a variety of problems, including more than two dozen polling locations in Republican-leaning neighborhoods that ran out of ballot paper on Election Day. County and state Republican officials, along with a range of unsuccessful Republican candidates, alleged this was either incompetence or a deliberate attempt to suppress Republican votes.
A five-month investigation by Houston Public Media determined that some problems related to the switchover from county clerk to elections administrator may have created problems with the training of election workers with consequences for the conduct of elections. The investigation found no evidence to support the idea that the administrator's office was interfering with the conduct of elections by deliberately shorting election supplies to GOP-leaning neighborhoods, nor did it find any evidence that such shortages affected the outcome of most elections.
The end result, however, was that the state Legislature passed a law, Senate Bill 1750, that abolished the Harris County elections administrator's post, handing responsibility for overseeing elections to the elected county clerk and for maintaining voter rolls to the county tax assessor-collector. Hudspeth previously worked on elections for several years as an employee of the County Clerk's office before the county created the appointed position of elections administrator in 2020.
"One thing we should not be worried about this election cycle is paper. We will have more than enough paper this election cycle, and voters will not have to be concerned as to whichever voting center they go to that will be an issue. (It) will not be an issue," Hudspeth said.
Early voting runs from October 23 through November 3. Election Day is November 7.