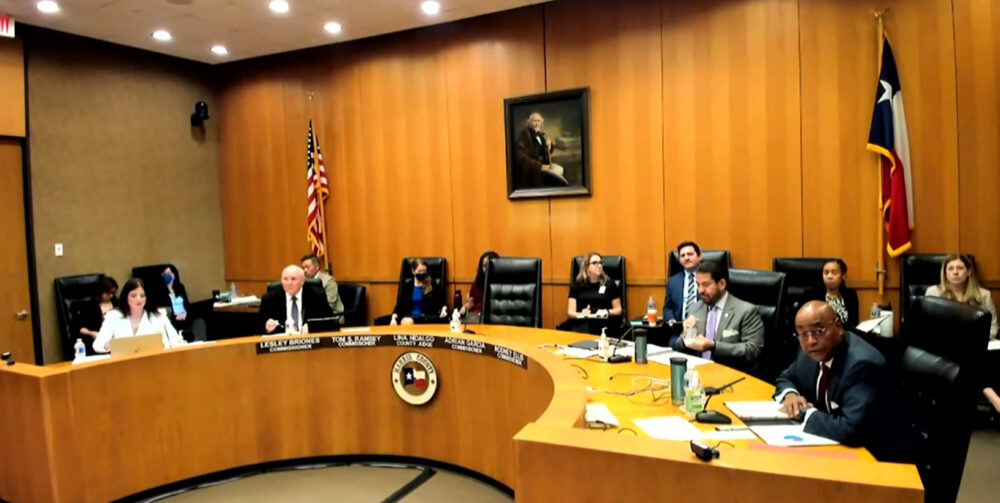 Harris County has officially dismantled its Elections Administrator's Office. The move comes three days before required by a state law the Legislature passed in May.
County commissioners voted 4-to-0 to transfer the budget, equipment, and 170 employees of the Elections Administrator's Office to the offices of the County Clerk and the County Tax Assessor Collector. The clerk's office will take over management of elections, while the tax assessor-collector's office will take charge of maintaining the county's voter rolls.
County Clerk Teneshia Hudspeth said was working with all other relevant county offices to ensure a smooth transition. "In the next few weeks, we will continue the election plan in place to avoid disruption or delays in the ongoing work related to the conduct of the November 7, 2023, election," Hudspeth said.
Wendy Caesar, chief deputy at the Harris County Tax Assessor-Collector's office, spoke in place of her boss, Ann Harris Bennett. "Right now, we are working very closely to make sure that nothing falls through the cracks," Caesar said. "We want to make sure that we have a successful election come November."
Senate Bill 1750 ordered the abolition of the Harris County Elections Administrator's post, following Republican accusations that former Administrator Isabel Longoria and outgoing Administrator Clifford Tatum mismanaged the primary and general elections in 2022.
Harris County waged an unsuccessful legal fight to prevent SB 1750 from taking effect, with County Attorney Christian Menefee arguing the law violated the Texas Constitution. The Texas Supreme Court will hear Menefee's challenge to the law in November but allowed it to go into effect in the meanwhile. That effectively sounded the death knell of the elections administrator's office.
Commissioner Adrian Garcia paid tribute to Tatum and his staff. "I do want to thank Cliff Tatum, in particular, and all of the Elections Administration Office staff for just being troopers and weathering all of these respective storms. This is not what they signed up for, but they handled it as professionals."
By contrast, State Senator Paul Bettencourt, the author of SB 1750, sounded a triumphal note on Twitter. He said he would address the matter in greater detail on Friday, when the law officially takes effect. He referred in addition to another law set to take effect this Friday, SB 1933, which gives the Texas Secretary of State's Office the authority to put Harris County's elections under administrative oversight if an investigation shows a recurring pattern of problems with election administration or voter registration.
Finally Harris County Commissioners Court is transferring election administration duties from @HarrisVotes back to the elected @harriscotxclerk and @HarrisCountyTAC. Will have more to say about this on September 1st, the date that both SB 1750 and SB 1933 go into effect. Harris... pic.twitter.com/ATdscOSmHJ

— Team Bettencourt (@TeamBettencourt) August 29, 2023