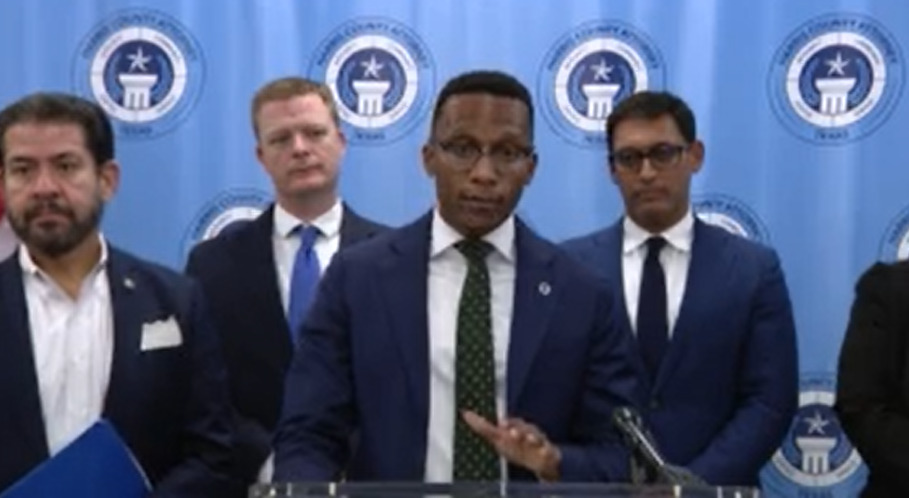 Harris County is suing the State of Texas to overturn a law that would abolish the appointed post of Harris County elections administrator. County leaders fear the law, if implemented on schedule, would throw this year's November election into chaos.
Harris County Attorney Christian Menefee filed the lawsuit in Travis County, naming Acting Attorney General John Scott and Secretary of State Jane Nelson as the defendants in their official capacities.
"In the next week, we'll reach out to the court to get a hearing date, because we're asking the court to temporarily block Senate Bill 1750 from taking effect," Menefee said, announcing the lawsuit. "I suspect we'll be able to get a hearing in the next month, and at that hearing, that issue should be decided."
SB 1750, which applies only to Harris County, is set to go into effect September 1st. It would force the county to turn over the running of elections to the elected county clerk and the management of voter rolls to the elected county tax assessor-collector with less than two months to go before the start of early voting.
"This will eliminate the job of our current elections administrator, Clifford Tatum," Menefee said, "and it means that more than 150 county employees are going to have to undergo substantial changes, another major change, in just a three-year time period."
Republican lawmakers and Governor Greg Abbott have insisted SB 1750 is necessary because recurring problems since Harris County switched to an appointed elections administrator in late 2020 showed the administrator's office was, at best, incompetent to manage elections in the county. At worst, they alleged the office manipulated the conduct of voting to favor Democratic candidates through the deliberate shorting of paper ballots to polling centers in Republican-leaning neighborhoods.
A five-month investigation by Houston Public Media determined that some problems related to the switchover from county clerk to elections administrator may have created problems with the training of election workers with consequences for the conduct of elections. The investigation found no evidence to support the idea that the administrator's office was interfering with the conduct of elections by deliberately shorting election supplies to GOP-leaning neighborhoods, nor did it find any evidence that such shortages affected the outcome of most elections.
Menefee argued SB 1750 violates the Texas Constitution. "For nearly 100 years, Texas law has prohibited laws that apply to only one locale and can never again in the future apply to another locale. That's exactly what SB 1750 does," Menefee said, "Our Legislature here in the State of Texas should be focused on passing laws that make life better for all of Texas, not targeting one county because its leaders look differently and think differently than the folks in Austin."
Harris County's commissioners court is made up of three Hispanic Democrats, one Black Democrat, and one white Republican. The county attorney, county clerk, county tax assessor-collector are all elected Black Democrats, while the county elections administrator, also Black, was appointed by an election commission made up of four Democrats and one Republican.
"This is representative of a bully picking on this county," said County Commissioner Adrian Garcia, who singled out Governor Greg Abbott and Republican lawmakers for condemnation. "This is an effort to create a new type of poll tax and voter suppression on the citizens of Harris County in 2023, and that is unconscionable."