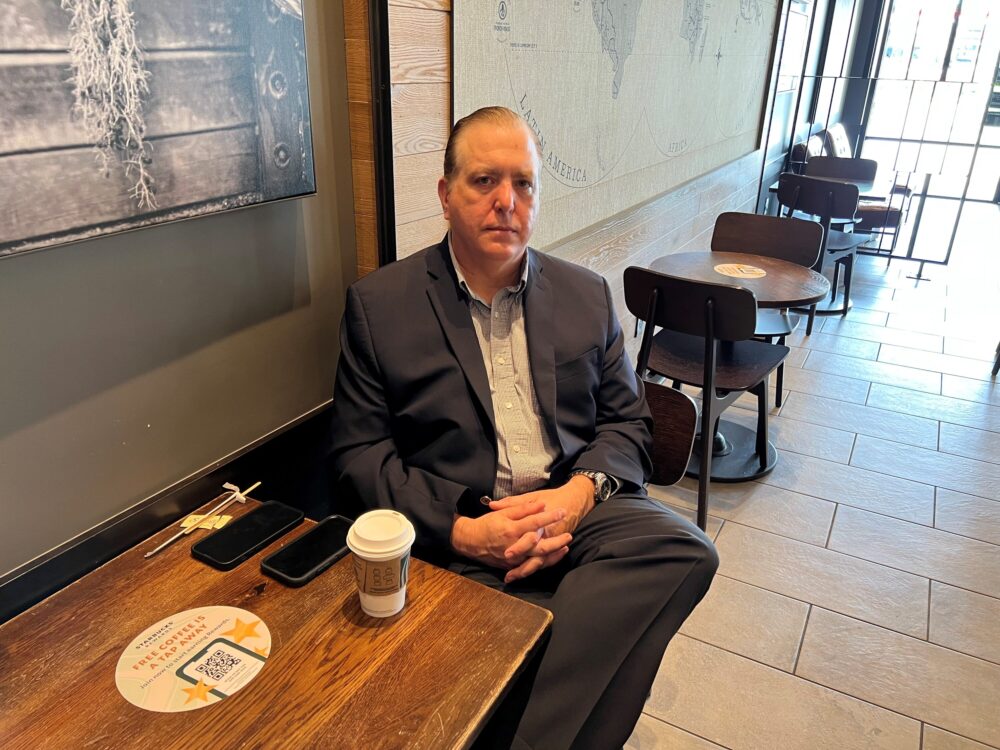 Multiple bills in the GOP-led Texas legislature are targeting how Harris County runs its elections, with the aim of protecting election integrity at the cost of local control. These follow the November 2022 midterm election, which saw paper ballot shortages and off-line voting machines at a small fraction of polling sites. We spent the past several months vetting Republicans' claims that the problems were deliberate in the largely Democratic county.
"We were going to run out sometime in the early afternoon"
Terry Wheeler said Election Day 2022 started out badly for him and only got worse. Wheeler was the Republican presiding judge at the Salyards Middle School polling site in Cypress, northwest of Houston. When he opened his location at 7 a.m., he said only half his machines were working. He said the rest came online about an hour later, but by then, the line had backed up and stayed that way.
"And around 9 o'clock in the morning," Wheeler said, "I started looking at how many of our ballots we were going through. And it was clear to me, if you just do simple math, that we were going to run out sometime in the early afternoon."
Wheeler called the Harris County Elections Administrator's office for more paper ballots and was told they'd be sent. But he says he waited hours with no response. He said he tried again a few hours later and demanded to speak to a supervisor. Wheeler said, after a long wait on hold, another call center worker – not a supervisor – came on and assured him ballots were on the way.
Around the same time, Neal Richard said he was coming to the same conclusion. Richard was the Republican presiding judge at the Brill Elementary School polling site in Klein, several miles to the east.
"I contacted them about 11:30-ish, to notify them again, 'Hey, where's my ballot paper? I'm going to run out of paper,'" Richard said. "At that point, they said, 'Well, we have someone coming around, you should get some paper soon.' I say, 'Well, can you expedite this?' They said, 'Absolutely, we'll make sure that they come out there and bring you some ballot paper.'" He said he continued to wait, as the line outside his door grew longer and his supplies of ballot paper shrank.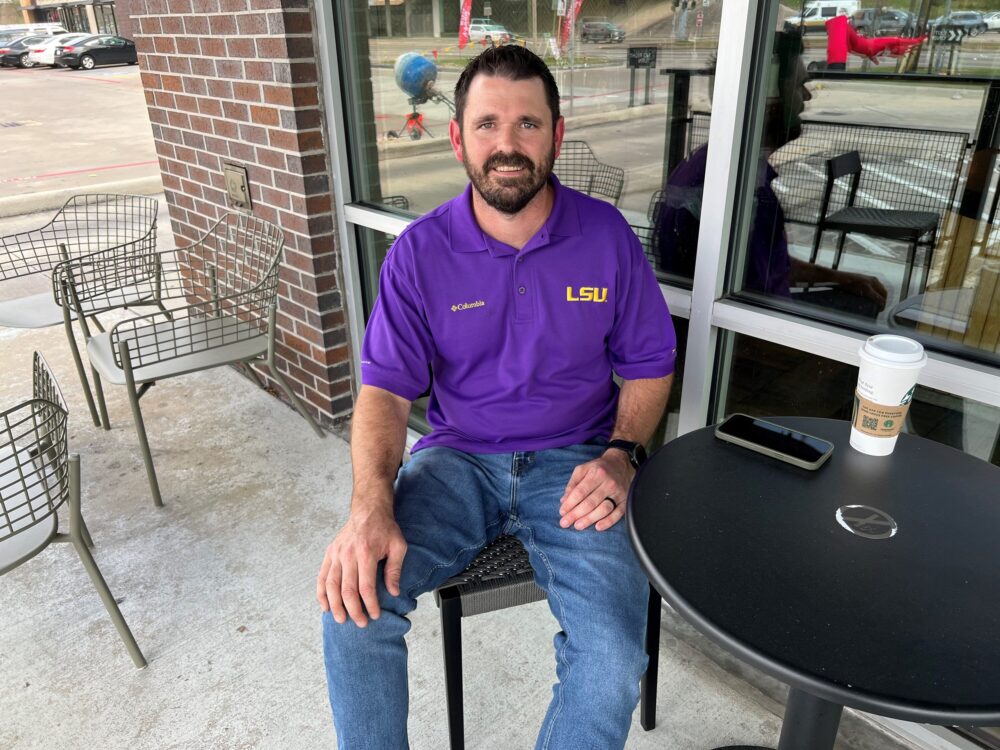 The problems were multiplying. At the Saint Mary's Episcopal Church polling site in Cypress, Republican presiding judge Cody McCubbin said he first realized he was in trouble around 2 p.m. He began calling to request more paper ballots hourly. At 3:30 p.m., he started communicating with several of his neighboring Republican election judges.
"Only the judges can use their phones during the election. So of course, I had my phone out, trying to contact other friends of mine," McCubbin said. "And we're all like sitting there going, 'Hey, guys, are you guys running out of paper?' And about two or three of all the guys, there's five of us, were all like, 'Yeah, we're running out of paper too.'"
Time gap overstated
Salyards Middle School ran out of paper ballots first, at 2 p.m. Terry Wheeler said his polls had to shut down for an hour and a half until county workers delivered new ballots. St. Mary's ran out shortly after 5 p.m. and Brill Elementary a few minutes later. Neal Richard estimated he was out of paper for about half an hour. Cody McCubbin said his polls were shut down for nearly 50 minutes before he was resupplied.
In each case, data from HarrisVotes.com show the men overstated the time gap. They show a time gap between votes at Salyards Middle School of 43 minutes, a gap at St. Mary's of 29 minutes, and a gap at Brill Elementary of 20 minutes.
Still, all three judges are convinced they were deliberately hung out to dry.
"I believe, absolutely believe, it was on purpose," Wheeler said. "I've never seen anything like this the way that they blew us off over the phone and refused to get us paper ballots."
"Right now, my opinion is that this was an intentional effort to prevent heavily populated Republican areas from getting the mass turnout on Election Day," Richard said.
McCubbin, who documented his multiple calls to the elections hotline, was even more blunt.
"They sat on their hands, and they let us burn," McCubbin said. "They did not make a good faith effort to try to get his paper for almost three hours. And they knew."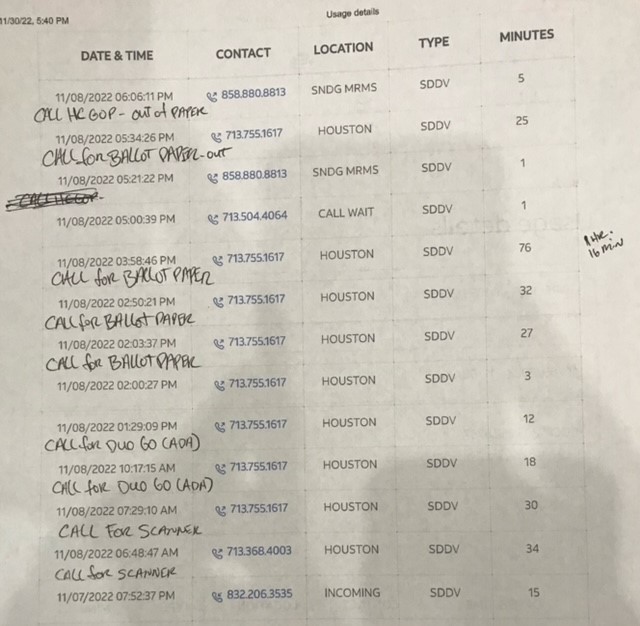 Wheeler, Richard, and McCubbin note that their polling centers are in cranberry red neighborhoods. They were three of a dozen election judges we interviewed for this investigation.
We put the experiences of the men, and the legal testimony of nearly two dozen other Republican judges, to Harris County Elections Administrator Clifford Tatum. In a written statement Tatum said, "It's difficult to label locations Republican or Democrat when there is countywide polling in place." Further, he said, 97% of the 782 countywide polling locations showed no significant slowdown in voting between 7 a.m. and 7 p.m.
Russ Long is another Republican election judge who says he was short on paper but never quite ran out. He too believes the ballot shortages were deliberate. He compared 117 voting centers we identified from Harris County Elections Administrator's records, which started the day with fewer paper ballots than people who ultimately voted. He found they lined up with sites that reliably vote Republican.
"The number becomes infinitesimally small that this was coincidence," Long said.
According to voting statistics from the Harris County Elections Administrator's Office, all voting centers received at least 600 paper ballots, and the plan was to replenish them throughout the day as needed.
We sent multiple public information requests to the administrator's office seeking information on its handling of paper ballots during the 2022 general election, as well as on election judges. The office blocked virtually all requests, appealing them to the state attorney general and citing an exemption to the Texas Public Information Act for requests related to ongoing litigation. A bill before the Texas Legislature (Senate Bill 1910) would end this exemption.
Multiple lawsuits call for new elections
The allegation that Republican-leaning election centers were deliberately undersupplied with paper ballots has sparked the multiple GOP bills in Austin targeting Harris County's elections practices and its elections administrator.
One bill (SB 823) would allow the secretary of state to fire a county elections administrator for cause. A second (SB 1750) would require Harris County to abolish its elections administrator's office and restore its functions to the county clerk and the county tax assessor-collector. A third (SB 1993) would allow the secretary of state to throw out the results of an election and order a new one in the event that 2% or more polling locations in a county of 1 million or more residents are denied paper ballots for more than an hour.
Meanwhile, the Harris County Republican Party is suing Elections Administrator Clifford Tatum and the county. Twenty-one unsuccessful Harris County GOP candidates have also filed lawsuits, demanding new elections.
The first case to come up for trial will be that of former Judge Erin Lunceford, who is suing Judge Tamika "Tami" Craft. The county's official tally from the November 2022 election found that Craft defeated Lunceford by 2,743 votes.
"When you add it all up, our proof is 2,862 people were turned away from the polls," said election lawyer Andy Taylor, who represents both Lunceford and the county GOP in their respective suits.
Taylor was referring to eyewitness statements from judges at 26 election centers who said they ran out of ballot paper and had to turn away voters. HarrisVotes.com showed gaps in timestamps at more than three-quarters of these sites that ranged from one as short as 20 minutes (Brill Middle School in Klein) to one that was more than four hours (Spring First Church in Spring). The average gap was just over an hour.
"Some of the polls ran out of paper at 7:00 pm and were not able to open again. So there was no gap in their check-in times," Taylor said. "Some judges knew that they were running out of paper and told people standing in the long lines that they did not have enough paper for everyone and people left."
According to Elections Administrator Tatum, the average distance between the 782 voting centers was about 1 mile. Taylor said there's no way to know these voters didn't vote elsewhere.
"And that is the entire reason why the judge cannot with confidence declare the true outcome of this race," Taylor said. "How can you possibly know if those voters were registered to vote? Were Republicans or Democrats? Went somewhere else to vote and were successful or gave up? How are we ever going to know? It's not even reasonable to expect that we could locate these 2,862 voters to ask them those questions because they were turned away. They didn't fill out any paperwork. They didn't sign a ledger. We have no idea what happened with these folks after they were turned away."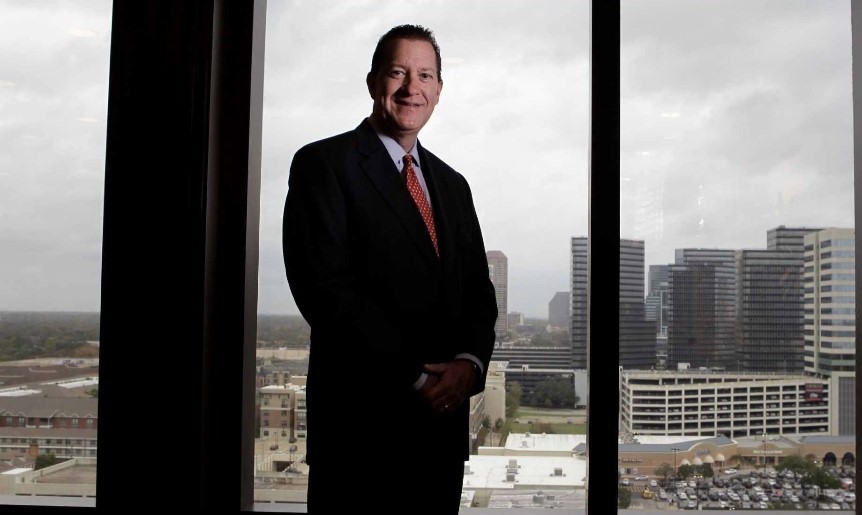 But Cris Feldman, a Democratic lawyer defending Judge Jason Cox against an election challenge by former Judge Robert Rory Olsen, said that's reason enough to doubt Republican charges.
"If you can't provide a single name of somebody that was turned away, then all this is is speculation," Feldman said. "Supposedly, there are thousands of people walking around Harris County that were denied the right to vote. There's been an active ad campaign to find these people, and they just don't exist."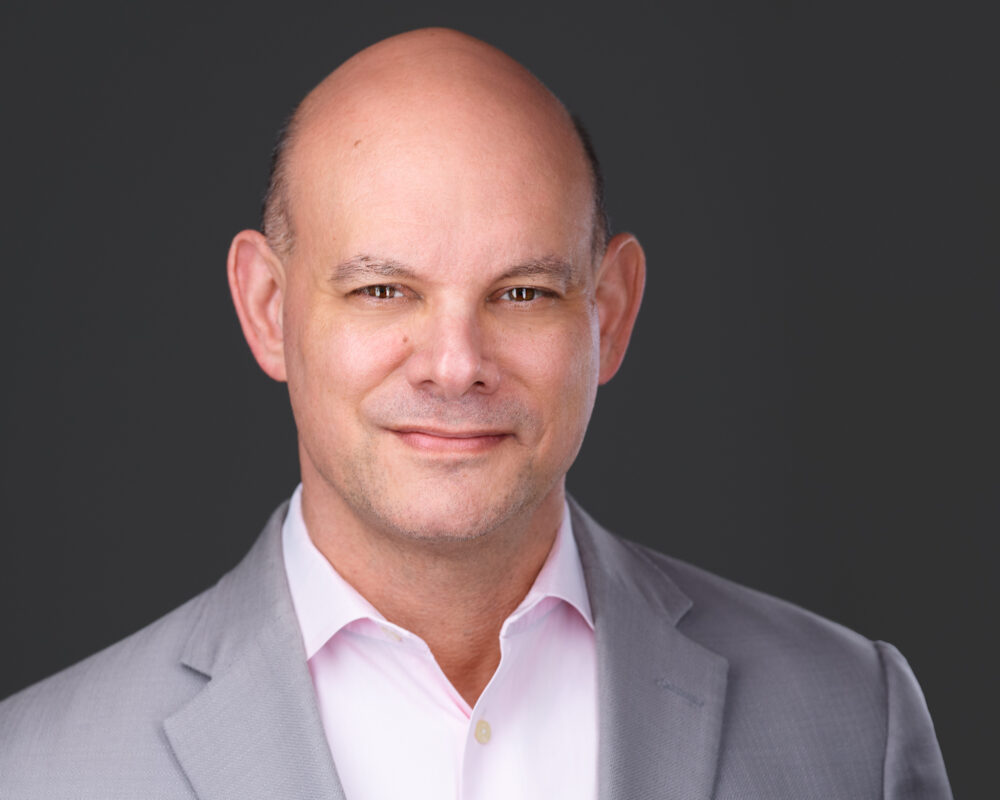 In 14 of the 21 contested elections, the declared winners and losers in the contested elections were separated by more than 20,000 votes. In all but three of the contested elections, the declared winners and losers were separated by more than 12,000 votes. Our reporting didn't turn up evidence that many people were turned away from the polls, which means it wouldn't have changed the outcome of most elections.
Problems other than paper ballots affected both parties
While Republicans focus on paper ballots, there have been other Election Day issues and under different leadership.
Isabel Longoria, Harris County's first appointed elections administrator, fell on her sword after long delays releasing the 2020 primary vote count and the belated discovery of 10,000 mail-in ballots. Those problems affected both parties, and Democrats joined Republicans in pushing for Longoria to go.
Going back earlier, an analysis by the Texas Civil Rights Project found a pattern of problems dating back to 2018 or before, when Republicans led the elections process under then-County Clerk Stan Stanart. They particularly affected voters from communities of color, who tend to vote Democratic.
Juan Cardoza-Oquendo, director of policy and elections for Houston in Action, says these problems were all present in November at voting centers where the majority of votes came from communities of color..
"What we saw was issues around voting locations opening late, Ripley House, of course, being the most notorious example, hours, opening hours after 7 a.m.," Cardoza-Oquendo said. He described widespread problems at other, similar voting sites as well. "Half or more than half of the machines weren't working. Locations where the ballot scanner wasn't working. And also lack of Spanish-speaking election workers who could inform and guide Spanish-speaking voters."
Harris County has been operating under a handicap. Unlike other large Texas counties like Dallas and Tarrant, it has no central tracking system for fixing problems at polling locations on Election Day. Elections Administrator Clifford Tatum says that's about to change.
"We're adding a software component that will allow us to track any particular call that comes in from a polling location to the time that ticket is open until the time that ticket is closed," Tatum said.
Tatum also said his office has digitized its inventory system, making it easier to track supplies and technicians and report delivery times for ballot paper to polls that may be running short.
"The goal is to have it deployed, the ticketing system deployed, for May, so that we can see it operate on a small scale, and then scale it up for November, then of course, rolling into the 2024 election cycle," Tatum said.