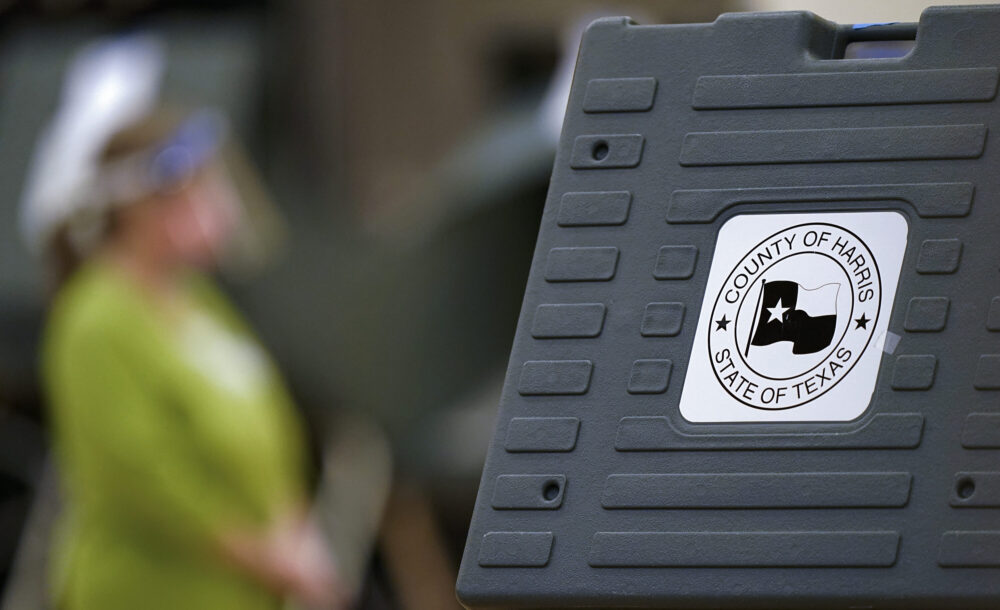 The Harris County government is looking within for assistance running future elections in the county, with the goal of cutting costs, streamlining the training and onboarding process for election workers and, at a time when elections administration has drawn intense scrutiny in the Houston area and beyond, to make voting and ballot counting smoother and more efficient.
The Harris County Commissioners Court voted 4-1 on Tuesday to authorize the development of a dedicated corps of existing county employees who would be readily available to assist with elections administration in Texas' largest county. Those employees would provide support for the Harris County Elections Administrator's Office and receive additional compensation for their election-related duties, according to a proposal made by County Administrator David Berry.
The idea is to build upon the County Election Worker Program that commissioners approved last April in which county employees volunteer to help with elections and are trained on an as-needed basis as determined by the elections office. There were 150 such employees utilized during the Nov. 8 midterm election, according to elections office spokesperson Nadia Hakim, who said they were compensated with an extra day off from their regular job responsibilities.
"A way to improve the program is to have a consistent group of county employees who can work elections, whether that is helping with machines and whether that is helping with processing, and finding a group of people we can rely on who are properly trained," Berry told county commissioners at Tuesday's meeting. "We think that will take paying them and compensating them appropriately."
Berry and Harris County Elections Administrator Clifford Tatum are tasked with working out the finer points of the plan and bringing them back to commissioners court, along with a cost analysis, for final approval. Berry said he hoped that could happen ahead of the next election in May.
In addition to the 150 county employees who worked the last election in November – when Harris County operated 782 polling places on Election Day – Hakim said the elections office deployed all of its 140 staffers and also brought in about 300 temporary workers hired through a staffing agency. Using temporary workers comes with a significant cost, she said, and the elections office has typically had to train new batches of temps and volunteers from the county ahead of each election cycle.
Creating a team of county employees with elections-related responsibilities formally added to their existing job duties – who would be trained to work elections ahead of time – figures to reduce the need for temporary workers and training sessions, Hakim said. It also would provide a greater sense of consistency and continuity in elections administration, for which Harris County has received sharp criticism in recent election cycles.
Texas lawmakers passed sweeping voting legislation in 2021 that eliminated some of the practices Harris County utilized in 2020, such as drive-through voting and 24-hour voting. Then Tatum and the elections office were sued by the Harris County Republican Party in the aftermath of the November 2022 election for allegedly violating state election laws and disenfranchising voters related to ballot paper shortages, voting machine malfunctions and inconsistent operating hours at various polling locations. And more than 20 losing Republican candidates filed election contests while citing some of the same issues in Harris County, which has leaned Democratic since the 2018 election.
"I think it will help make things more efficient, right, if you've got something a little more consistent," Hakim said. "You'll have people readily available, and they already work for the county, so they've gone through background checks. It's good government as well."
Tom Ramsey, the lone Republican on the commissioners court and the only commissioner to vote against the proposal, said Berry, Tatum and their offices should also consult the Harris County Clerk's Office and the Harris County Tax Assessor-Collector's Office for suggestions on how to better run elections in the county. Those offices, led by the elected officials, administered elections in the county before the election administrator's office was created in 2020.
Hakim said the county employees enlisted to help with elections would need to be registered voters in Harris County. And while the specifics of their elections-related duties have yet to be determined, she said they would not serve as polling place election judges or in similar capacities.
Hakim added that a good amount of physical labor is required to administer elections, such as transporting ballot boxes, equipment and machinery.
"Our county employees, they're a huge help on election night," she said. "We have conducted county-wide elections with just the people in our office and just our temporary workers that we bring on, and we get stretched thin. So to see Harris County and all the different agencies come together in such a meaningful way, it really shows us that we're here for our residents."