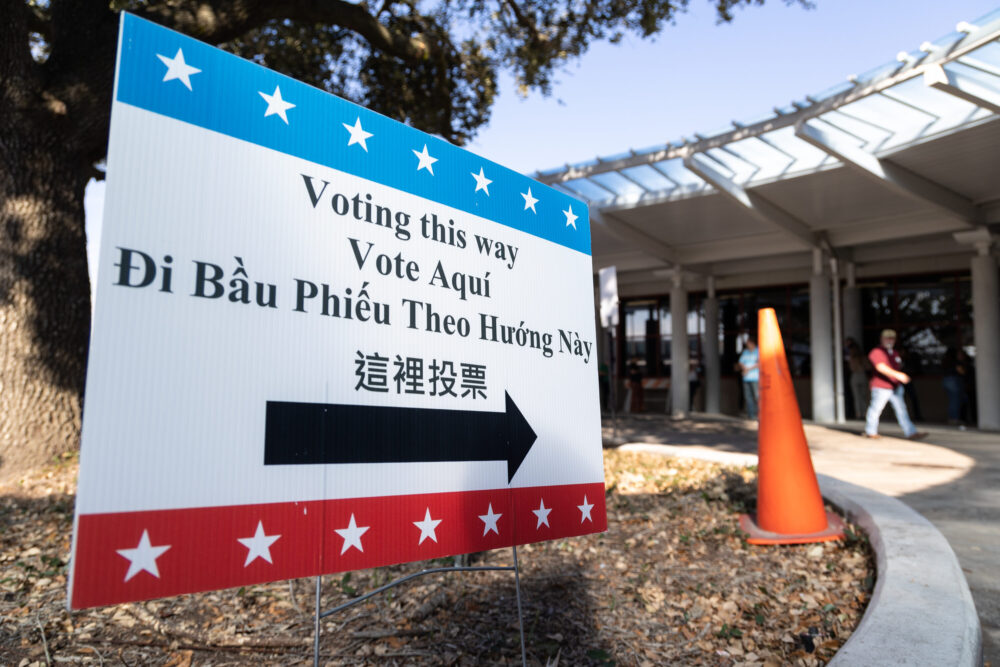 Did you have any difficulties voting on Election Day? If so, we'd like to hear from you. Contact Andrew Schneider at andrews@houstonpublicmedia.org or on Twitter at @aschneider_hpm.
Democrats swept the November elections in Harris County. Now, in the wake of problems at many polling locations on Election Day, nearly two dozen Republican candidates are seeking a do over. But a surge in registration and long-term demographic trends both gave the Democrats an edge that new elections likely would not erase.
Ask Cindy Siegel, chair of the Harris County Republican Party, why there was a blue wave last November, and she'll tell you the elections weren't fairly run. She points to problems on Election Day, notably shortages of paper ballots, which she claims hurt Republican voters.
"We believe that based upon voters being turned away in Republican stronghold areas like up in the north and northwest, that these areas that we know for a fact that those people would probably be voting for Republicans," Siegel said.
Twenty-one candidates are now challenging their losses — the 22nd, Mike May's challenge to State Rep. Jon Rosenthal, was dismissed by House Speaker Dade Phelan shortly after the start of the 88th Texas Legislature.
The highest profile challenge is that of Alexandra del Moral Mealer, who lost to incumbent County Judge Lina Hidalgo by just over 18,000 votes out of more than 1 million cast.
The following information comes from the Harris County Attorney's Office, based on information derived from the Harris County District Clerk's website:
| | | | | |
| --- | --- | --- | --- | --- |
| CONTESTANT | CONTESTEE | RACE | COURT FILED IN | CONTESTANT'S COUNSEL |
| Alexandra del Moral Mealer | Judge Lina Hidalgo | Harris County Judge | 113d | Elizabeth Alvarez |
| Mark Montgomery | Judge Kelley Andrews | Harris County Criminal Court at Law No. 6 | 133d | Elizabeth Alvarez |
| Matthew Dexter | Judge Genesis Draper | Harris County Criminal Court at Law No. 12 | 215 | Elizabeth Alvarez |
| Brian Staley | Judge Manpreet Monica Singh | Harris County Civil County Court at Law No. 4 | 55 | Elizabeth Alvarez |
| Mark Goldberg | Judge Erika Ramirez | Harris County Criminal Court at Law No. 8 | 113 | Elizabeth Alvarez |
| Bruce Bain | Judge Cory Sepolio | 269th District Court | 157 | Elizabeth Alvarez |
| Elizabeth Buss | David Fleischer | Harris County Criminal Court at Law No. 5 | 129 | Elizabeth Alvarez |
| Chris Daniel | Marilyn Burgess | Harris County District Clerk | 190 | Elizabeth Alvarez |
| Michelle Fraga | Christine Weems | 281st District Court | 333 | Elizabeth Alvarez |
| Tami Pierce | DaSean Jones | 180th District Court | 165 | pro se/Paul Simpson |
| Nile Copeland | Judge Latosha Lewis Payne | 55th District Court of Harris County | 270 | Elizabeth Alvarez |
| Mike May | Representative Jon Rosenthal | State Representative District 135 | State House | pro se (DISMISSED) |
| Erin Lunceford | Judge Tamika Craft | 189th District Court | 164 | Andy Taylor |
| Rory R. Olsen | Jason Cox | Probate Court No. 3 | 165 | Jared Woodfill |
| James Lombardino | Audrie Lawton-Evans | Harris County Civil Court at Law No. 1 | 295 | Jared Woodfill |
| Sartaj Bal | Judge Toria J. Finch | Harris County Criminal Court at law No. 9 | 334 | Elizabeth Alvarez |
| Will Archer | James Horwitz | Harris County Probate Court No. 4 | 80th | Elizabeth Alvarez |
| Kyle Scott | Carla Wyatt | Harris County Treasurer | 281 | Elizabeth Alvarez |
| Dan Spjut | Juanita Jackson | Criminal Court at Law No. 10 | 295 | Elizabeth Alvarez |
| Aaron Adams | LaShawn Williams | Civil Court at Law No. 3 | 269 | Elizabeth Alvarez |
| Dan Simmons | Sedrick Walker | Criminal Court at Law No. 11 | 165 | Elizabeth Alvarez |
| Stan Stanart | Teneshia Hudspeth | County Clerk | 270 | Elizabeth Alvarez |
"There were many of them that were very within two points that we lost by, particularly with the judicial candidates. And what we're hoping is that the courts will allow for a new election in those races," Siegel said.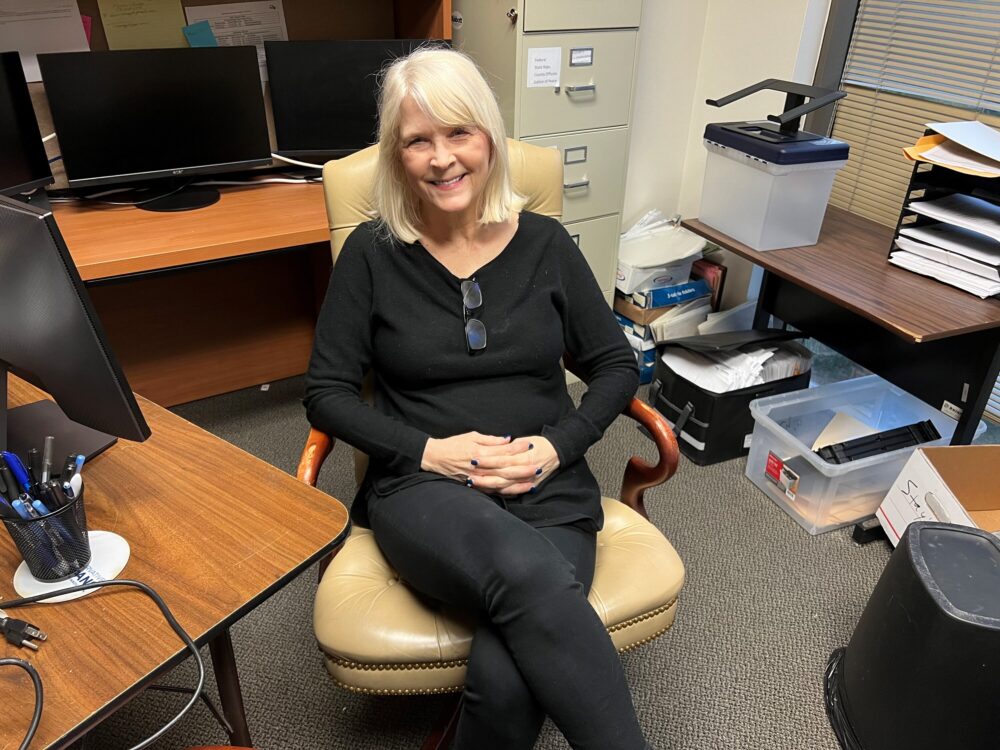 The individual election challenges come against the backdrop of a larger lawsuit the county Republican Party has filed against Elections Administrator Clifford Tatum. The suit alleges that, at a minimum, Tatum badly mismanaged the election, and at worst, he deliberately attempted to fix the election in Democrats' favor.
"As it relates to our litigation," Siegel said, "the remedy that I think is the best remedy would be that there would be independent oversight over the Harris County elections, either through the courts or through the Secretary of State's office, until this mess in terms of how they continually mess up running the elections (is resolved)."
Tatum has admitted a number of problems in the management of the last Election Day. His office released a post-elections assessment just before the new year began, saying its investigation into how many voters were turned away due to paper ballot shortages was inconclusive.
Would new elections make a difference? Odus Evbagharu, chair of the Harris County Democratic Party, doesn't think so. He said his side won not because of any political fix but because they held together a broad coalition of Latino voters, African American voters, Asian American and Pacific Islander voters, LGBTQIA voters, and organized labor.
"We're up against a bunch of sore losers," Evbagharu said. "They spent $25 million, and some folks say that it's higher than that, to defeat us here in Harris County. And when you have donors and investors who have spent that much money and their return on investment didn't really show anything, I'm sure you've got to account for something, and the easy thing for them to do, because it's been a part of their playbook since a certain person was president, is to feed into the Big Lie and feed into election denialism."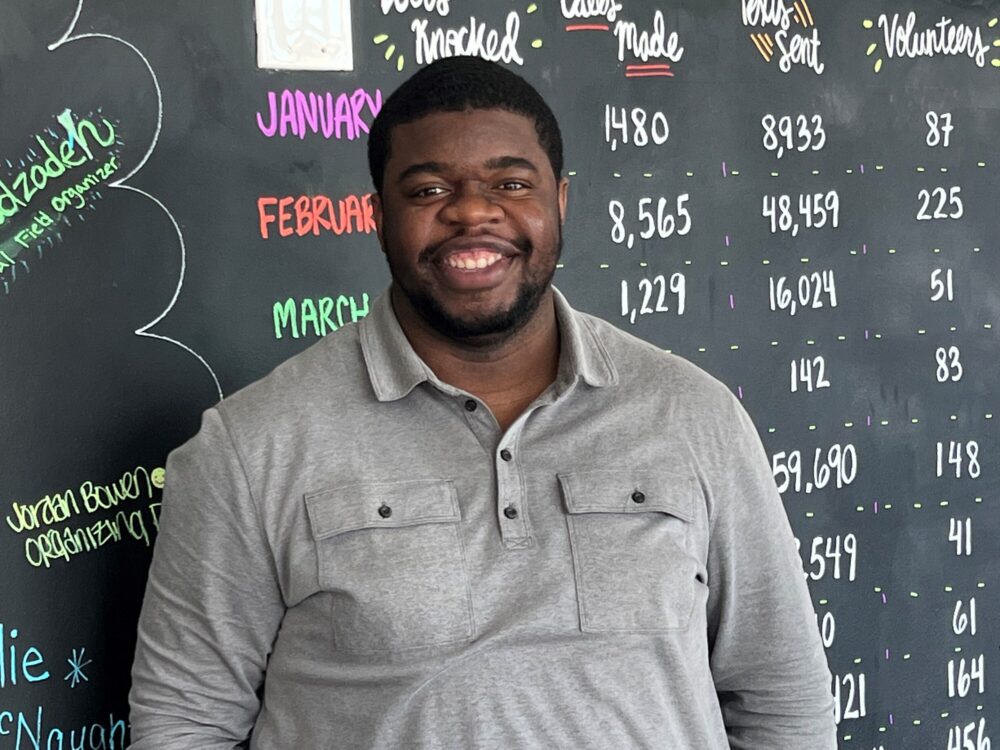 Evbagharu believes Democratic voters turned out in reaction to the Dobbs decision overturning Roe v. Wade, as well as to ongoing threats to democracy. "Nobody wants our rights taken away," he said. "No one wants to see our freedom to vote taken away."
Rice University political scientist Bob Stein says that was clear last year with a big increase in voter registration.
"We've been seeing that steady increase from 2 million back in 2018, to...almost 2.6 million registered voters." Stein said. "But that increase was disproportionately among Democratic voters."
Stein said that even though voter turnout lagged among Black and Hispanic voters and Mealer ran a stronger campaign than Hidalgo, it wasn't enough to push Republicans over the top.
"It tells you that it's still a very much Democratic county," Stein said. "In a very bad year for Democrats, which should have been a bad year here in Harris County and throughout the nation, Democrats did pretty well, in large part, I suspect, in Harris County, because they started with a big advantage. That advantage got eroded, but not removed."
Hector De Leon is a former elections official and a longtime local elections analyst. He said the key lies in what the U.S. Census Bureau and its American Community Survey measure as the Citizen Voting Age Population. That's the number of residents who are both native or naturalized U.S. citizens and are 18 years of age or over, whether registered to vote or not. De Leon said that, over the past 20 years, whites have become the minority of the Citizen Voting Age Population in Harris County.
"When you're a party, whether you're Republican or Democrat, and you're dependent upon one group to pull you through in elections, when that changes, it's logical, you're going to lose electoral strength," De Leon said.
The Republican Party was able to pick up some of the Hispanic vote with Mealer leading the ticket, but its support was largely white. By contrast, Democrats got more than 60% of the Hispanic vote.
"And that's why the sitting judge probably was able to keep her seat, because that combined with the white progressive vote, and obviously the African American vote, that was enough to pull her through," De Leon said.
De Leon compares Democrats' advantage in Harris County to Republicans' advantage statewide. "It's sort of like the Democrats spending millions and millions of dollars to try to win Texas. It's not going to happen anytime soon," he said.
De Leon doesn't rule out Republicans making a comeback in Harris County at some point in the future, but he said it's going to take a concerted effort to win over Hispanic voters that relies on more than just a Latina candidate at the top of the ticket.
"Hispanics are not necessarily liberal, and they're not necessarily extreme conservatives. They're somewhere in the middle," De Leon said. "The light at the end of the tunnel is that you can be competitive you're a good candidate, and you speak directly to the Hispanic community, and you actually ask them for their vote, because for a long time, I believe that people sort of through third person or through a third party, they tried to appeal (to) the Hispanic vote, and it just doesn't work."