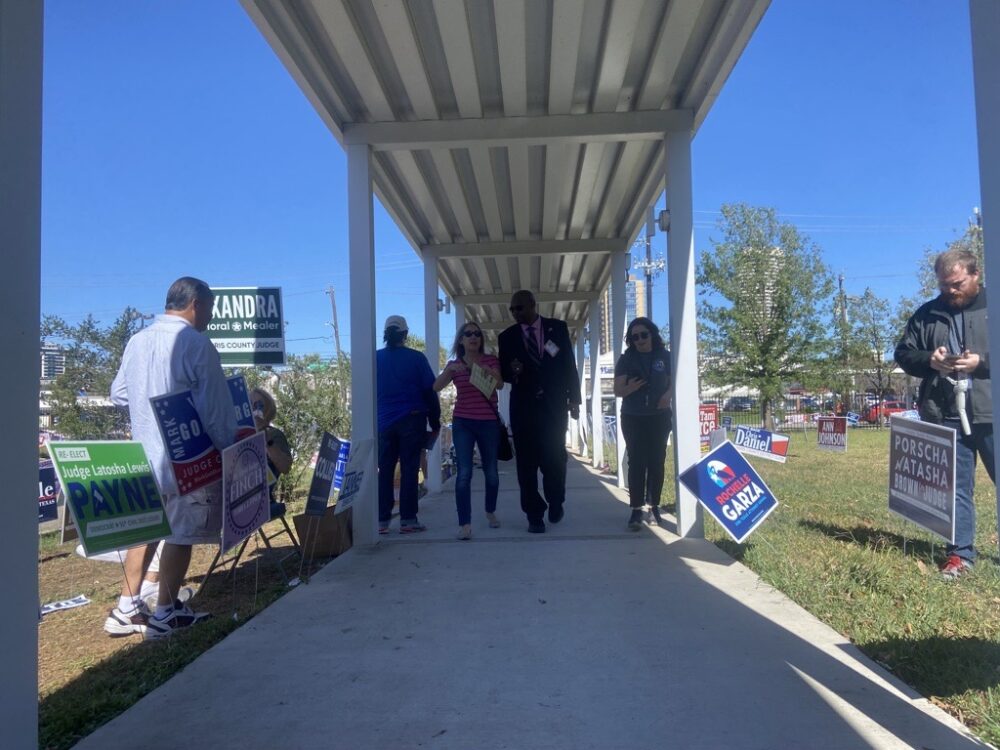 A Republican judicial candidate who lost by a quarter of a percentage point in the Nov. 8 election has filed a lawsuit contesting the results, marking the second time in about a week that a losing Republican challenged the validity of Harris County's election results and asked for a new vote to be conducted.
Former judge Erin Lunceford, who lost to Democrat Tamika Craft by 2,743 votes in a 189th District Court race in which more than 1 million ballots were cast, filed her petition Wednesday in Harris County court. She alleges that some votes were duplicated, thousands of registered voters were disenfranchised because of Election Day problems such as ballot paper shortages, voting machine malfunctions and administrative mistakes and that it is "not possible to ascertain the true outcome" of the contest because of how the election was operated by Harris County Elections Administrator Clifford Tatum, citing 19 examples in which Tatum is alleged to have violated Texas election laws.
"I am doing this ... so that we can all be confident and our children can be confident that our votes matter," Lunceford said during a Wednesday news conference announcing the contest. "It doesn't matter what happens in the end. It matters that our votes are counted appropriately and the votes that shouldn't be counted are not counted."
Another Houston-area Republican, Mike May, filed an election contest Nov. 29 disputing his loss to incumbent Democrat Jon Rosenthal in the race for the District 135 seat in the Texas House of Representatives. May, who lost by more than 15 percentage points in a race in which more than 40,000 votes were cast, said ballot paper shortages at multiple voting locations in Harris County caused some eligible voters to leave the polls without submitting their ballots.
That contest will be handled by state legislators, whereas Lunceford's challenge will be heard by a yet-to-be-determined judge outside of Harris County.
Craft did not immediately respond to messages left Thursday with her campaign.
Odus Evbagharu, the chair of the Harris County Democratic Party, described both elections contests as "fraudulent" and politically motivated. He also said he expects more challenges to follow from Republicans who lost in a county that has largely preferred Democrats in recent election cycles.
Cindy Seigel, the chair of the Harris County Republican Party, said "several" other candidates are considering filing election contests.
"We acknowledge that there were issues on Election Day," Evbagharu said. "But enough to contest an election? That's not true."
Rice University political science professor Bob Stein said he also expects more election contests from Republicans in Harris County and said he is somewhat surprised there have not already been more after 20 countywide judicial races were decided by fewer than 2 percentage points, with Democrats winning 16 of those seats. Stein said he suspects some of those losing candidates might not want to be involved in litigation.
Stein also said he's skeptical of some of the claims made in Lunceford's challenge and how much of an impact the Election Day problems had on the outcome of her race.
"I don't think they have any intention of winning the lawsuit," he said. "I think what they're looking to do is make a case against the county and its elections administrator."
Tatum and the county were named as defendants in a Nov. 14 lawsuit filed by the Harris County Republican Party, which alleged he violated election laws and "illegally disenfranchised tens of thousands" of registered voters. But that lawsuit seeks only injunctive relief and does not seek to overturn the outcome of any races.
Andy Taylor, an attorney for the Harris County GOP who also is representing Lunceford in her challenge, said during the Wednesday news conference that Tatum's "day of reckoning has just started." Taylor said he had identified 700 mail-in ballots that were improperly processed, 16 voters who submitted two ballots and 25 polling locations that ran out of ballot paper on Election Day – preventing 3,135 voters from casting ballots – with 80 percent of those polling places in precincts that historically have voted Republican.
"Why is it that 80 percent of them are Republican neighborhoods and only 20 percent Democratic neighborhoods if the failure to supply paper was truly random?" he said. "We're going to get to the bottom of that answer as we go through this process."
Harris County Attorney Christian Menefee, who serves as the legal representation for Tatum and the county, said he expects to play a significant role in Lunceford's election contest because her allegations center around actions by the elections administrator and not by Craft, who is not accused of any wrongdoing. Menefee, a Democrat, said it's part of a concerted effort that has escalated over time to undermine locally run elections in Texas' largest county and sow doubt in the validity of the results.
Menefee also echoed Evbagharu's sentiment that, while there were mistakes made on Election Day, they did not rise to the level of impacting the outcome of any races. Along those lines, Menefee called it an "extraordinary ask to be made of a court" to invalidate the million-plus votes that were cast for either Lunceford or Craft.
"We're confident that we'll be able to show that at least some of the allegations they're making are just untrue, based on their limited understanding of elections practices," Menefee said. "I would be shocked if a court threw out an election where more than a million votes were cast. But we'll see what happens."