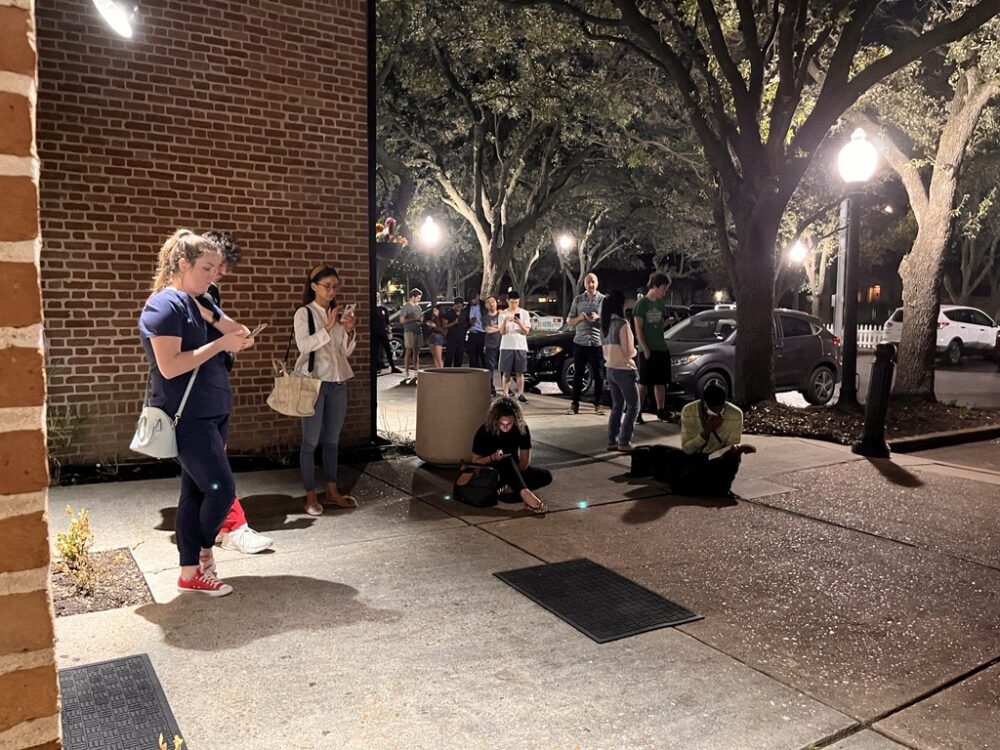 Texas Gov. Greg Abbott on Monday called for state authorities to investigate the administration of the midterm election in Harris County, where multiple polling locations opened late on Election Day and some ran out of ballot paper, causing delays for voters and prompting a judge to keep voting centers open later than planned.
Abbott released a statement on Twitter saying he was asking the Texas Rangers, the Texas Secretary of State and Texas Attorney General's Office to "initiate investigations into allegations of improprieties" into how the Nov. 8 election was conducted in Harris County, which includes Houston and is the largest county in the state. The governor said voters were "frustrated by confusion and delays" related to the aforementioned issues along with staffing shortages at some polling places and, in at least one case, missing keys to voting machines that caused a voting center to open more than four hours late.
Abbott, a Republican who lost Harris County but earned re-election statewide in his race against Democratic challenger Beto O'Rourke, alleged in his statement that there was "insufficient paper ballots in Republican precincts."
"The allegations of election improprieties in our state's largest county may result from anything ranging from malfeasance to blatant criminal conduct," Abbott said. "Voters in Harris County deserve to know what happened. Integrity in the election process is essential. To achieve that standard, a thorough investigation is warranted."
Also Monday, the Harris County Republican Party filed a lawsuit against Harris County Elections Administrator Clifford Tatum and the county itself, alleging that Tatum violated Texas election laws by prematurely releasing early voting results on election night, by instructing poll workers to issue second ballots to voters who could not properly scan their original ballots and by pressuring election judges to allow results to be picked up from polling places by county personnel, among other violations. The lawsuit claims Harris County's election was run in a way that "illegally disenfranchised tens of thousands of registered voters from casting their votes," although it seeks only injunctive relief from a state district court and does not seek to overturn the results of any races.
Tatum said in a statement Monday that his office is "fully committed to transparency regarding the processes and procedures implemented" during the midterm. He also said Harris County already has been selected to participate in the Secretary of State's audit of 2022 elections and has been in communication about that with the Secretary of State's office, which oversees elections in Texas.
Harris County was one of four Texas counties selected to be audited over the 2020 general election.
"The office is currently reviewing issues and claims made about Election Day and will include these findings in a post-elections report to be shared promptly with the Harris County Elections Commission and the County Commissioner Court," Tatum said.
The office of Harris County Judge Lina Hidalgo, a Democrat who won re-election against Republican challenger Alexandra del Moral Mealer, did not respond to an email and voicemail seeking comment.
Abbott's call for an investigation drew criticism from Harris County Precinct 1 Commissioner Rodney Ellis, a Democrat who was not on the ballot this year.
"Taking a page from (Donald) Trump's 2020 election subversion playbook, Governor Abbott and election deniers across Texas have laid the groundwork to cast doubt on Harris County's midterm elections for over a year," Ellis said in a statement.
Odus Evbagharu, the chair of the Harris County Democratic Party, called Abbott's announcement "political theater." He noted that the Secretary of State's office announced in the days leading up to the start of early voting that it and the attorney general's office would dispatch election monitors to Harris County.
Elected officials in Houston and Harris County, along with voting rights advocacy groups, subsequently requested federal elections monitors from the U.S. Department of Justice, which had a presence in the county on Election Day.
"It's almost laughable that Abbott has demanded this investigation since he actually sent a team to oversee the Harris County elections last week," Evbagharu said in a statement. "Was Abbott's team ineffective? Will Abbott be investigating himself? Our biggest concern about this is that Abbott and other (Republican) state leaders are trying to criminalize election workers."
More than 1 million voters cast midterm ballots in Harris County, which operated 99 polling places during early voting and 782 locations on Election Day. In a news conference last Thursday, Tatum acknowledged the paper shortages and delayed openings on Election Day and said those issues would be addressed once counting was complete.
In response to an Election Day lawsuit filed against Harris County by the Texas Organizing Project, which asked for an extra hour of voting because multiple locations had opened after the scheduled 7 a.m. start time, Judge Dawn Rogers ruled that polls could remain open an hour longer than scheduled, until 8 p.m. Her ruling was subsequently challenged before the Texas Supreme Court, which determined the later-submitted provisional ballots were to be kept separate from the overall tally while the legal process plays out.