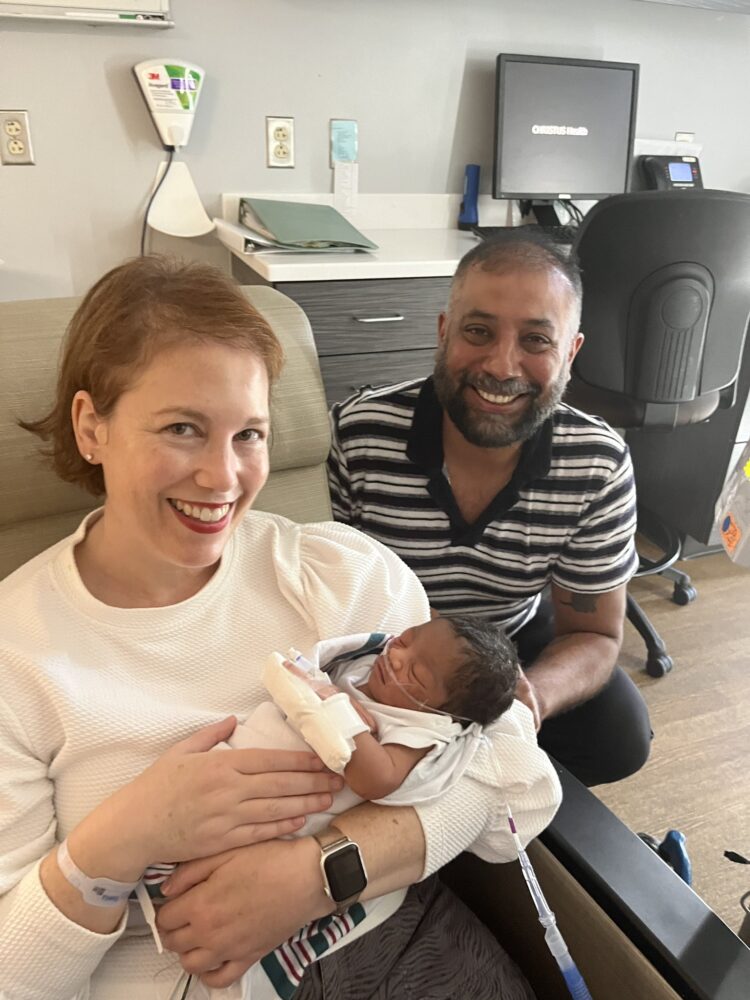 Voting is important to Judge Sarah Beth Landau, and so is her growing family.
So with an extended date in Louisiana to meet her adopted baby boy, and the Nov. 8 midterm election fast approaching, the Houston-based judge for Texas' First Court of Appeals applied to vote by mail for the first time since becoming a Texas voter more than two decades ago.
Landau said she and her husband, Humr Alam, had to leave for Louisiana before the start of early voting Oct. 24, which is the day their son was born. And because complying with interstate adoption laws can be a weekslong process, the family might not be able to return to Houston before Election Day.
Voting in person in Harris County, therefore, is not a feasible option for them.
"It would be a very bad look for the first public defender (elected to) the court to be indicted for federal kidnapping," she said of returning to Houston to vote before the adoption process is complete. "I used to be a federal public defender and used to defend those cases. I'm very aware of what they look like."
As Landau and Alam get to know their son and wait for the states of Texas and Louisiana to sign off on their open adoption, they also are learning that voting by mail in their home state and home county – where there are more than 2.5 million registered voters – can be a complex, drawn-out and even nerve-wracking process.
Landau, a Democrat who was elected in 2018 and is not on the ballot this fall, said she dropped off their mail-ballot applications in person on the morning of Oct. 21 – walking across Fannin Street from her office at the Harris County Courthouse to the Harris County Elections Administrator's Office – and was told at the time by an elections clerk the requested ballots would be mailed out within a couple days. But as of Tuesday, more than a week later, Landau said they had not been delivered to their requested location in Louisiana.
Landau said she called the county elections office twice Monday to follow up and was told it had no record of her dropped-off mail-ballot applications and that she and her husband would not be able to cast absentee ballots because the Oct. 28 application deadline had passed. She later lamented the experience with a post on Twitter, saying she was "completely heartbroken that Harris County lost our applications to vote by mail and I have no recourse."
But on Tuesday, after an inquiry into the matter by Houston Public Media, Landau reconnected with the county elections office and was told the applications were located, processed on Monday and the requested mail ballots were en route to Louisiana.
"I'm just incredibly grateful that we might be on the way to being able to vote," Landau said Tuesday. "There's a lot at stake on the ballot, really every (election) season, but maybe this season more than usual. We need to make our voices heard."
Leah Shah, a spokesperson for the Harris County elections office, said she could not publicly discuss information specific to a voter and did not mention Landau by name when responding to an inquiry from Houston Public Media, adding the office had reviewed its voter files and "there shouldn't be an issue."
The county had mailed out more than 78,000 ballots and received more than 44,000 completed ballots as of Monday, according to information released by the elections office. More than 451,000 total votes had been cast in Harris County during early voting, which ends Friday.
"As long as you sent in your mail ballot application and it was postmarked on time (by Oct. 28), we are still processing them," Shah said. "So there shouldn't be any concerns."
Shah also said she wasn't aware of any other instances in Harris County, which is the largest county in Texas and includes most of Houston, in which mail-ballot applications or submitted ballots had been lost or temporarily misplaced. She said the elections office keeps a "close watch" on the number of applications and ballots that are sent out and returned, adding that mail voters can call 713-755-6965 for assistance or utilize the mail ballot tracking feature at harrisvotes.com.
Landau said she's cautiously optimistic the ballots requested by her and her husband will arrive soon at the office of their adoption attorney in West Monroe, Louisiana, which is about a 90-minute drive from where they are staying with their son. As long as they are delivered before the end of this week, Landau said she and her husband should be able to retrieve them, complete them and put them back in the mail before the Nov. 8 deadline.
She also said there is a chance the adoption will be complete and the family can return to Houston before Election Day, which would allow Landau and Alam to vote in person.
But the fact it's taken longer than expected for their mail-ballot applications to be processed, and Landau was told Monday the county had no record of the applications, makes her wonder if other voters are having similar challenges. Even though Landau is caring for a newborn while working remotely – the baby arrived three weeks earlier than expected and her planned leave hasn't yet started – she acknowledged that many voters might not have as much time or resources to devote to casting a ballot.
"If I'm having this issue and I have the leisure to sit on hold for 15 minutes and walk my ballot application to the main office, what is it like for someone who doesn't have that?" she said. "I think at all levels of government we need to make this easier – federal, state, county."
While saying she likely won't try to vote by mail again because of her experience, Landau said she does not want it to discourage others from voting, including through an absentee ballot. She said she's hopeful her and her husband will be able to vote from afar as planned.
And if it works out that way, it'll make for a happy ending she can one day share with her son.
"The week he was born, all this happened," Landau said. "If the end of this story is we get to vote, I am completely unmitigatedly delighted."