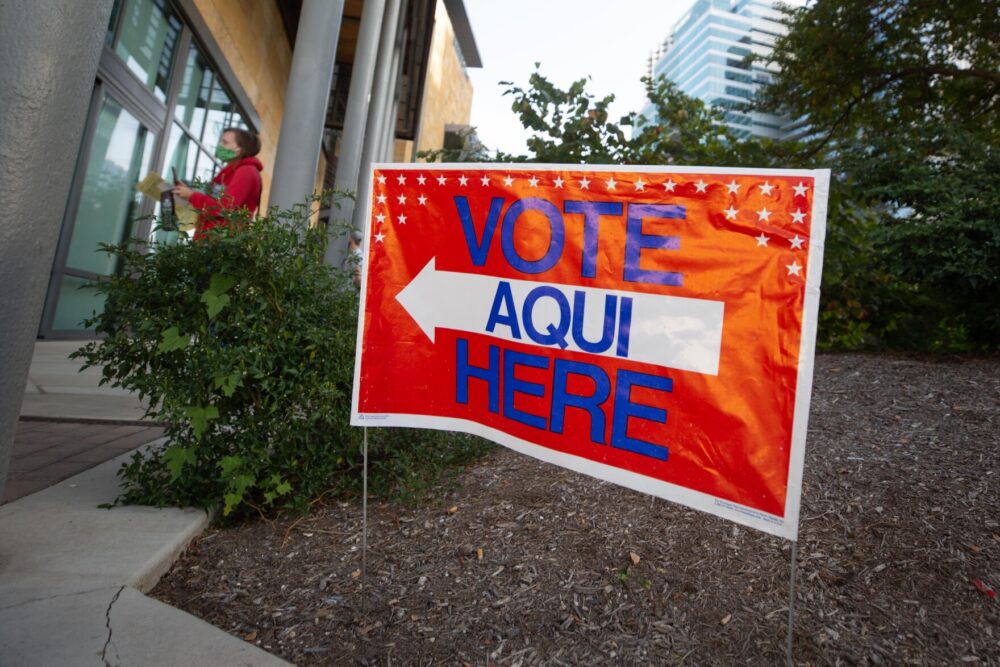 Early voting turnout in Harris County has decreased compared to the record-setting midterm election in 2018, and higher percentages of older voters are going to the polls so far this year, according to Rice University political science professor Bob Stein.
He said the trends could be considered an early win for Republicans as they try to gain political ground in what has become a Democratic stronghold.
In-person early voting across the county, which includes most of Houston, is down 17.5 percent compared to 2018 through the first seven days of early voting, according to data released by the Harris County Elections Administrator's Office. That's a favorable sign for Republicans, according to Stein, and so is the fact that Harris County's early voters are skewing toward older age groups.
"Higher turnout generally is an advantage for Democrats, in part because their vote is not a frequent vote but a younger vote," Stein said. "As a general rule, nationally and in Harris County, an older voter, particularly an older Anglo voter – which we know by virtue of where these people live – is a Republican voter. That's what we're seeing in the early vote."
Hector de Leon, another longtime local elections analyst, said he also has noticed increased turnout among older voters and a decline among younger groups, at least through the early stages of early voting. After last Friday, the fifth day of early voting, he said every age group above 50 had seen an increase in turnout compared to 2018, while decreases in every age group under 50.
Overall, Harris County saw a total of 354,100 in-person early voters through Sunday, down from 429,009 through the first seven days of early voting in 2018. More than 52 percent of Harris County's registered voters ended up casting ballots in 2018, when turnout was the highest it had ever been for a midterm in both Harris County and nationally.
"Any time the younger groups go down, the older groups come up. They're more consistent voters," de Leon said. "That's what you're seeing right now. Usually, when that happens, it has an impact on the election turnout and election outcomes."
The race at the top of the ballot features Texas Gov. Greg Abbott against Democratic challenger Beto O'Rourke, who was a key driver behind the surge in turnout in 2018 – when he lost to Sen. Ted Cruz but helped boost the Democratic ticket in Harris County.
This year, the biggest race locally is between Harris County Judge Lina Hidalgo and Republican challenger Alexandra del Moral Mealer.
Stein said he's noticed a shift within the older voting demographic as it pertains to voting by mail, which in Texas is an option available only to those who are at least 65 years old, are disabled, are pregnant or recently gave birth, are jailed but otherwise eligible to vote or who are out of the county during early voting and election day. About 63 percent of Harris County residents who voted by mail in 2018 and 2020 have instead gone to the polls during early voting this year, which equates to a lack of confidence in the practice, according to Stein.
The 2021 voting law passed by Texas legislators, which created expanded requirements for voting by mail and led to the increased rejection of mail ballots across the state during the March primary, is among the factors, according to Stein. He also said criticisms of voting by mail expressed by former President Donald Trump have likely had an impact, along with voters being less concerned about COVID-19 and therefore more willing to cast ballots in person.
"If the people who are voting by mail are now voting early, you would ask, 'Then shouldn't we see a higher share of votes cast in person early than we did in 2018?' " Stein said. "The answer is yes, which then hints at the possibility that we'll have a lower turnout than we did in 2018."
Early voting continues through Friday. Election Day is Tuesday, Nov. 8.