Ballots came through the mail. They were cast from cars, inside drive-thru voting stations. Some ballots were cast in the middle of the night.
Now early voting is complete, and ahead of Election Day, voters have already cast a record 1,435,221 ballots during its historic early voting period in Harris County, including 170,410 mail ballots, out of roughly 2.5 million registered voters in the county. Harris County managed to shatter its total 2016 voter turnout with one day left of early voting, despite a chaotic barrage of legal challenges that threatened to change the rules while voting was already underway.
In 2016, 43.73% of Harris County's registered voters cast ballots during the early voting period. This year, the total is already above 57%.
That's the result of unprecedented investment on the election this year, according to Harris County Clerk Chris Hollins. The county spent more than $30 million on things like increased voting locations and poll workers, COVID-19 precautions, and mail-in balloting.
"From the opportunity to vote around the clock, to the opportunity to vote from the safety and comfort of your vehicle, we have brought Harris County to the leading edge of voter access in this country," Hollins said.
The Harris County Clerk's office sent out 250,000 mail ballots to voters in this election, and more than half had not been returned yet by the end of early voting.
A little more than 127,000 voters cast ballots using the county's new drive-thru voting program, which was offered as an option for Harris County residents to vote in-person while minimizing the risk of spreading COVID-19. Those ballots are now disputed in a federal lawsuit with a hearing set for Monday morning.
Harris County wasn't alone: 64% of Montgomery County's 370,060 registered voters cast early ballots this year, up from 50% in 2016. After long lines during the first week of early voting, Montgomery County commissioners voted to open additional early voting locations at the Spring Creek Greenway Nature Center and the East Montgomery County Courthouse.
In Fort Bend County, 67.9% of 482,368 registered voters cast early votes, up from 52.86% in 2016. The county ended up with one of the highest turnout rates in the state, despite a rocky start with system-wide software problems on the first day of voting.
"We are seeing enormous enthusiasm to participate in this election, and Fort Bend has been no exception," said Fort Bend County Judge KP George.
But in the state's largest county, those efforts to expand ballot access led to voter engagement never before seen in history.
On Oct. 29, with several polling places open 24 hours, more than 10,000 Harris County voters cast ballots overnight. It was a historic experience — the first time in Texas that a county has offered all-night access for voters. The goal was to give shift workers a chance to vote, but other Harris County voters took advantage of the new opportunity, too. At NRG Park, the Suffers and Bun B performed at a drive-in concert to encourage to cast ballots on the one night the polls didn't close.
"It's almost one o'clock in the morning and I just voted," Kimberly Mayberry said after casting her ballot at the NRG Park location. "It's awesome, all this joy. Everybody's excited. Everybody's taking pictures. I love it."
Early voting had been underway for more than two weeks already, but Mayberry — who was at the polls with her family and godparents — decided to wait for this night in particular.
"I'm here at midnight because this is a historical moment for Harris County," Mayberry said. "I'm just really excited. I feel like I had a party at the polls, but actually made a difference and made my voice heard."
Listen | Houston voters stayed up late to cast ballots after midnight:
Though Harris County voting machines are programmed to shut down at midnight as a security measure, there were no reported technical difficulties with 24 hour voting. The voting line paused at around 11:45pm and then resumed moments after midnight as planned, a poll worker at the NRG Park location said.
People got into the voting spirit any way they could. A woman carried a disco ball to cast her ballot. One couple opted for comfort, wearing their bathrobes as they waited in line.
Jordan Thomas, another voter at NRG Park, biked with friends to join the line of midnight voters. He said he typically votes on the first day of early voting, but this year he decided to wait.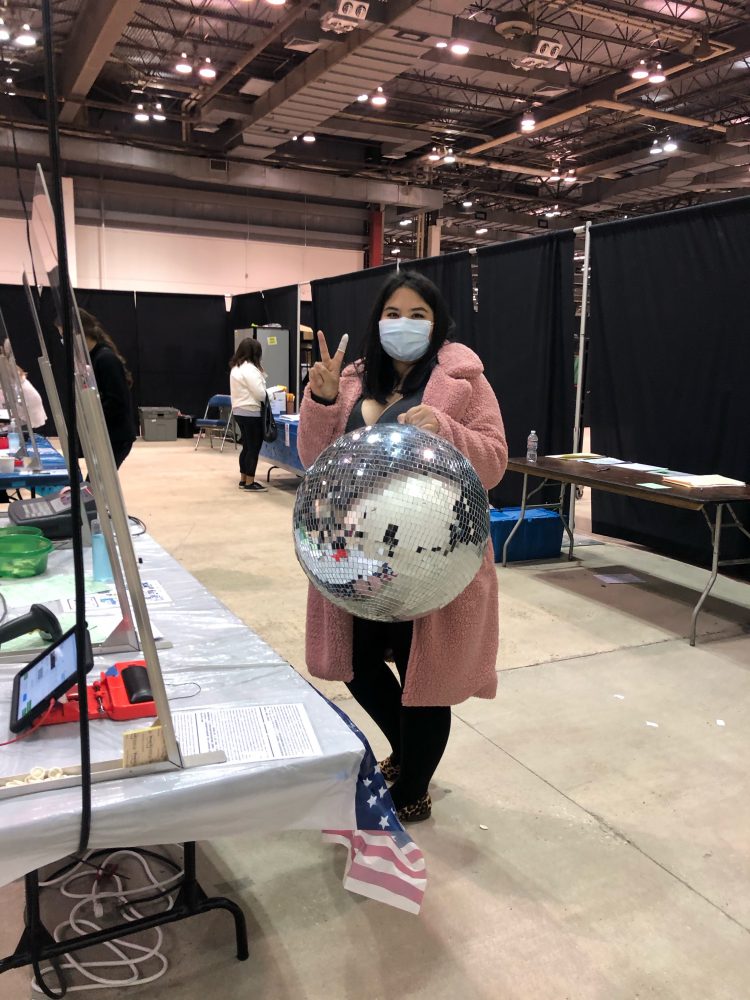 "It's just not something that you see all the time. Like we're used to being told, 'You have less hours to vote. You have less access to vote. There are more barriers to voting,'" Thomas said. "This is easy, like 24 hours to waltz in whenever you want, bathrobe or not."
For others, it was about timing and convenience. Voter Drake Murphy said late night voting worked better with his schedule.
"My grandmother had honestly been on me because I had been pushing it back, between work and just being exhausted," Murphy said. "So it's actually worked out perfectly."
Some drove from nearby, while still others came from out of town. Ronethea Williams flew from Mexico to vote in person, worried her absentee ballot wouldn't be counted.
She was surprised to see so many people at midnight and even ran into a friend who had just flown in from Washington, D.C., having never received his absentee ballot. He felt the election was too important to miss, Williams said.
The presidential election motivated Williams to make her own 12-hour trip, inspired by the civil rights activists who struggled to vote in the past.
"I think about my great grandmother and the people who would have wanted to vote and didn't have the opportunity to," Williams said. "So I really do feel like it is my honor and responsibility. I'm actually crying now just thinking about it."
Additional reporting by Matt Harab