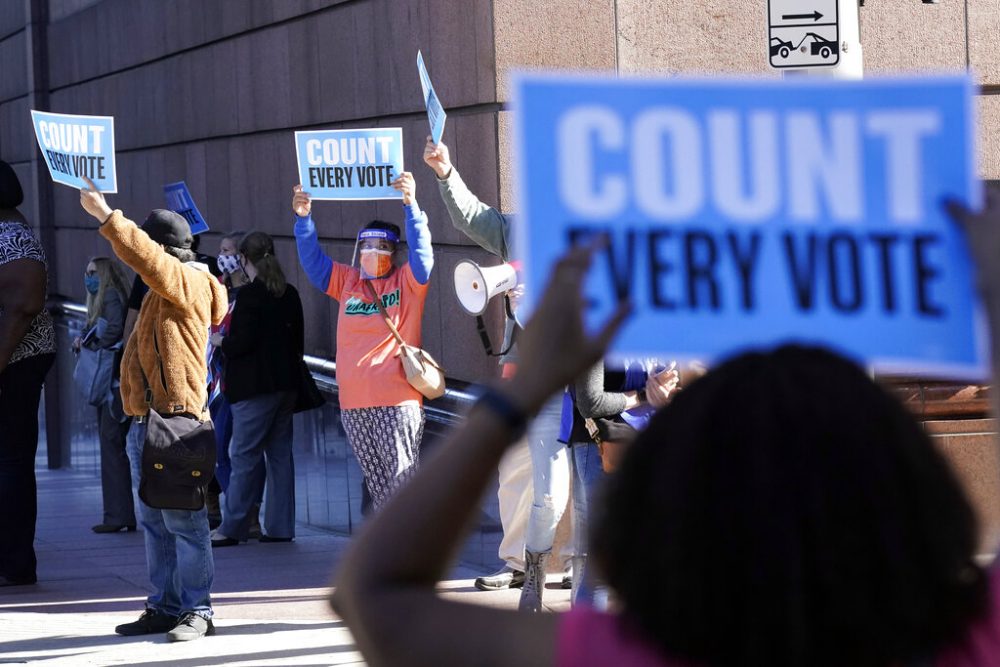 Updated 12:22 a.m. CT Tuesday
A federal judge in Houston dismissed a lawsuit challenging the legality of drive-thru voting, which aimed to invalidate the 127,000 votes cast through Harris County's 10 drive-thru voting locations.
But Harris County will limit the number of drive-thru locations available on Election Day, citing the need to avoid future lawsuits.
Ruling from the bench Monday, U.S. Southern District Judge Andrew Hanen, an appointee of George W. Bush, said the plaintiffs led by litigious Texas Republican Steve Hotze did not have standing to sue, nor did he believe their lawsuit was timely.
With the dismissal, Harris County's drive-thru votes will be counted, at least for now. Hotze on Monday appealed the decision to the U.S. 5th Circuit Court of Appeals, asking the court to halt drive-thru voting on Election Day, stopping short of his motion to throw out the previously cast ballots. But the court rejected that appeal shortly before midnight.
It was not immediately clear if Hotze would attempt to petition the U.S. Supreme Court.
In his ruling, Hanen said that even if the method of voting was not legal, the votes that were already cast are valid. And he was skeptical of an argument made by Hotze's lawyer that drive-thru voting was less secure than in-person voting.
"For lack of a nicer way of saying it, I ain't buying that," Hanen said. "They're in a booth, they're under the same terms and conditions. If they violate those conditions, if I was ruling, I would rule that you would be free to pursue those just like you'd be free to pursue any other voting violations."
But Hanen also expressed skepticism that the county's use of tents in drive-thru voting constituted "buildings" under state law, and said that while he believed all drive-thru ballots cast in early voting were done so legally, he would likely find the use of drive-thru voting on Election Day illegal if asked to rule.
Hollins initially said he would open all of the drive-thru locations Tuesday regardless. But he walked that back late Monday evening, saying the county would close all but one drive-thru location: the Toyota Center, which he said fit the definition of a "building" under state law.
At a press conference after the hearing, the county clerk praised Hanen's decision as a win for voter access.
"We will count those votes," Hollins said. "And we want to make clear that voter access in Texas and in America is a constitutional right that we will protect."
On Twitter, Harris County Judge Lina Hidalgo said she agreed with Hollins' move to close most of the drive-thru centers.
At every turn, we have focused on protecting voting rights and voters from disenfranchisement. At this junction, ceasing drive thru voting at those 9 locations is the way to continue that commitment.

— Lina Hidalgo (@LinaHidalgoTX) November 3, 2020
The plaintiffs, led by Hotze, had argued that drive-thru voting is the same thing as curbside voting, and therefore is only eligible to voters with disabilities.
Attorneys defending Harris County Clerk Chris Hollins argued that the drive-thru voting process is different, requiring the use of separate structures, and that the Texas Secretary of State and Harris County Commissioner's Court already approved this plan several months ago. Hotze waited until the night before early voting began to seek legal action, and just four days before Election Day to file for the federal court injunction.
And if the ballots are tossed, there would be no way to properly inform all 127,000 voters, who would then lose their constitutional right to vote, the defense argued.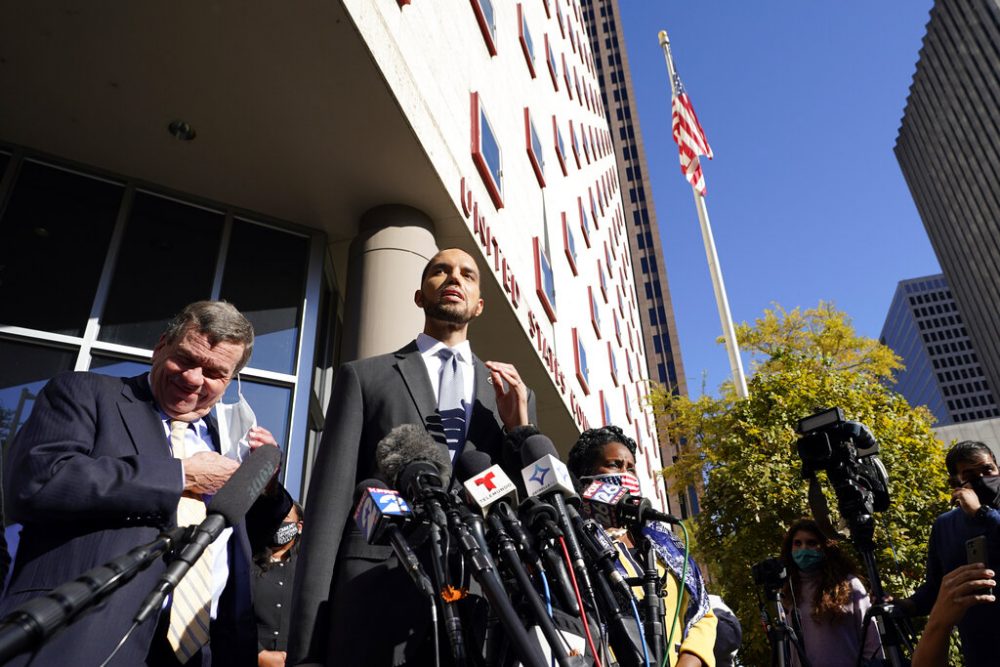 The Texas Supreme Court has already dismissed three different requests by Texas Republicans to invalidate the drive-thru votes, but the legal challenges may have caused people to avoid voting that way, according to county election officials. Though voter turnout has reached historic levels in Harris County, some fear these lawsuits have supressed the vote.
Monday's hearing was riddled with technical difficulties, as reporters and other public observers on a conference call awaiting the hearing were suddenly kicked off after 15 minutes, before the hearing began. It wasn't until about 30 minutes after the hearing began that one reporter was allowed into the hearing.
The conference call line was eventually restored, though people on the line struggled to hear the arguments made by all parties involved.
Several Harris County voters have filed declarations in defense of drive-thru voting.
In court documents, 37-year-old Malkia Hutchinson-Arvizu said the reason she voted drive-thru was to protect her family's health and safety. She has high blood pressure and is borderline diabetic, two COVID-19 risk factors, according to a brief filed with the court.
"One of the reasons my husband and I voted drive-thru is our desire to limit exposure to people, due to the risks posed by COVID-19," Hutchinson-Arvizu said. "In addition to my own risk factors, my stepdaughter has asthma, and my husband also has risk factors for COVID-19."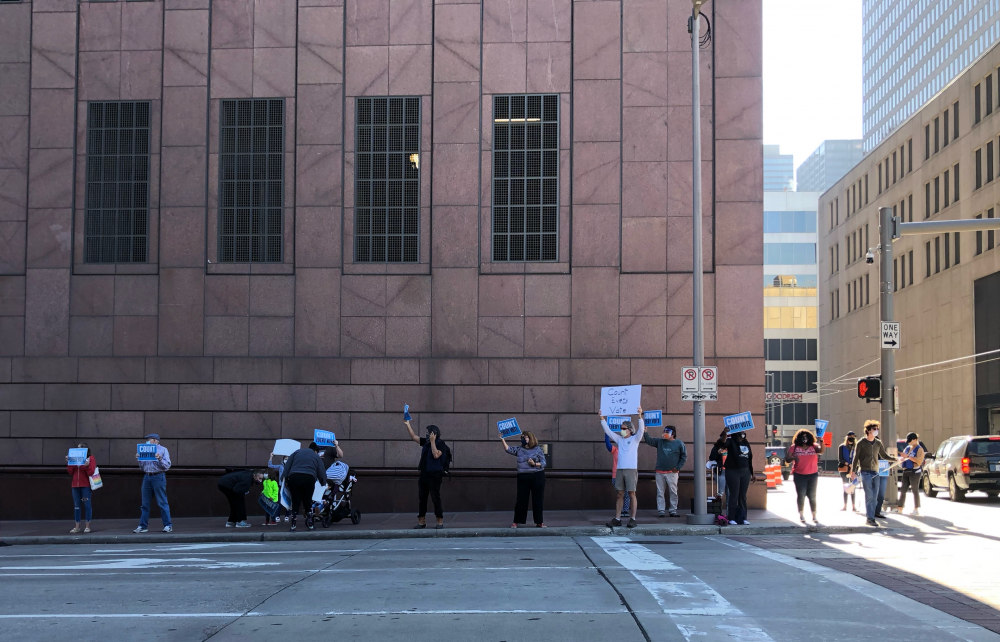 Protestors marched outside the court early Monday morning, holding signs and chanting "count every vote."
One of the people outside the courthouse, Corisha Rogers with the youth voting group Texas Rising, said she and her brother had voted early using the county's drive-thru system. It was her brother's first time at the polls, and she worried about disenfranchisement hurting his motivation for voting in the future.
"His vote should count, my vote should count, everyone, these 120,000-plus people should be able to have their vote count," Rogers said. "Voter suppression is real, it's just in a different form. Now it's not being very obvious. It's just about taking things to court.
The ACLU, NAACP, Lincoln Project and other groups have intervened in the case, echoing the argument that the suit is an attempt to suppress the vote. Even some Texas Republicans, including state Rep. Sarah Davis and former Texas House Speaker Joe Straus, have spoken out.
The lawsuit attempting to disenfranchise more than 100,000 voters in Harris County is patently wrong. #txlege pic.twitter.com/rk6eWXgPrK

— Joe Straus (@SpeakerStraus) November 1, 2020
Drive-thru voting was just one of the efforts to expand ballot access in Harris County. The county saw record turnout this year during the expanded early voting period, surpassing the total number of votes cast in 2016, the last time the county set a record.
It was one of the conveniences that voter Sarah Jones took advantage of. But when she cast her ballot via drive-thru voting, she said she never expected it to be challenged.
She was part of the courthouse protest Monday, joined by her husband and four children.
"My kids need to see this," Jones said. "My kids need to see that I'll crawl over broken glass to make sure my vote counts."