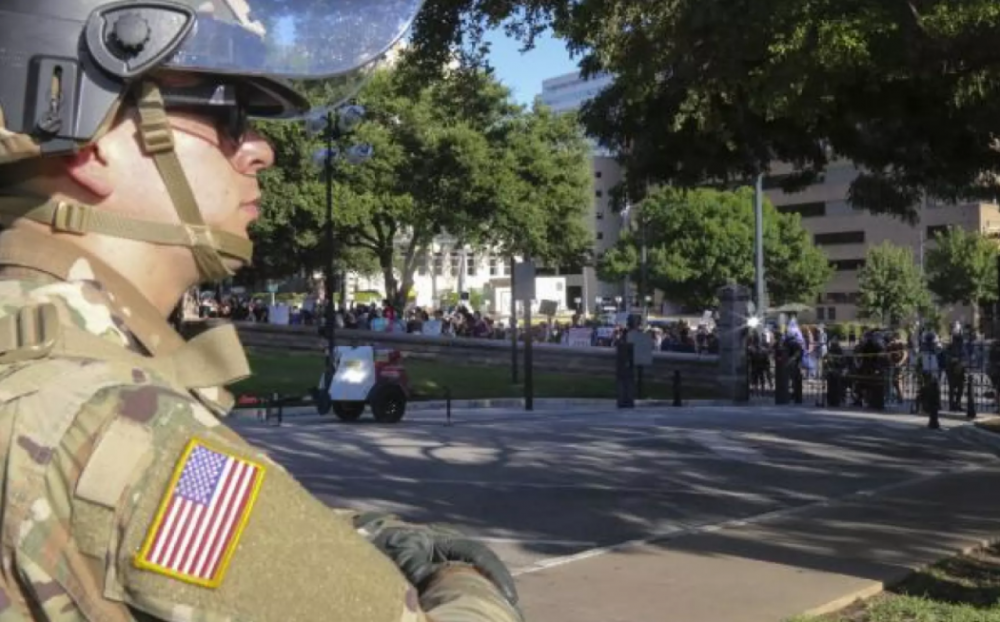 The Texas Army National Guard said Monday it had been ordered to send 1,000 troops to cities around the state ahead of Election Day.
The San Antonio Express-News reports that troops could be sent to Houston, Dallas, Fort Worth, Austin and San Antonio as early as this weekend. The troop activation would be for "post-election support" of local law enforcement, according to the Texas Department of Public Safety. The Guard's mission is to help mitigate civil disturbances at sites throughout Texas.
Neither Houston Mayor Sylvester Turner nor Harris County Judge Lina Hidalgo had been made aware of the plan as of Monday afternoon, according to two spokespeople. Harris County Clerk Chris Hollins, the county's chief election officer, did not return a request for comment Monday.
Brandon Jones of the Texas Military Department released the following statement to Texas Public Radio:
"The Texas Military Department was activated to provide additional support to the Department of Public Safety in the summer of 2020," said Maj. Gen. Tracy R. Norris, the Adjutant General of Texas. "Texas Service Members continue to support DPS in this capacity, guarding historical landmarks such as the Alamo and the State Capitol. To be clear, there has been no request nor any plan to provide any type of support at any polling location in Texas."
In recent weeks, representatives from the Texas Military Department have put forward conflicting messages about use of the troops' at polling locations. Jones previously told the Express-News that no troops had been ordered to go to polling places, but clarified "that could change." In recent weeks, the Guard also told the Express-News that its commander, Maj. Gen. Tracy Norris, had been asked to "draft contingency plans in case of trouble in major cities around the state."
Gov. Abbott's office declined to offer any details about the parameters of the election deployment, and referred all inquiries back to the Texas Military Department. Abbott is expected to publicly issue the order later this week.
Guardsmen briefly deployed to downtown San Antonio in June during the George Floyd protests.
Additional reporting by Houston Public Media's Paul DeBenedetto and Matt Harab.
This story originally appeared on Texas Public Radio.