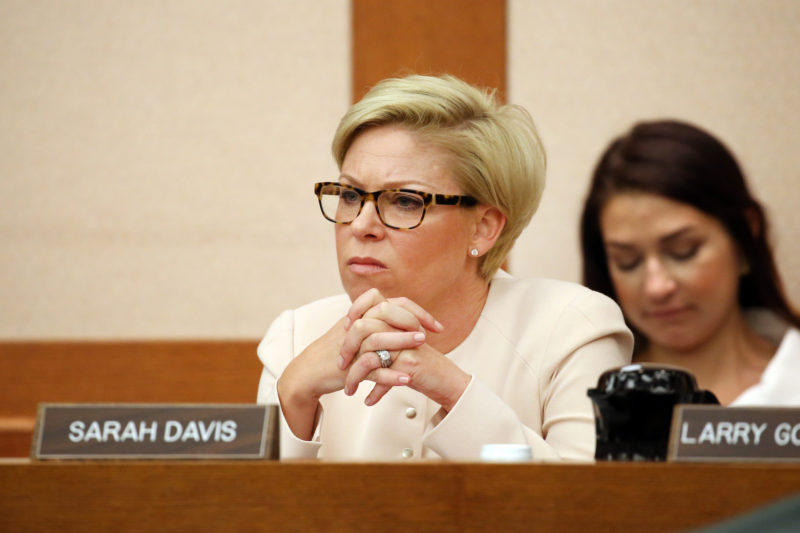 The gun control advocacy group Everytown is spending $2.2 million in races for the Texas House this fall, including three state representative races in the Houston area.
Everytown will put out digital ads and direct mail to discourage voters from choosing Republican candidates in 12 seats. Democrats need to win nine state House races in all to take control of the chamber, which would give them influence over future legislation and redistricting.
Everytown's target races are Texas House districts 26; 64; 66; 67; 92; 94; 96; 108; 112; 121; 134 and 138. You can find your district here.
Most of the races are in competitive suburban districts in Dallas-Fort Worth. But three of the races are in the Houston area: District 26 in Sugar Land, represented by Rick Miller; District 134 in Houston, represented by Sarah Davis; and District 138 in Houston, represented by Dwayne Bohac.
Charlie Kelly, senior political advisor for Everytown, isn't worried the effort may help oust some moderate Republicans who might be open to stricter gun laws.
"The Republican-led state Legislature had plenty of opportunities to take action on gun safety," he said. "Instead, they've weakened gun laws across the board, even as Texans have faced four of the nation's deadliest mass shootings."
Those shootings include the 2019 shooting at a Walmart in El Paso and a 2017 shooting at a church in Sutherland Springs.
While some prominent Republicans like Lt. Gov. Dan Patrick have expressed openness to more background checks, recommendations last year from Gov. Greg Abbott did not include them for all private sales.
According to a University of Texas/Texas Tribune poll from February, almost 80% of Texans support background checks for all gun purchases, including almost 70% of Republicans. Currently, person-to-person private sales and gun show purchases do not require background checks.
All of the races on Everytown's list are also being targeted by the progressive group Forward Majority, which said it would spend over $6 million in 18 state h ouse races. Kelly said the two groups will coordinate their work in order to diversify the messages people see.
Everytown is also spending heavily to flip control of state legislative chambers in Pennsylvania, Iowa, North Carolina, Arizona, Minnesota, and possibly others.
The pro-gun rights National Rifle Association has endorsed all but one of the Republicans in the races Everytown is targeting. Houston's Sarah Davis, in District 134, received a C rating from the group, and did not earn their endorsement. Her opponent, Democrat Ann Johnson, received an F rating from the group.
The Dallas Morning News reported last year the NRA and the Texas State Rifle Association have given almost $710,000 to Texas politicians and parties since 2000.
While Kelly said Everytown is "running ads on guns in every race," some ads touch on other issues like immigration and education, which Kelly said motivates and persuades voters.
"You can saturate on one message," he said. "So we're talking about the issues that matter to voters in Texas that are top of mind."
Additional reporting by Paul DeBenedetto of Houston Public Media
Got a tip? Email Bret Jaspers at bjaspers@kera.org. You can follow Bret on Twitter @bretjaspers.
KERA News is made possible through the generosity of our members. If you find this reporting valuable, consider making a tax-deductible gift today. Thank you.