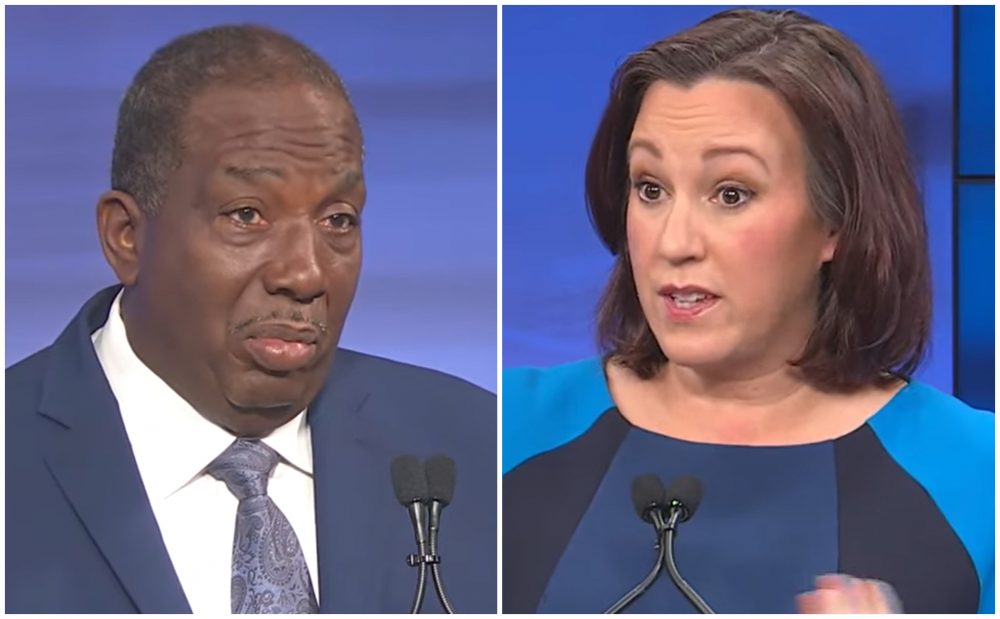 MJ Hegar and State Sen. Royce West faced off Saturday evening in the final debate before the Democratic U.S. Senate primary runoff election, a mostly civil affair in which the candidates saved most of their ire for their prospective opponent in the fall, incumbent Republican Sen. John Cornyn.
The two shared similar positions on a wide range of issues in the hour-long debate, including support for economic stimulus and their opposition to a mandatory buy-back of assault weapons, as well as support for the decriminalization of marijuana, with each admitting to using the drug in the past.
The only times the debate got heated was when the two candidates brought up Cornyn, with West blasting the incumbent senator for his support of President Donald Trump.
"When you begin to think about the issue concerning the impeachment, John Cornyn took an oath that he would listen to the evidence and then render a true verdict," West said. "He didn't even listen to the evidence. That shows you exactly how he's lost his moral compass as it relates to taking an oath and not following it."
And Hegar used Cornyn as an argument for term limits for senators.
"John Cornyn is on three taxpayer-funded pensions," she said. "He's not worried about whether or not Social Security is going to be there for him. But I am."
Among the areas on which the candidates differed was hydraulic fracturing, or fracking, where Hegar didn't set out a strong position against fracking, while West did.
"We must have a moratorium until we can figure out exactly what chemicals are going into the ground and the impact that it's having on our water supply," West said.
See where the candidates stand on the issues
Asked about whether Immigration and Customs Enforcement, or ICE, should be abolished, West said he wouldn't do that under a theoretical Joe Biden administration. Hegar said she would consider it.
"I do think there's an argument to abolish an organization that, when you read the letters, it instills fear in the community that you're trying to partner with," she said.
Each took every opportunity to tie their answers back to their experience.
A 12-year Air Force veteran, Hegar touted her military experience, at one point during a conversation about police violence.
"As someone who has been granted the authority to use deadly force when I was in the military, as a combat search-and-rescue helicopter pilot…when we were shot down and surrounded by 150 enemy fighters, we got everybody out alive, and I was very cognizant of the fact that we had the authority to use deadly force," she said.
West, a Texas state senator, touted his experience in politics. In 2006, he helped flip Dallas County for Democrats, and now says he's the one to do the same for one of Texas' Republican-held U.S. Senate seats.
"The fact is is that I have been in a Republican-dominated legislature, but I've been able to bring coalitions together and get things done like the body camera legislation, racial profiling, hate crimes, working with Rodney Ellis, those types of issues," he said.
Hegar, who was seen as the frontrunner ahead of a 12-way March 3 primary, garnered more than 22% of the vote, not enough to avoid the runoff. Hegar was endorsed by the Democratic Senatorial Campaign Committee. West received 14.7% of the vote, edging out Cristina Tzintzun Ramirez to advance to the runoff. Tzintzun Ramirez has since thrown her support behind his campaign.
Just three weeks remain before the start of early voting in the senate primary runoff. The election was supposed to take place on May 26. But in March, Gov. Greg Abbott postponed all runoffs nearly two months to July 14, as the state began dealing with the impact of the coronavirus.
Watch the replay below:
Additional reporting by Paul DeBenedetto.