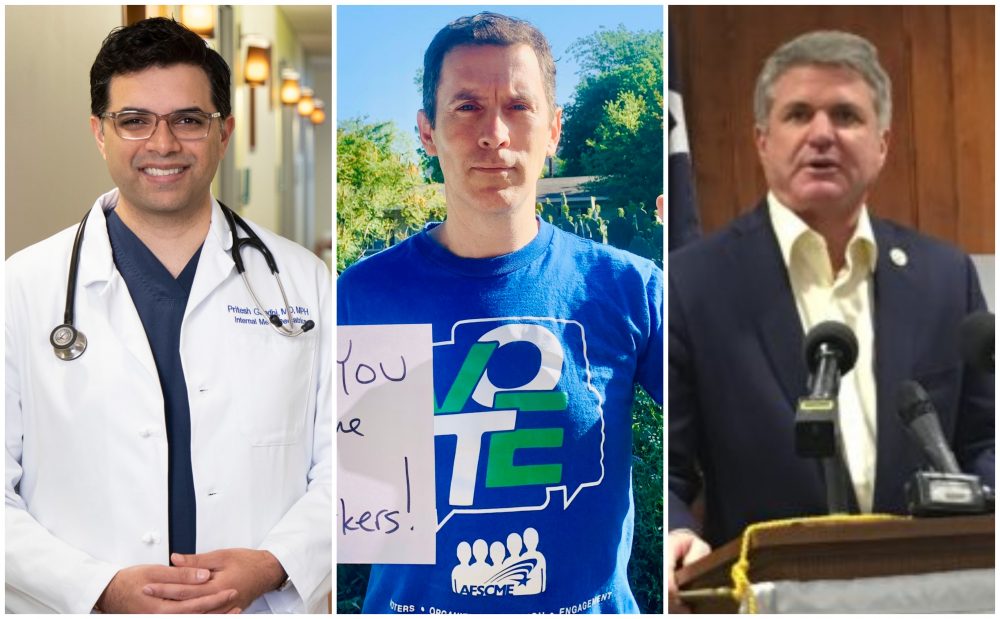 Texas' 10th Congressional District stretches from Houston to Austin. This summer, two Democrats will compete in a runoff for the chance to challenge Republican Michael McCaul, who's held the seat for eight terms. And the Democratic Congressional Campaign Committee has named the Texas 10th as one of its top targets to flip in the fall, although most outside observers see the race as Republican Michael McCaul's to lose.
Making the race even more challenging: COVID-19.
One of the Democrats running for the chance to oppose McCaul is Dr. Pritesh Gandhi. Up until March, Gandhi split his time between the campaign trail and his community health clinic in Austin.
Now, as the coronavirus pandemic continues throughout Texas and around the world, Gandhi spends almost every waking hour at the clinic.
He starts a typical Monday early. First, he reviews charts and helps his kids with homework. Then he heads to the droplet clinic — respiratory clinics designed for patients suspected of having the virus, Gandhi explained.
Next, it's the drive-through testing site, where Gandhi swabs patients to test them for coronavirus. In the afternoon, he'll hop into a telemedicine clinic.
"And then in the evening, it's campaign until I pass out on my desk," Gandhi said.
That involves speaking with community leaders, campaign staff, and volunteers – people who keep Gandhi's campaign going while he's saving lives. His clinic serves 19,000 Central Texans, many of whom work multiple jobs and lack insurance.
"What I am seeing in the midst of all this is these historical, structural inequities, often rooted in race and ethnicity and income, are being magnified by this pandemic," Gandhi said.
Another Democrat trying to unseat McCaul is Mike Siegel, a civil rights lawyer who ran and lost against McCaul in 2018. Right now, Siegel is balancing his campaign with homeschooling his two kids.
"My wife is an essential worker," Siegel said. "She runs a veterinary practice in Austin, so she's been working throughout the pandemic. And so, I'm delivering curriculum and making calls and trying to keep everything moving."
Siegel knows most people are more concerned about survival than politics. So, he's helping local food banks and advocating for voting rights.
"I'm the lead lawyer in a lawsuit suing the state of Texas to end the ban on so-called mobile voting, which is a lot of what early voting used to be," Siegel said. "And then [I'm] also fighting on this issue of universal access to vote-by-mail."
Meanwhile, his campaign staff works the phones. They're finding more people are picking up because they're stuck at home.
That benefits Republican incumbent Michael McCaul as well. His volunteers are making tens of thousands of calls, and he's holding virtual town halls. Then there's his work in Congress: McCaul said he's tracking federal money meant for hospitals for COVID-19 relief.
"But mostly, during this crisis, it's been trying to lead in a time of crisis, making sure that when we pass these bills in Congress that money is going to where it's supposed to be going," McCaul said. He added that he's working closely with Texas Children's Hospital and M.D. Anderson Cancer Center.
McCaul also runs the China Task Force, an all-Republican body working on a national security response to what McCaul says is the Chinese government's role in the spread of the coronavirus, and its economic fallout.
"If anything positive came out of COVID-19," McCaul said, "it's that I think the American people woke up to this fact that we're just too reliant on the Chinese government for so many supply-chain items that are really critical infrastructure."
Democrats are targeting McCaul's seat because his last reelection was his closest ever. Early voting to pick his challenger begins June 29.