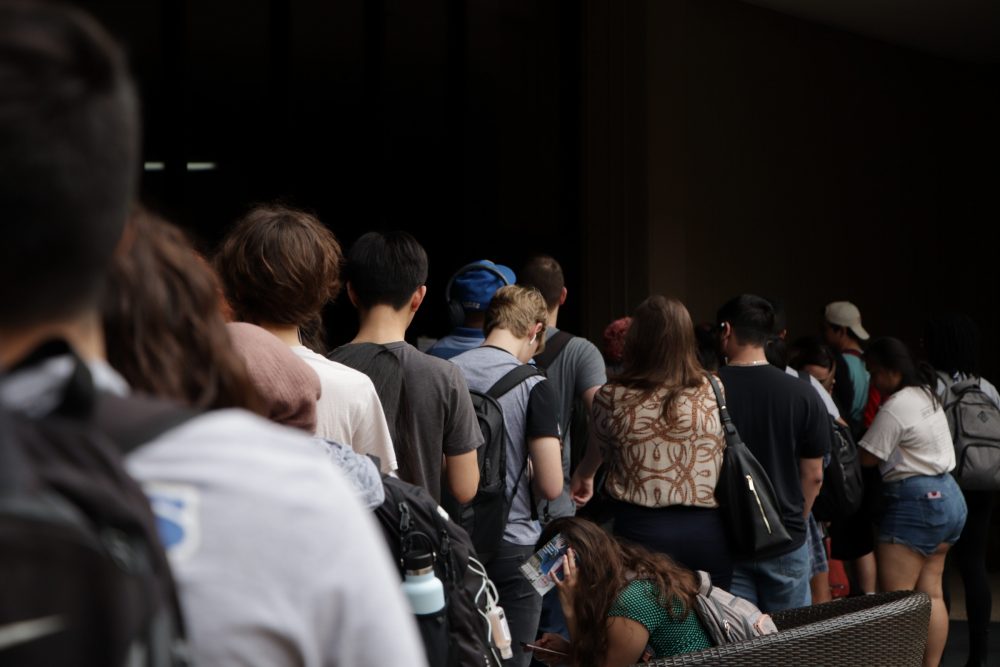 As polls closed Tuesday, hundreds of voters still stood in line at polling places across Harris County — some for hours — as a mixture of technical failures, higher turnout and fewer voting locations drove longer-than-normal wait times for voters across the county.
There were still 250 people in line at a Fiesta Mart on Kirby Drive around 8:30 p.m., with poll operators saying they hoped the last votes would be cast around 10 p.m. At Trinity Episcopal Church in Midtown, voters were still out the door and snaked around the block at 8:15 p.m.
At the University of Houston, voters were backed up at the school's College of Hotel and Restaurant Management more than an hour after polls closed.
"I've been waiting for about two-and-a-half hours now, but it's probably going to be three by the time I get to vote," said freshman Madeleine Couling, 18. "It's kind of nerve racking to sit and watch the primary results come in."
There were also problems at Texas Southern University (TSU), where five of 10 voting machines were out for part of the night and hundreds waited in line until around midnight to cast their vote.
Some of the problems arose when a poll worker removed a unit to take outside for someone to vote curbside, disconnecting a row of the machines, according to Rosio Torres from the Harris County Clerks Office.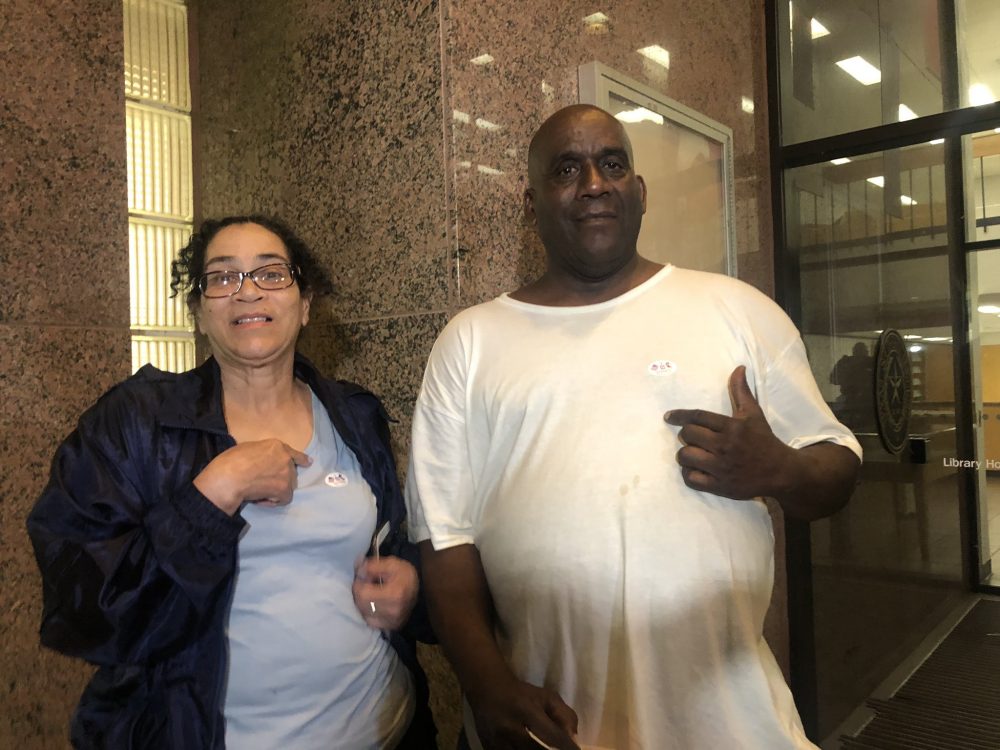 Hervis Rogers was the last one in line to vote at TSU. "I've been here for like five hours. But, I got to finish the job though," he said. "So, I'm waiting my turn, I'm going to vote. My vote might make a difference."
Voters complained that even the county's voting website, which was designed to show users where to vote, did not accurately display wait times at overcrowded places like TSU.
"On the Harris Votes website this particular location is showing no lines, and yet people are at the door in line," said local precinct chair Michael Jackson. "So we just need them to update it, let our voters know."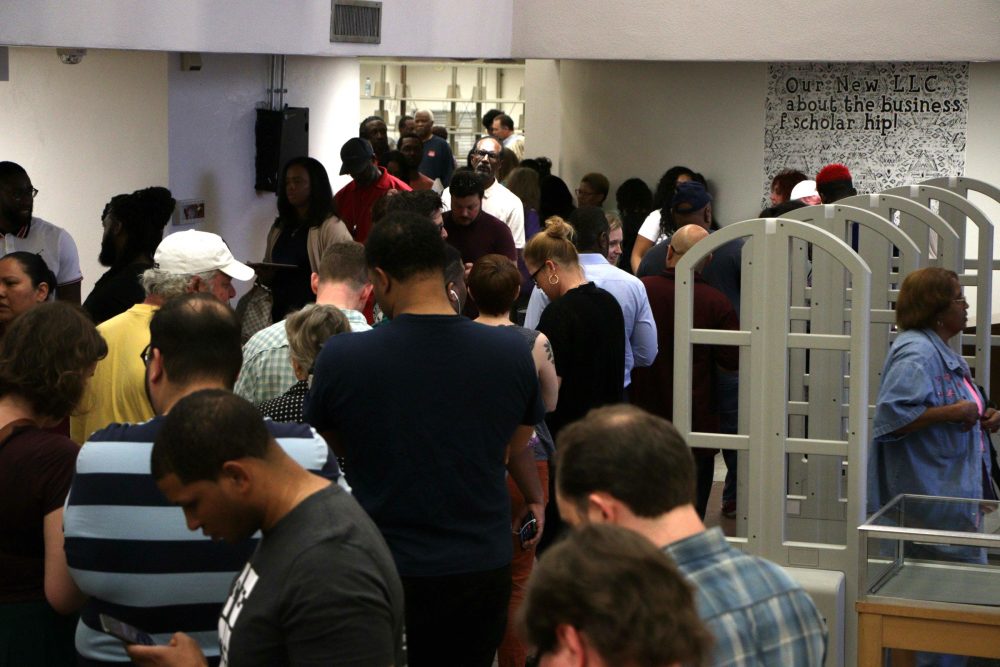 But technical problems just added to the crowding issues in the county. Overall, primary turnout was up in 2020, with 265,300 votes cast in Harris County as of 8:20 p.m., according to Harris County Clerk Diane Trautman. Democrats had the highest turnout since 2008. That followed the trend of early voting in the county, which was also up from past years.
The number of polling places in Texas also shrunk. In Harris County alone there were 52 fewer polling places in 2020, according to a study from the Leadership Conference Education Fund. That study looked at the effects of closed polling places in areas with large communities of color, and some organizers on Tuesday were frustrated at what they said was a disparate impact on those communities.
"Once again, black and brown voters in Harris County are facing unacceptable wait times in polling locations in their communities," read a statement from Mimi Marziani, president of the Texas Civil Rights Project. "Infuriatingly, we know that some voters have already given up and gone home. Even worse, we know that this is not the first time voters have faced this issue. In fact, a pattern of long lines in communities of color has been a predictable trend in election after election in Harris County."
One of those communities is Kashmere Gardens, where at the Kashmere Multi-Service Center, more than 100 people sat in line for more than an hour in the hot hallways of the center.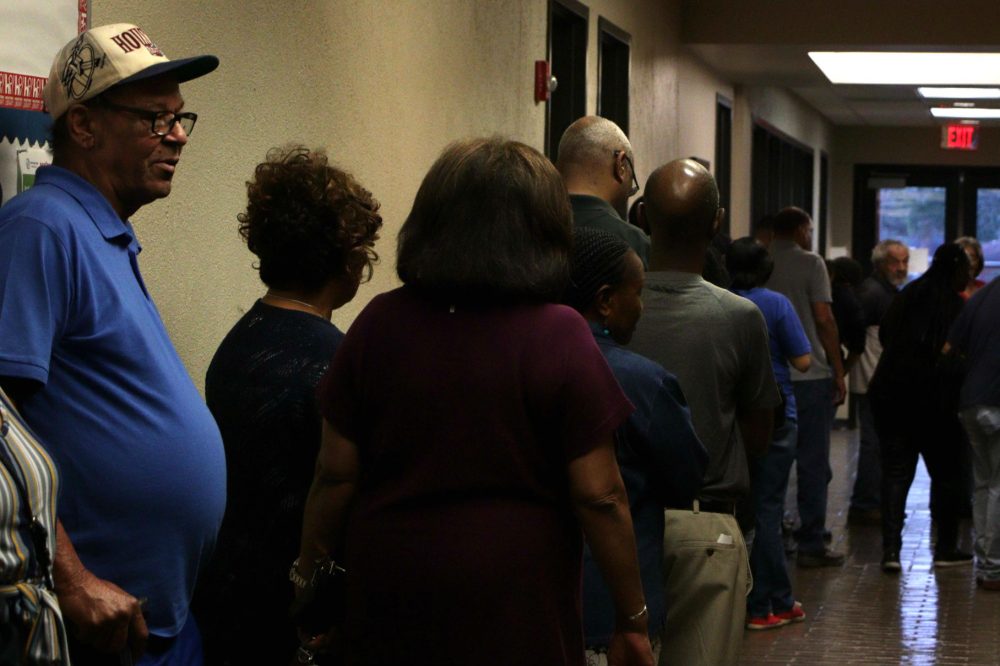 Voters feared overheating as they waited in the hallways, with some older voters waiting for hours in the stifling conditions. Annette Simpson, a 54-year-old organizer with the Texas Organizing Project, said she asked people to bring water to the polling place, and said she even had to attend to a 102-year-old woman.
"I had to take elders out of the line. A man almost had palpitations of the heart, I took him out of line and had him sit down," Simpson said. "This vote is going to make a difference and make history, so that's why they are here but we cant have them falling out and just being without provisions to cause them to not vote. That's not fair to the voters, its not fair to the people and its definitely not fair to the community."
Jeff Barrs, 64, said he'd waited an hour at the Kashmere location to vote Tuesday morning. But, frustrated by the long lines, he said he turned around and left.
He was back in the evening, around 7 p.m.. As polls closed, he said he was prepared now to wait an hour or more.
"I'm standing here, trying to stay cool in this line," Barrs said. "But I will vote, regardless."
Kirk McDaniel and Jen Rice contributed to this report.