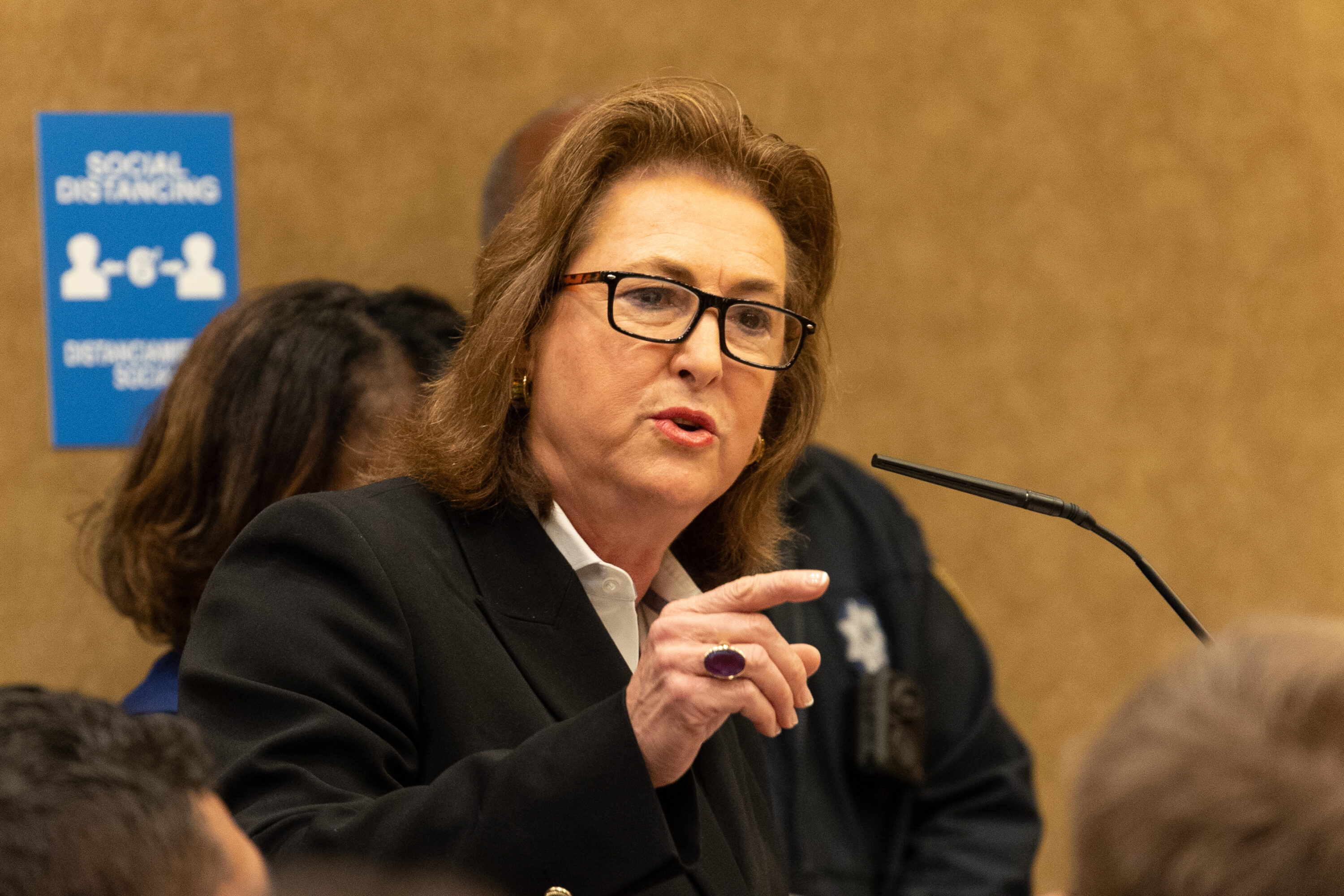 A Harris County Democratic Party committee is set to discuss the potential admonishment of District Attorney Kim Ogg ahead of her reelection bid next year.
According to reporting from the Houston Chronicle, a petition asking for the district attorney's admonishment has so far been signed by more than 80 of the 549 Democratic precinct chairs throughout the county. The petition is expected to be presented during the party's resolutions committee meeting on Wednesday.
If presented, the measure would then be discussed at the party's steering committee meeting on Nov. 30 for inclusion on the agenda of the county executive committee meeting in December, according to Mike Doyle, chair of the Harris County Democratic Party.
"Here's the big takeaway: until it goes through the process, it's not a party statement or a party decision," Doyle said.
A public admonishment wouldn't affect Ogg's current job or punish her in any way, but would instead "send a signal to the incumbent that they're doing something" the Harris County Democratic Party doesn't approve of, according to Brandon Rottinghaus, a political science professor at the University of Houston.
Ogg is up for reelection next year and facing off against former prosecutor Sean Teare, who's been endorsed by County Judge Lina Hidalgo, in the Democratic primary bid for district attorney in March 2024. According to Rottinghaus, an admonishment from her own party would likely hurt Ogg's chances at maintaining her seat.
"The Democratic Party certainly has a lot of sway," Rottinghaus said. "If you combine this possible sanction with the endorsement from Judge Hidalgo of Sean Teare, then it's possible that this will mean that the DA will lose some support among Democratic circles and really, that's where she needs to be strong at this point."
This comes as Hidalgo continues to accuse Ogg of pursuing "a political vendetta" by spearheading a criminal investigation into three of Hidalgo's former staffers, who've been accused of steering an $11 million contract to a preferred vendor. During a brief press conference on Tuesday, Hidalgo said she was "very excited" for the proposed resolution to be discussed.
Over the last year, Ogg has repeatedly refuted Hidalgo's claims and, in an email on Tuesday, wrote that "investigations into public officials are essential for the checks and balances of our democracy."
"I am resolute in my commitment to ensuring that no one receives special treatment based on their societal position, political power, race, gender, or any other unrelated factor," Ogg said. "There will be no political intimidation of law enforcement agents or prosecutors under my leadership."