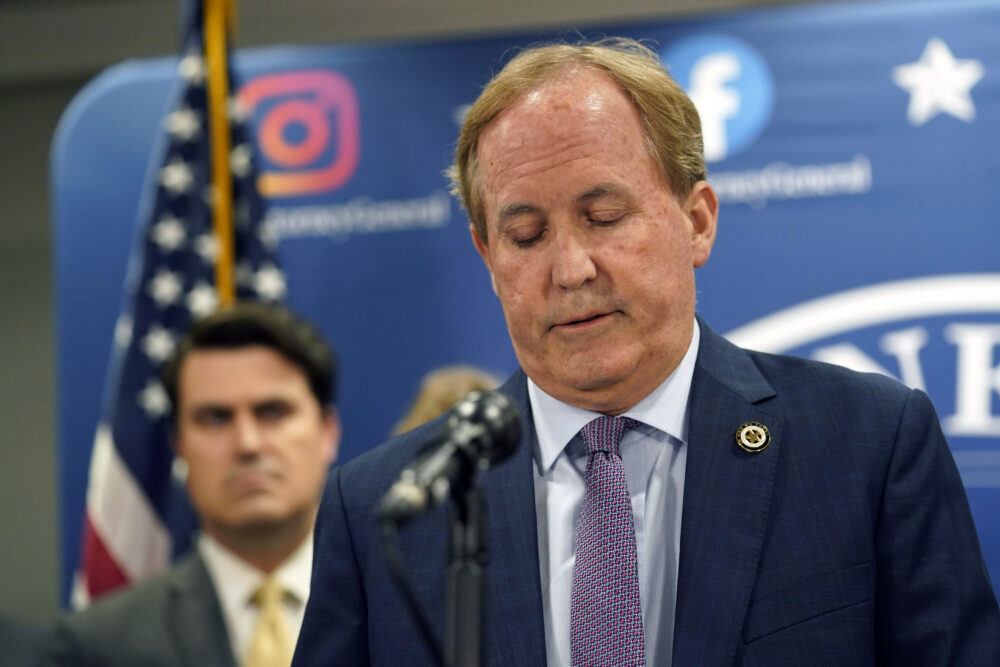 The Senate impeachment trial of Texas Attorney General Ken Paxton begins today. One of the first issues the Senate will have to decide is whether the trial will go forward at all.
Paxton's attorneys assert that, according to a legal precedent known as the "prior-term doctrine" or the "forgiveness doctrine," Texas voters hold the ultimate authority over whether to remove an official from office. By this argument, voters returned Paxton to office with full knowledge of the alleged offenses that occurred prior to November 2022, and the Legislature cannot overrule their decision through an impeachment process. If the Senate agrees, it would mean they would likely dismiss most of the 20 articles of impeachment against Paxton.
David Coale, an appellate lawyer and partner with the firm of Lynn Pinker Hurst & Schwegmann, is skeptical.
"That's the legal hook that the House managers used to hang all this evidence that came out a couple of weeks ago – the fake Uber account, the burner phones and all that stuff," Coale said. "The legal argument that all that related to was the argument that, no, there wasn't a full discussion of all this during the last election. In fact, Mr. Paxton was hiding a lot of material information from the public and, with it, the voting public."
If the Senate rejects the defense's argument that the prior-term doctrine applies, Mark Jones of Rice University's Baker Institute said it could signal that Republicans are more open to ultimately convicting Paxton and removing him from office permanently.
"Otherwise," Jones said, "you as a Republican are going to allow all of the dirty laundry, all of the salacious details, all of the allegedly criminal acts that look pretty criminal to receive more public attention than they ever have before and then, after all of that, putting yourself in a position where, in spite of all of that evidence, you would vote to acquit."
If the trial does go forward, House managers are likely to try to call Paxton as their first witness.
"If they do, that poses immediately a very important question for him of whether or not to assert his Fifth Amendment right against self-incrimination, and that is going to be, I think, the first thing out of the gate, because it's the most dramatic, it's the most central, and House managers are going to want to start with a bang," Coale said.
Other witnesses House managers are likely to call include former staff members from the Texas Attorney General's Office, as well as people from outside the office who can talk about their dealings with Paxton.
Coale said they might also attempt to call Austin real estate developer Nate Paul, the Paxton friend and political donor whose dealings with Paxton triggered many of the impeachment charges. Paul is facing federal charges for making false statements to financial institutions. "I doubt that'll work," Coale said, "but they can probably make some drama about trying to bring him there."
The defense team may face some difficulties in terms of presenting witnesses of their own.
"There's Ken Paxton, and that's about it," Coale said. "He doesn't have a lot of staffers that have been with him through all this who aren't affirmatively against him in court or seem to be inclined to not take his side. So, they're going to have to conduct some very strong cross-examinations of the witnesses that the House managers bring."
Coale notes that, while the procedure bears similarities to a trial, it is unique. Even the recent presidential impeachment trials provide very few precedents for what will occur.
"Fortunately, this is not something that comes along every day," he said, noting that Texas has only had two other impeachment trials since adopting its current constitution. Governor James "Pa" Ferguson was impeached in 1917 and State District Judge O.P. Carillo in 1975. The Senate removed both from office after their respective impeachments. "There's some procedural rules that we learned from those things, some general principles about how the (Texas) Constitution works, but there's not a lot of direct precedent that you can bring forward, because it's just been so long, and the political consensus is so different."