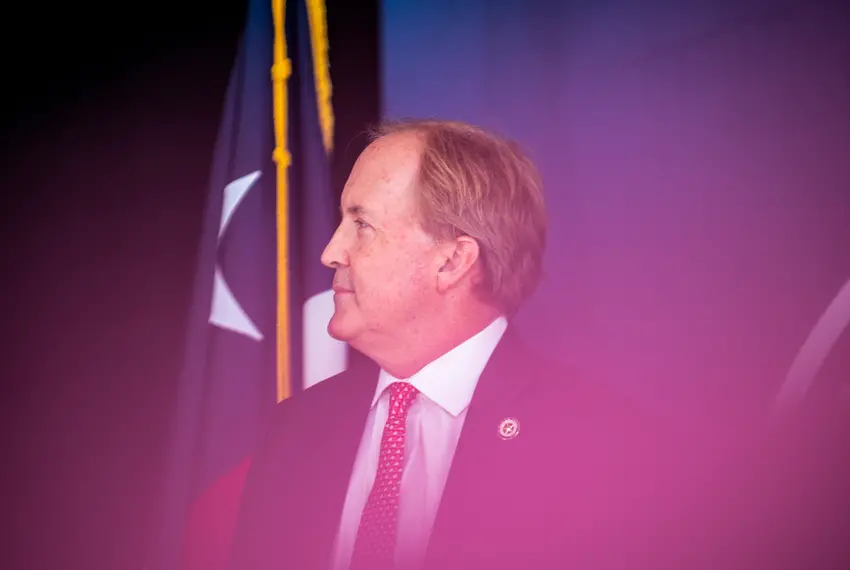 Texas House impeachment managers have submitted nearly 4,000 pages of exhibits ahead of next month's impeachment trial of suspended Attorney General Ken Paxton.
The Senate, which is conducting the trial slated to begin Sept. 5, published the exhibits Thursday night on a website the chamber maintains for impeachment-related documents. The document dump provides granular detail of how Paxton allegedly abused his office to help his friend Nate Paul, an Austin real estate investor and campaign donor, who was being investigated by federal authorities as his businesses were floundering.
Paxton's lawyers last week called for all 20 articles of impeachment to be dismissed, relying in part on an argument that the House had not produced evidence to support the allegations against the attorney general. Through the document dump, a remarkable public disclosure before the trial has started, the House managers have essentially called their bluff.
The managers' responses to Paxton's pretrial motions offer new allegations against Paxton, including that he used a burner phone, secret email account and fake Uber name to hide his relationship with Paul.
There are 150 exhibits across three documents totaling 3,760 pages. They include:
An interview with Paxton's former personal aide who said he ferried documents to Paul on Paxton's behalf and witnessed conversations about the renovations to Paxton's home that suggested Paul had paid for it.
Emails showing how Paul and his lawyer directed a special prosecutor authorized by Paxton to investigate Paul's business rivals and law enforcement officials that had raided his home.
Memoranda documenting numerous instances in which Paxton's senior advisers unsuccessfully urged him to cut ties with Paul, who they suspected was a liar and criminal.
Trip records obtained from Uber showing an account Paul created under the alias "Dave P," which Paxton used to travel to the home of Paul and the apartment of the woman with whom the attorney general was allegedly having an extramarital affair. Paxton is married to state Sen. Angela Paxton, R-McKinney.
An employment contract proving Paul had hired Paxton's alleged girlfriend to work at his business.
An attorney for Paxton did not immediately respond to request for comment. Lt. Gov. Dan Patrick, the presiding judge in the trial, issued a sweeping gag order July 17, banning all involved parties from making comments that could prejudice the trial or impair the impeachment court's ability to be "fair and impartial."
The latest exhibits also add evidence to the allegation that Paxton recruited a state senator, Bryan Hughes, to request a legal opinion that helped avoid foreclosure on properties owned by Paul and his businesses. Hughes' involvement was initially mentioned in the House's articles of impeachment.
The new evidence shows that on Sept. 30, 2020, Paxton's former deputy first assistant attorney general, Ryan Bangert, emailed another aide, Ryan Vassar, a timeline of events leading up to the opinion.
"[Paxton] agreed that we could reach out to Senator Bryan Hughes, which we did, and ask that he make a request, which he did," Bangert wrote. "We then prepared the response and sent it to Senator Hughes." Bangert and Vassar are among the seven former attorney general staffers who reported Paxton to law enforcement in 2020 for alleged abuses of office.
Hughes did not immediately respond to request for comment.
The records are dated Tuesday, meaning the managers filed them on the day that responses to pretrial motions were due to the Senate. Now a special committee of senators is reviewing the motions and responses. That committee has until Aug. 28 to prepare a confidential report with recommendations on the motions for Patrick, who can rule on all motions except for those that seek dismissal of any articles, which requires a majority vote of the Senate. Patrick also can ask senators to decide other pretrial motions, with approval granted by a majority vote.
The breadth of the evidence could put more pressure on senators to at least proceed to trial. Assuming all 12 Democrats oppose Paxton's motions to dismiss, managers would have to convince at least four of the 19 Republican senators to side with the Democrats and clear the way for a trial. One of those GOP senators is Paxton's wife, and she does not get to vote under the trial rules.
This story is being updated. Check back for more information.
---
This article originally appeared in The Texas Tribune at https://www.texastribune.org/2023/08/18/ken-paxton-impeachment-evidence/. The Texas Tribune is a member-supported, nonpartisan newsroom informing and engaging Texans on state politics and policy. Learn more at texastribune.org.