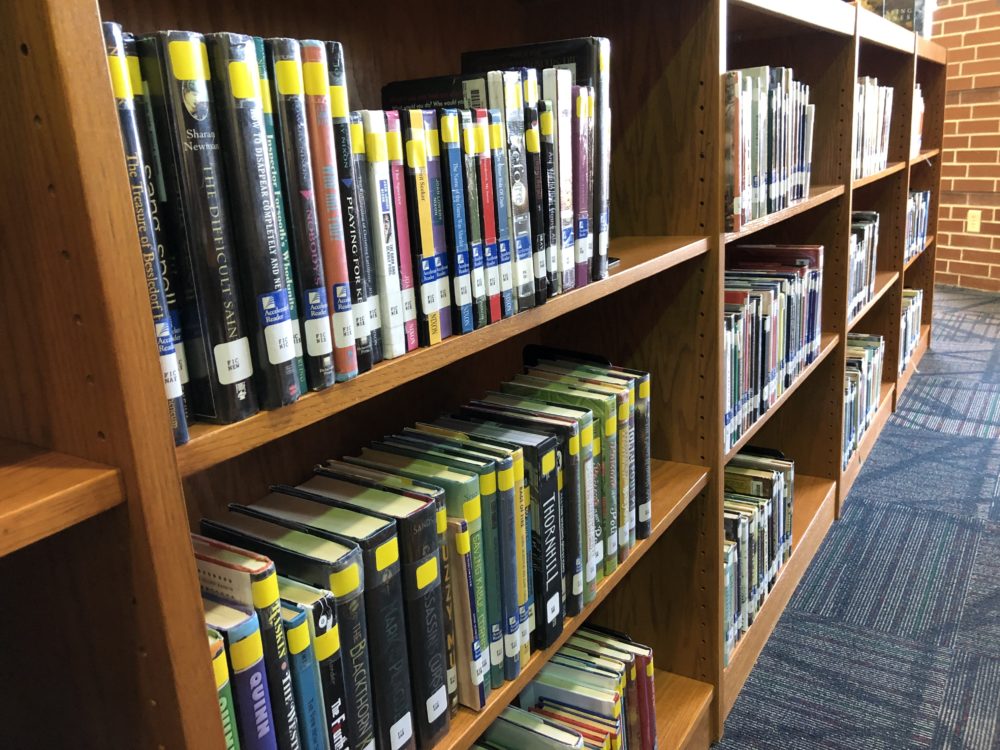 Elected officials in a Houston-area county earlier this month instructed their public library system to add more conservative-themed books to the shelves while also putting an age restriction on materials that could be perceived as sexually explicit.
The Montgomery County Commissioners Court, which serves a largely suburban and rural area north of Houston and consists of a Republican county judge and four Republican commissioners, voted unanimously to have the county's library director group items in the children's section based on genre. Books considered "explicit or questionable" will not be able to be checked out by anyone younger than 18 years old, the commissioners court decided, without outlining specific parameters for those terms.
The county leaders also voted unanimously to have their purchasing department re-evaluate its slate of book vendors and book selections for the library system, which includes seven locations, in order to include more politically balanced viewpoints.
"We know that there is a lack of conservative-styled or themed books that represent or counterbalance some of the books that have been brought to our attention," said Precinct 3 Commissioner James Noack, who submitted motions to approve each item.
The library-related actions were in response to complaints by community members who questioned the appropriateness of some of the books available to the public, including those with LGBTQ+ themes. And they follow a trend playing out locally, across Texas and even the country in which public school systems and governments are exerting greater control over programming at their libraries while also banning or restricting access to some materials.
RELATED: Huntsville City Council privatizes public library operations despite pushback from residents
Teresa Kennedy, the owner of the Village Books in The Woodlands, spoke out against the measures before the votes at the July 11 meeting. She said Tuesday that while Montgomery County leaders did not outright ban any books – which Noack acknowledged would have been illegal and unconstitutional – she considers the actions a potential danger to her community.
"I think that this effort nationwide to silence voices is setting a very dangerous precedent," Kennedy said. "It makes people within those demographics (depicted in the challenged books) feel unseen and unheard. It also prevents people from learning about other people who may not be like them or live like them and build empathy from that."
The commissioners court voted on the library-related items – which also included a vote of confidence for library director Rhea Young, who had come under public scrutiny since staring the job last fall – after discussing the matters in a closed executive session. Once the meeting resumed, Noack initially motioned to have Young organize children's books by genre without putting an age restriction on any of those materials.
RELATED: 'Little Banned Library' featuring books removed from schools opening in Houston's Heights neighborhood
County Judge Mark Keough added an amendment saying sexually oriented books in the children's section should be restricted for library visitors under 18, effectively making those adult materials.
"All these sexual-oriented books ... need to be in the adult section," Keough said. "If you don't put an age on it, we're not really solving any of the issues with the younger kids having access to these materials."
Kennedy was among a few public speakers at the July 11 meeting to voice opposition to the measures, while several others expressed support. Some specifically criticized books that depict gender identities that do not align with politically conservative viewpoints.
Noack said some of the forthcoming changes at the library might not be noticed immediately and would be implemented gradually.
"While we may not agree on exactly what types of materials should be in the library, I think all of us agree that the decisions we make, we're trying to do for the best interest, in this case for our children and what should they have access to and what should they not have access to," Noack said. "We're never going to be able to get that fully addressed and certainly not addressed to everybody's satisfaction today. No. 1, there are lot of people that don't want certain types of materials available in the library, and I agree with that."