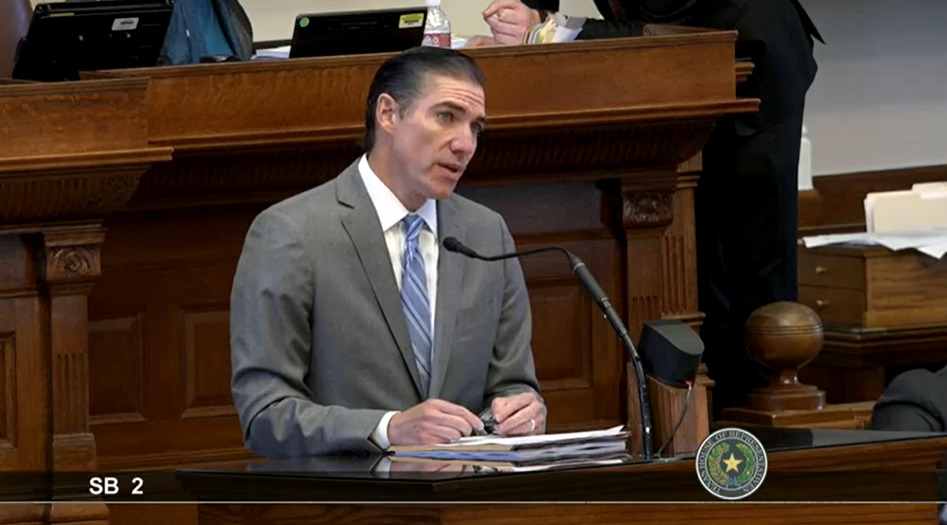 Legislation to slash Texans' property taxes is heading to Governor Greg Abbott's desk. The House and Senate adopted the measures Thursday evening.
The centerpiece of the package is Senate Bill 2. It lowers the school property tax rate for all homeowners and business properties. And Texas homeowners will also see their homestead exemption increase from $40,000 to $100,000. Homeowners over 65 and disabled homeowners will see their homestead exemption rise to $110,000.
SB 2 also includes a "circuit breaker" provision for non-homesteaded properties, both residential and commercial. This will limit the annual growth of tax bills for all such properties worth $5 million or less to no more than 20 percent under a three-year pilot project. And the bill contains a provision that will let voters in counties of more than 75,000 people elect three members of their countywide appraisal boards, starting in May 2024.
"These bills represent the largest tax cut in Texas history," said House Ways and Means Committee Chairman Morgan Meyer, "and I'm proud of the work we have done to finally deliver this $18 billion of tax relief for our constituents. I want to thank the lieutenant governor, Senator (Paul) Bettencourt, and the entire Senate for working with the House in getting this legislation to us."
A second bill, SB 3, will provide franchise tax relief for small business owners. And both the House and Senate approved House Joint Resolution 2, which will put a constitutional amendment to enact the property tax cuts on the November ballot. "Texans should take note of the November 7, 2023, constitutional amendment election date so they can vote in favor of this historic tax relief and several other key measures for the future of our state," said Lieutenant Governor Dan Patrick in a statement after the Senate unanimously passed HJR 2.
The voting did not come without some drama. House Democrats attempted to introduce a series of amendments to SB 2, all of which Republicans blocked as not germane to the governor's special session proclamation. Representative Gene Wu (D-Houston) tried unsuccessfully to attach an amendment that would have extended property tax relief to renters.
"The proposed legislation provides absolutely no relief to the 3.8 million Texas householders who rent their homes," Wu said in a statement, explaining his vote against SB 2. "In my district alone, only 16% of homes are owner-occupied homesteads that would receive any financial relief under the Republican plan. That leaves more than 80% of my constituents without any relief at all."
Even so, the measures passed with overwhelming bipartisan support. "The passage of this $18 billion package is a testament to the unwavering commitment of Texas leaders to address the concerns of taxpayers and provide significant relief from the burden of escalating property taxes," said House Speaker Dade Phelan in a statement.
Following HJR 2's signature in the House, Speaker Phelan adjourned the chamber sine die, effectively ending the second special session of the 88th Legislature.