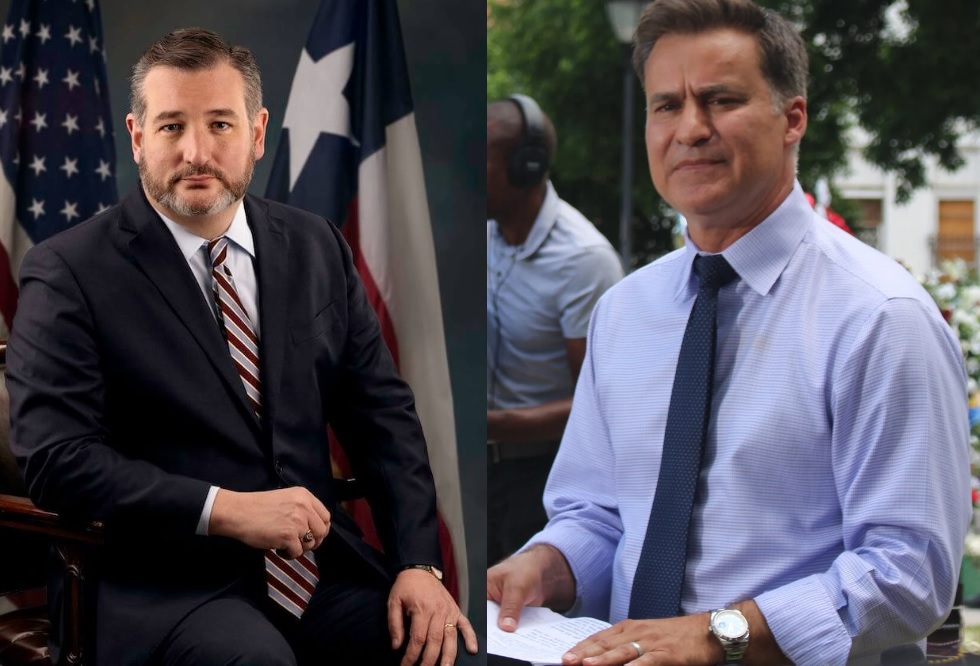 State Senator Roland Gutierrez of San Antonio announced Monday that he is running for the Democratic nomination for U.S. Senate.
TPR's David Martin Davies spoke with Gutierrez about his decision to enter the race to challenge Republican incumbent Ted Cruz.
This interview has been edited and condensed for length and clarity. Davies: What made you decide that you wanted to jump in to the race for U.S. Senate challenging Republican Ted Cruz?
Gutierrez: Well, David, I mean, the fact is that we are broken in this state. We have been dealing with so much, not just with Uvalde, which obviously we saw failure after failure from the government that left children inside to die — failure that didn't have ambulatory services. But this is, you know, it's all of that and more. It's not normal that 800 people should die in a winter storm that happens in some of our farthest north states. And you don't see that kind of death and destruction. I mean, the fact is our systems in Texas are broken and they're broken because of people like Ted Cruz. You know, rather than to fix issues like what happened to us in that storm, Republicans are basically giving large amounts of money to energy supply companies. When we can tie on to the eastern and western grids, like El Paso is, like East Texas is, to ensure that that never happened.
Ted Cruz has done nothing about coming up with real solutions for Texas. He has refused to sign on to the Safer Communities Act, which gave us some common-sense solutions on guns and not enough. We still need to do more. Refused to sign onto the Infrastructure Act, which brought $66 billion of infrastructure [funds] to Texas. He likes going to the ribbon cuttings and taking credit for something that he didn't do. But we all have to remember he lambasted those proposals. He would rather have us go into bankruptcy when he refused to sign on the debt ceiling. We are absolutely broken with leaders in the Republican Party that would rather scapegoat some marginalized group than to look at what's truly ailing us in Texas and what's ailing us are broken schools and broken healthcare systems. We can do so much better, and it's all right there in front of us. It really is. So I want to have an honest conversation with people, and that's what formed my decision to do this.
Davies: Becoming a U.S. senator, you're going to be dealing with questions that are much broader. Dealing with things [like] the U.S. Supreme Court. What changes or reforms or problems do you see with the U.S. Supreme Court, particularly after the Dobbs decision and other decisions that have been recently made which roll back civil rights?
Gutierrez: Well, we've seen a Supreme Court, David, that has gone far afield from what our founders have envisioned of an independent court free of collusion free of corporate interference, free of political interference. It is very clear that we have gone way far afield from that notion. And so we have to make sure that the legislature [is] doing its part to circumvent what's happening. We have to go back and revisit Roe v. Wade. We have to go back and revisit some of their decisions. This most recent decision on affirmative action. We have to go look at the things that they're eroding with regard to gun control.
This court has done so much to hurt this country, and clearly people also need to understand what's happening there — influence has gotten into what was supposed to be in an independent body. We have billionaires funding these people's travel and their vacations. In one instance, even buying a home from Clarence Thomas.
None of this makes any sense anymore, and we have to get our country back. We have to have common-sense solutions to things and look at what's truly affecting people in their pocketbooks at home. And that's my intent over the next several months as we begin this process.
Davies: Before the Democratic nomination for U.S. Senate, there's already Colin Allred — Rep. Allred has already begun his campaign on that. So in the primary race for this seat, how do you stack up against Rep. Allred?
Gutierrez: Well, listen, I mean, David, we've worked hard. I mean, you've known me now for almost 20 years, and we've worked hard on city council and my position as a state representative and as a state senator, we have done a lot to improve Texas and the legislature, quite frankly, were, I wasn't allowed to do much because it has been controlled by Republicans.
But in that tenure as a council person created a new library for the South Side of San Antonio. in the state house, I fought to protect our military bases from developers that would want to encroach on their military missions. I created the National Center for Warrior Resiliency to take our veterans off of opioids that are given to them by the VA and give them good therapy.
Basically, we've done things and we continue to do things. Last session, we created the Farmer Suicide Prevention Act. Sid Miller in a committee hearing said that act, that amendment, has saved 60 lives. Farmers in the United States have the highest incidence of suicide in the nation, and so we'll continue to work really hard. I think that our track records speak for itself. I'm sure Colin Allred is a nice guy, but I think that we have a far different message than he has.
Davies: Is there an upside to having a hotly challenged primary race for this particular challenge to Ted Cruz? There will be more attention paid to opportunities to engage the public. But there is a downside because you have to raise extra money, and it can be brutal. It can divide the party, but do you see this as an opportunity?
Gutierrez: Well, I think it's part of democracy, David. I mean, it's how we hone our best candidates to go into those general elections. And that's why primaries are here, and that's why we've had them in our country basically for all existence.
Essentially, we're going to continue to talk about what we're doing in Texas. We're going to present our proposals to THE people. I think that they're going to find someone in me that's worked really hard for them. I'm not daunted by the fact that this is going to take a lot of work. Certainly, we've got to raise a lot of money to do that. I'm no stranger to this.
I don't intend to say one negative word about Colin Allred. I'm going to stick to the facts. I'm not [going to] undercut a Democrat. That's not what I'm here for. We're going to have a robust conversation about what ails Texas and where our differences lie. I think that in me, I have a proven track record of getting big things done over 18 years of public service. And so I'm going to continue that discussion with the people of Texas, and I look forward to having it.
Davies: There are other people who are still talking about jumping in — maybe Sylvester Turner. Is that a signal that people should see that Ted Cruz is weak? That he can be beaten in this state?
Gutierrez: You know, I think Ted Cruz is probably held with the most disdain of any senator in the United States Senate. And that's so because he doesn't do anything other than yell from the rafters. When you and I were young men, when we were children, the senator from your community or the state representative or the United States representative would come back and would say, "this is what I did. I provided this, these funds for this roadway, or this hospital, or this school, or we talked about this proposition where we created … so many jobs."
Davies: Right? That's what Kay Bailey Hutchison or Lloyd Bentsen would do.
Gutierrez: Absolutely. That doesn't happen from this guy. We get to hear this past weekend about Barbie and China maps on a Disney show. Ted Cruz needs to get back to work. He needs to understand the reason that Texans are sending him up there. And it's not to be a Republican cheerleader for Donald Trump. It is to do his job. It is to bring back things, tangible resources to our state. Ted Cruz has failed miserably at that. And all he has done is divide this state. We are so much better together, Republicans and Democrats working together to get things done. I aim to have the conversation about this because it's time that we stop this nonsense and get back to what we truly must do as public servants.
Davies: There's been a lot of talk about how our democracy is in danger in the United States. We're still recovering from Jan. 6, the attempted insurrection, and also Donald Trump's many legal challenges connected to that. Do you see this race you're jumping in as part of the efforts to save American democracy?
Gutierrez: I think it's incumbent on each and every one of us, David, to understand this. That we truly are all in this together. We rise together, we fail together. We have to move forward in this nation. We have to stop the politics of division. And that's more than just a talking point. We have an entire Republican caucus in the state house, in the federal house that simply lambast the people that are on the margins rather than to try to help them, rather than to try to fix things. Listen, there's not an immigrant or an LGBTQ person or anybody on the margins responsible for education outcomes and poor healthcare outcomes and poor infrastructure outcomes.
It is all right there in front of us. But people have to wake up and demand that their public servants do their job, and their job is to bring back home resources to Texas that are going to help us. You don't get to stand on the sidelines. You don't get to go over to the ribbon cutting and take credit for the $66 billion that you voted against. Cruz does that all the time. We're going to have a real conversation with Texans, David, and it's going to be open and honest and transparent, and it's going to continue throughout these next several months. And I look forward to every part of it.